There are a number of dashcam videos from Russia doing the rounds on the internet*. This technology can now also be found here in SA, with the Vicovation Vico-SF2 ready for action.

The SF2 has the ability to record full HD 1080p (30 fps) video which allows for better quality and detail on playback. The dashcam covers a 140° angle so it's not too difficult to find a position that records all that happens ahead of you. This is helped along with the 2.4" LCD screen at the back which displays what is being recorded, or can be used for playback. The SF2 will start recording as soon as you switch on your car, stopping once the vehicle is switched off again – there is no input needed from your side.
One of our concerns when we started using this dashcam was that our 16 GB SD card would fill up quite quickly when recording in HD (720p also available). Although an hour's worth of driving claimed 4 GB of space (compressed via H.264 .MOV files), it does not matter too much – what the SF2 does is record in five minute segments, then saves that file. When it runs out of space it circles to the oldest files and overwrites these.
The unit has what the company calls a 3 Axis G-sensor, which notes when you are involved in an accident, to automatically save the 30 seconds of video before impact and 30 seconds after so that the file cannot be overwritten. You also have the option to hit the emergency record button on the SF2 itself, which does the same, while a snapshot button allows you to take three megapixel photos.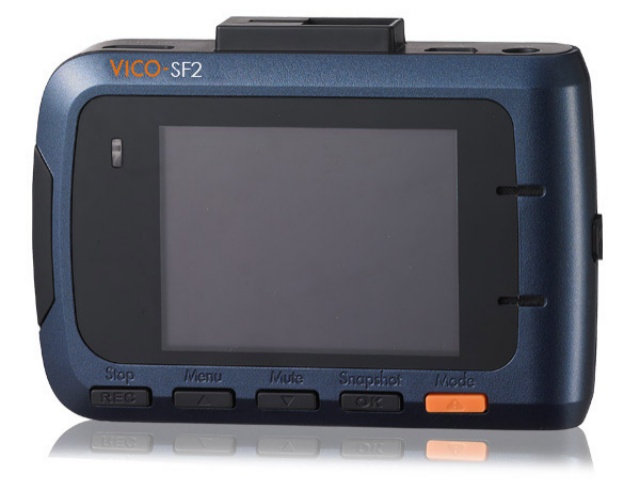 No hassle setup
If you've mounted a GPS unit in your car, installation of the Vicovation should be familiar. The suction bracket provided works well, but the 4 m cable that comes along with the cigarette charger can become unruly. Also included in your package is a quick mounting bracket in order to easily remove the SF2 once parked (we could not be bothered).
One thing to remember that we think is important is that the SF2 also records audio (can be muted). This can come in handy when dealing with traffic police, since the camera can be quickly turned to record what is happening on the driver's side. For playback purposes we simply removed the SD card and plugged it into a PC, with the .MOV files playing back in Windows Media Player or VLC, with no special software needed. The SF2 also contains AV output as well as mini HDMI out for playback on TVs, although the cables to do so is not provided.
The SF2 retails for R2 899 (including 16 GB SD card and delivery) from www.dashcamera.co.za. Remember to ask for your 10% TechSmart discount. A cheaper TF1 model is available for R1 79. For a limited time the SF2 with 8 GB SD card retails for R1 800 from www.dashcamera.co.za, while the cheaper TF1 bundle goes for R1 200.
Below is footage we recorded driving on the N1 to Pretoria.

* In Russia, liability insurance is much cheaper than full-coverage insurance, but it depends on the driver to prove that he/she was not responsible for the accident. Hence the use of dashcams.
Article first appeared in TechSmart 127, available to download for free here.
Records audio as well as capturing video as soon as you start your car; Quick and easy in-car setup; Accident awareness functionality very handy
4 m power cable unruly