Samsung doesn't mind getting into a good scrap, and this is definitely the case with their new top of the line compact – the 10 megapixel EX1. It is taking on some big dogs in the form of the
Canon G12
and Nikon's P7000, both really excellent compacts meant for the enthusiasts with higher expectations and a demand for better functionality.
Excellent f-stop
Before we get into the nitty gritty, the EX1 we received came with the explicit warning that it's an "Engineering Sample Product, not recommended for comprehensive quality evaluation." Still, apart from a few cases we are quite sure it performed as should. (More below)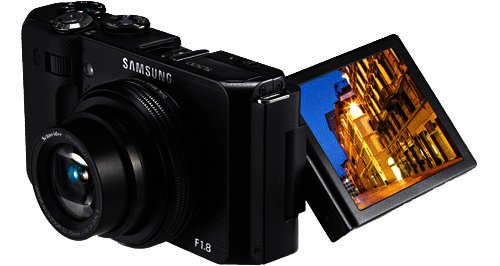 The EX1's ace up its sleeve is the excellent f1.8 Schneider KREUZNACH lens (at the widest angle). It's by far the stand-out feature of the EX1, with the speed of the lens helping with a shallow depth of field, especially welcome for portraits. Having done
extensive
shooting
with Canon's G-series, a decent shallow depth of field is almost impossible, so we really enjoyed the capabilities of the EX1.
It's also adds some wide-angle goodness, since at its widest it's a very lovely 24 mm. Not all is well though since the EX1 stood last in line for zoom capabilities, doing a measly a 3x.
Body building
The body of the EX1 is tough enough to take some knocks. It felt really solid in hand with the rubberized hand grip only adding to its good build quality. It is actually smaller in size than its competition from Canon and Nikon, while the clean design on the front of the camera really impressed. The rotatable screen though seems to be the weakest link in its armour, being made of plastic and not as sturdy as we would have liked. (More below)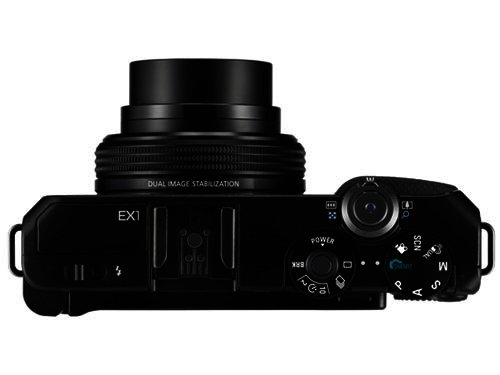 With both a front scroller and a back dial (although slightly too small) it is easy to change your settings, for example in manual mode where you have both aperture and speed to adjust.

As expected things at the back of the camera gets a bit complicated, with a whole host of buttons making an appearance. This is as expected since these buttons make it relatively easy to access certain key functionality – crucial for this type of camera since you don't need to dig too much through the menu system.
AMOLED goodness
There are a number of features on the EX1 that we found very impressive. The one you'll use the most is the excellent 3" AMOLED rotatable screen. With 614 000 pixels crammed into the screen, composing or viewing pictures on it was a smooth and delightful experience.
Personally we're not too keen on the way the screen folds out and rotates – we used it less than expected since we prefer the screen to align with the lens. We mostly utilised it when folding it inwards to protect the screen in transit, seeing that there is a hard-cover at the back.
Filter effects achieved by adjusting Kelvin

Cool settings
When it comes to adjusting your white balance the EX1 provided an interesting option - manual Kelvin adjustment. What this allows you to do is manipulate the "temperature" of the photo yourself, ultimately providing some interesting filter effects. The camera can do the same with your contrast and saturation, while you are also able to adjust your RGB settings. This allows for a wide amount of control over how your pictures look, but unfortunately the EX1 has no "custom" buttons to save settings to.
The scene mode also gave us a few hassles, seeing that on our model it did not default back to your previous selection, rather waiting on you to press OK to select your setting every time you enter scene mode. It's an unnecessary delay seeing that speedy access to shooting is essential on this type of camera.
A lover of low light
The EX1 also has one of the best low light shooting capabilities we've come across on a compact. With both optical as well as digital stabilisation utilised on the Dual setting (included as one of the main selections on the PASM dial on top), we've achieved night time pictures we would not have dreamed about with other cameras. Surprisingly enough, these images also contained very acceptable noise levels. (More below)
Low light shooting without a flash

Not all is well in EX1 land
While overall impressive, not all is well. Both battery life and macro mode were particularly underwhelming, while the EX1 lack of 720p video capabilities just don't cut it.
A personal point of bother was the crossbar Samsung displays at the bottom of the AMOLED screen. It is not transparent enough so it darkens the bottom of the screen, making one mistakenly believe that this is not part of the regular 3:2 composition. Even with this knowledge we found it difficult to compose with the screen at the bottom. The display can be adjusted so that shooting info is hidden, but when shooting for example on manual there is no way of knowing what your settings are.
Conclusion
The Samsung EX1's f1.8 lens kicks other cameras' back-ends and is especially welcome for portrait photography, while it is also sufficiently wide at a very decent 24 mm. With good low-light abilities, strong build quality and a gorgeous 3" AMOLED display, Samsung enters the high-end compact arena guns a 'blazing.
It's not all roses though – there is no 720p video while the lens is only 3x zoom. We also expected a better price, not the R5500 that seems to be the recommended retail figure. This takes it only R200 under the new G12, and having had Canon's baby under recent inspection, we know which one we will go with seeing that the G12's extra functionality simply cannot be matched.
One should also not ignore the competition from the
Olympus E-PL1
and
Sony's NEX-3
, both with compact bodies and larger sensors, although not quite on par regarding the EX1's more professional shooting capabilities.
Pro:
Very good f1.8 lens, 24 mm wide, excellent AMOLED screen.
Con:
No 720p video recording, only 3x zoom, poor battery life.
Photos taken with the EX1 courtesy of Vark1.
Very good f1.8 lens, 24 mm wide, excellent AMOLED screen.
No 720p video recording, only 3x zoom, poor battery life.