With almost all new smartphones coming out with touchscreens, it was only a matter of time before watches went the same direction. This is indeed the case with the new Forerunner 610, which boasts a new resistive touchscreen.
The 610 is a lot smaller than some of the GPS watches on the market, and although it still looks very sporty, it moves slightly away from the usual oversized sport design.
Now with touch
The 610's shift towards touch is very natural, and on a sports watch like this where there are lots of menus to work through, an obvious benefit. Where in the past you most probably had four side buttons to aid you through the menu structure, now you can simply touch the option you want to select.
But the fact that it's a resistive touchscreen is both good and bad. Good because even when jogging with gloves you won't have problems scrolling through the menus, but also a problem, since it's simply not as accurate as a capacitive touchscreen (as featured on most smartphones). There were a number of times when a touch was unresponsive, while a few of the menu options also leaves you with very little space to touch the correct option.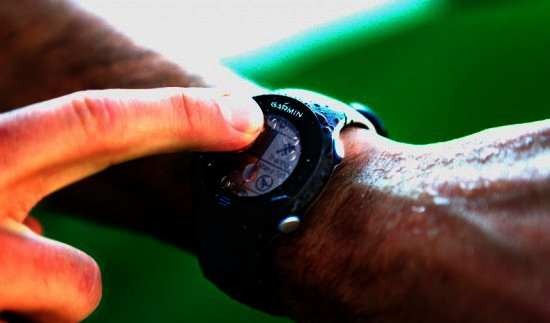 Good with touch, and water.
But enough of the negative, since the Forerunner 610 is actually a very good running solution. The watch tracks your run via GPS (which can be turned off when indoors), and gives constant feedback about pace, distance, calories burned and of course time, via a number of customisable screens. Although you still use the side buttons to stop and start your runs, you simply sweep through the different screens to look at your performance while running (or choose auto-scrolling).
There are a number of very good features onboard, and although they might not make your training any less strenuous physically, they sure help to enhance training. Take for example programmable interval workouts (4 x 100m with 1 minute rest, customisable); your virtual training partner which shows you how far behind or in front of your set pace you are; or the simple ability to set alerts when you reach certain distances, calories burnt, cadence or heart rate.
Thanks to the onboard GPS, the watch will also guide you to your starting point in case you get lost, or injured, along the way. You'll also find an auto lap marker which can be set according to distance or position (if you're racing around a 400 m track for example).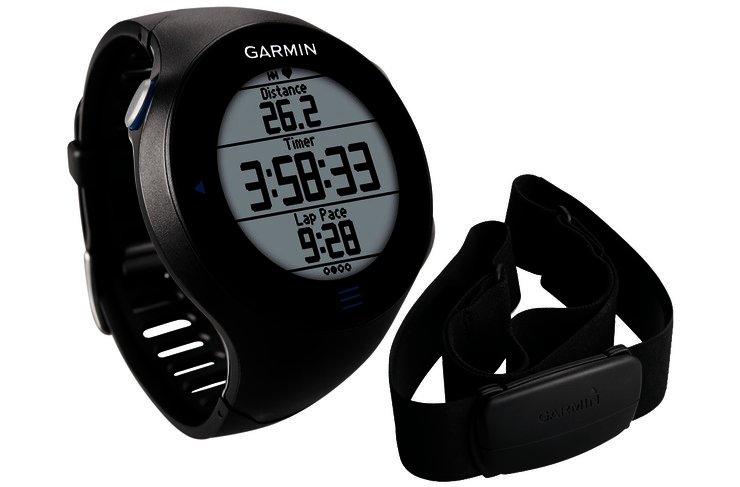 The HRM will set you back R550 when bundled with the watch.

Heart and sole
We would recommend purchasing the 610 in the bundle which combines the watch with a heart rate monitor (HRM). Garmin has done a lot to better incorporate the HRM to improve training than for example, on their
FR60
. The watch now offers customisable training modes based on heart rate zones, while the 610 is also the first watch from Garmin to incorporate Training Effect capability from Firstbeat. With this you can measure the impact of your training on your aerobic fitness and we're sure this will become a feature on all future watches. Even more information about training according to heart rate would not have gone amiss though.
Usage
As can be expected, the screen locks when not in use, so before starting your run you need to slide your finger across the screen to unlock. After a slightly irritating animation it opens up to the stop watch screen and starts tracking satellites. We found that the 610 locked on the required number of satellites rather quickly, faster than other solutions we've tested, and once locked rarely lost contact. The same goes for connection to the HRM.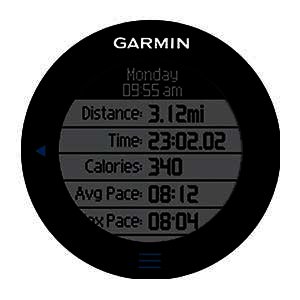 The view of your run logged in the 610's history
Once done with your jog you can save your jog by long-pushing the "Lap/Reset" button. Your history is stored on the watch, with each individual run's details displayed concisely on one screen. You can store up to a 1000 laps on the device.
As far as battery life is concerned, Garmin believes you will get eight hours in training mode, which might not be best for those ultra marathons, but should be fine for marathons. Just make sure it is charged the day before the run.
On the PC
The 610 transfers data to PC wirelessly via the included ANT+ USB stick, and although this is convenient process, the initial steps to set this up was simply not as straight forward as we've experienced with other products. You also need to sign-up to
Garmin Connect
online, or use Garmin Training Center if you don't have an internet connection, to view and store your runs.
We used Garmin Connect, which despite a bit of a boring look (compared to how Nike+ enhances the running experience) still offers key functionality no more than a few clicks away. We would have liked to have the capability to add notes to runs - for example how we experienced the outing, notes on the track or comments about the weather.
The Garmin Training Center, which is supposedly to be used offline, is not included on the CD that comes with the package, and counter intuitively needs to be downloaded from the net. It runs at a hefty 40 MB.
The ANT+ functionality also allows your watch to communicate with other ANT+ devices, including certain training equipment and weight scales.
Conclusion
Apart from a few niggles with the sensitivity of its touchscreen, the Forerunner 610 is a very impressive training partner. With loads of functionality, its very intuitive touchscreen capability as well better incorporation of the HRM, the 610 comes highly recommended. A lot of runners can do with a watch like this, but unfortunately it's price puts it beyond the reach of many. At R4010 it's not cheap, while bundled the HRM it retails for R4595.
Pros: Touchscreen makes working the watch a pleasure, HRM better integrated, lots of functionality.
Cons: Touchscreen not always that sensitive, have to download Garmin Training for offline use, not the easiest process to get everything running on the PC.
Touchscreen makes working the watch a pleasure, HRM better integrated, lots of functionality.
Touchscreen not always that sensitive, have to download Garmin Training for offline use, not the easiest process to get everything running on the PC.