Unlike other sports titles, fighting ones have proved a bit trickier to get right. Much of the problem has to do with gameplay, as the action often resembles little from the real thing. As such, a truly good fighting game needs to get that right, and if EA Sports UFC 3 wants to be taking seriously, it needs to get that aspect of gameplay spot on.
As the name suggests, this is the third iteration in the franchise, which means EA has had a couple of tries to fine tune things. It's also the official game for the Ultimate Fighting Championship, which is the world's best known Mixed Martial Arts (MMA) organisations.
That certainly carries some caché as gamers will be able to play as some of the most prized MMA fighters on the planet, including one of our personal favourites and cover athlete "The Notorious" Conor McGregor.
To find out if that alone is enough, we recently stepped into the octagon with EA Sports UFC 3 to check its title credentials.
Showtime
The first time you boot up UFC 3, you're taking straight into a match, along with the build up surrounding both fighters. Having watched UFC's pre-match videos on YouTube before, the ones on offer from this game are of a high production value. The result is a presentation unlike any other EA Sports title to date, which definitely adds a level of authenticity to proceedings.
Added to this are the other usual elements one finds in a UFC match, such as the entrances and walks to the ring, tale of the tape, ring girls and highlights in between rounds. While we found ourselves skipping those aspects for the most, wanting to resume the action, again they help to bolster the overall presentation.
If you're looking for something that matches what you may see at an actual MMA event, then EA Sports UFC 3 hits the mark.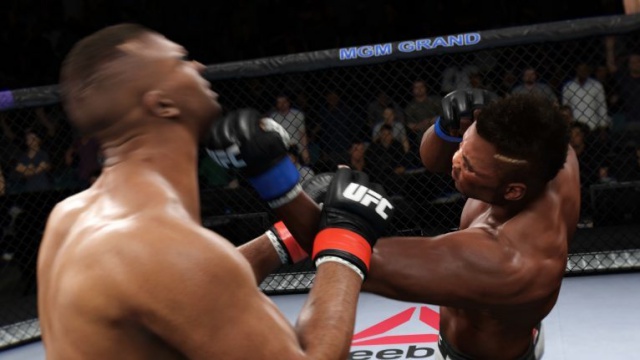 Pace yourself
Shifting to the thing that really matters - gameplay. In this regard UFC 3 has a few hits and misses. The notable aspects is the attention to detail. One can for example hear the fighters exhaling before delivering a punch, and once significant blows are delivered, they leave their mark, with commentators mentioning bruises, cuts or other damage suffered during a fight. As such, a lot of the smaller elements like hearing the wooden blocks clap when 30 seconds are left in the round, help add to the quality of the gameplay.
Once the bell rings and things get underway, however, it turns into a mixed bag. The movement of the fighters is good, with short shuffling steps around the octagon used to either move out of the striking zone or corner your opponent up against the fence. At points though, speed, or lack thereof, becomes an issue.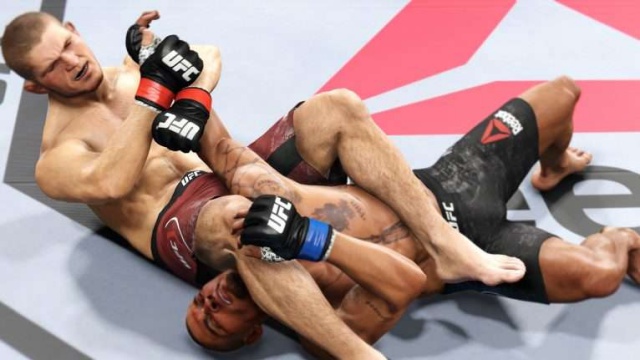 To that end, once a telling hit has been delivered and your opponent steps back, trying to rush in to land another blow rarely comes off. As such, the only real time that gamers can act swiftly is when an opponent is knocked down to the canvas, as this triggers a number of different takedown options and moves.
Other aspects of the gameplay that needs some fine tuning is the striking system, which too feels a tad slower than one might see in an actual UFC fight. The heavier punches and spinning kicks in particular look too choreographed and can take some to 'load' up, allowing gamers to block or counter with a quicker strike.
One element that EA Sports has got spot on is the use of stamina as a means of determining the winner of fights. When punches or kicks are thrown it affects the fighter's stamina, which in turn has an impact on whether they can win a fight. The lower one's stamina for example, the less effective or powerful the hits become, but it also increases the damage dealt when hit. As such, when going up against equally matched or better fighters, it is often stamina and not power that is the defining aspect of the fight.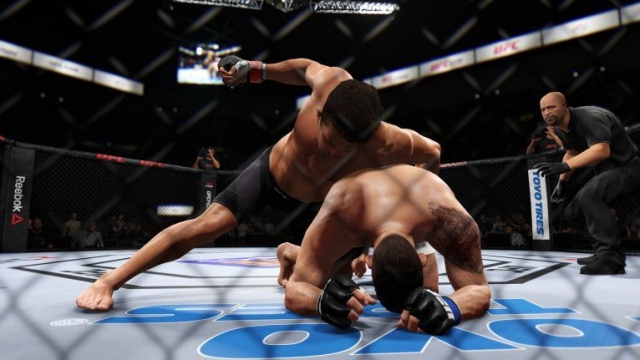 More modes
Being an EA Sports title, UFC 3 also boasts a variety of different gaming modes to test out. While they haven't gone The Journey route like Madden and FIFA have, users are still able to create their own fighter in a career mode, as well as try their hand at Ultimate Team.
The latter allows gamers to create a small roster of fighters, like an MMA gym in a lot of respects, with the reward for winning matches being the ability to upgrade fighters' skills and change up their look with tattoos, clothes, etc.
It perhaps doesn't have the same allure as FIFA's version of Ultimate Team, but the addition of more gaming modes is starting to put UFC 3 on par with some of EA's more decorated and well known sports titles.
Final verdict
The EA Sports UFC franchise has come a long way in a very short period of time. There are, however, a few niggling elements to UFC 3, and in terms of in the ring gameplay, a bit more fine tuning is needed. That said, for MMA fans, there is still a fair amount of gaming to enjoy, and given its licensing agreement with Ultimate Fighting Championship, it means that this title is the still the go-to MMA game for now.
Spot-on presentation; Well detailed fighters; Licensed roster of fighters
Certain fighting mechanics still need work