Sports games are a different breed. Unlike first person shooters or real-time strategy titles, they're often released on an annual basis, with each iteration bringing forth a handful of changes that can feel incremental at best.
For a long time, EA Sports' FIFA franchise could have been lumped into this category, but that has changed with FIFA 18. The latest offering from the game maker is a significant step forward and should appease both long time fans of the game as well as newbies.
Here's why.
Sweeping changes
From Ultimate Team and Skills Mode, to The Journey and Career Mode, EA Sports has gone through the entirety of FIFA 18's gameplay with a finetooth comb, refining nearly every aspect of the title. That may sound like an exaggeration, especially as such far ranging improvements are often eulogised for each new version of FIFA that comes out, but in FIFA 18 they are actually true.
For example, the skills training has received a substantial overhaul, integrating a host of new drills to complete, that are far more challenging than they have been in previous variants of the game. There are now 1v1 drills, which allow gamers to pit specific players within their squad against one another in a tit for tat type of gameplay.
Another area where changes have been made are in Career Mode, with the introduction of Transfer and Squad Hubs. Added to this is a more immersive interaction for transfer negotiations. To that end, gamers will be able to sit across the table from other coaches and players as they try to hash out a deal, which one could believe is similar to how the process works in real life.
Adding to the authenticity are agents who can prove quite difficult to deal with, especially when it comes to the signing and appearance bonus portions of a player's contract. As such, gamers who are shrewd negotiators can assemble a formidable squad if they play their cards right.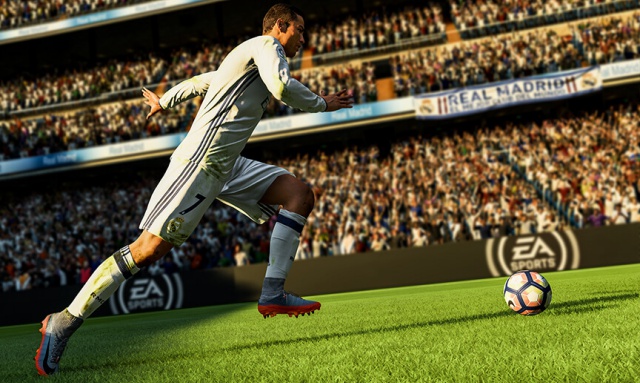 Deeper journey
In the build up to FIFA 18's release, we glimpsed several trailers detailing the second chapter of The Journey. It picks up where the first left off, as gamers take on the role of budding English footballer, Alex Hunter. We were pleased with the first attempt at this new gaming mode, but there were a few kinks that needed ironing out.
Luckily EA Sports has addressed most of them, such as the ability to skip cinematic scenes. The acting, specifically from real-life players such as Cristiano Ronaldo, Gyasi Zardes and Thomas Muller, is definitely up a level from last year. Training in between matchdays is also more challenging thanks to the newly added drills, and it feels far less monotonous than it did in FIFA 17.
The story itself is also quite interesting, with players prompted to make a handful of career altering moves, as in games like Mass Effect or Fable, such as sacking your agent or choosing to play as another struggling footballer for a short while.
With EA Sports improving on The Journey quite a bit in chapter 2, we're definitely expecting a third one for next year's edition of the game. Perhaps Hunter will be trying to go to the 2018 World Cup with England?
Near pitch perfect
Now for the most important part - the gameplay. In this regard, several significant enhancements have been made. Starting with when gamers are in possession, the ball is harder to keep a hold of, and requires more than simply turning one's back to the opposition and holding the L2 button (PS4).
As such, one can easily be muscled off the ball, as well as knock it a bit too far forward and get dispossessed. A quick and easy (relatively speaking) remedy for this is passing with speed and accuracy. The result is that gamers are forced to work the ball around the pitch and exploit space, as opposed to going on dribbling runs like previous iterations of FIFA.
Moving onto defence, the AI in-game seems a bit smarter, with defenders far harder to pull out of position. They also act more intelligently, especially when dealing with set pieces. Now, timing feels like a bigger factor in winning your duels in FIFA 18.
One criticism though, which remains from previous games, is the shooting mechanics and penalty taking system. EA Sports has improved on the clunky method for the latter, but it still looks far from what a real-world penalty looks like. The shooting too, does not seem realistic enough, with the percentage of scoring still quite high in our opinion, when firing from certain angles.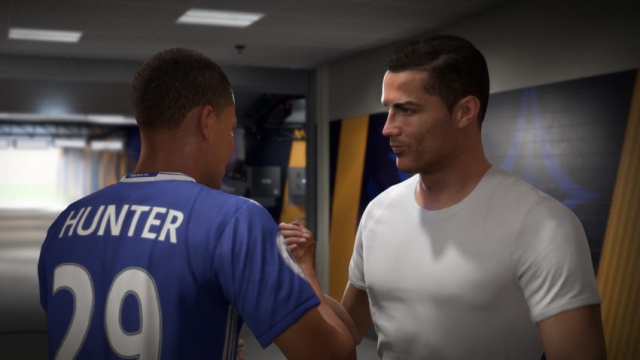 Final verdict
For the past couple of years, the FIFA vs. PES debate has always been split between gameplay and licensing. PES took the crown for the former and FIFA the latter. With FIFA 18, the on-field action has been vastly improved, and now PES 2018 and FIFA 18 feel on-par when it comes to gameplay. Add to that EA Sports' strong position when it comes to club and player licensing, and FIFA 18 should have critics impressed with its on the pitch play as well.
Improvements across the board; More realistic gameplay; Intriguing Journey mode
Shooting and penalties still amiss; A few leagues missing