A few months ago, I got some hands-on time with PES 2016. The demo version of Konami's footballing title was mightily impressive, as the level of on pitch play it delivered far exceeded my expectations. Now that the fully fledged version has done some time on my PS4, It's clear that Konami has hedged all its bets on gameplay, as the online and career experiences are a little lacking.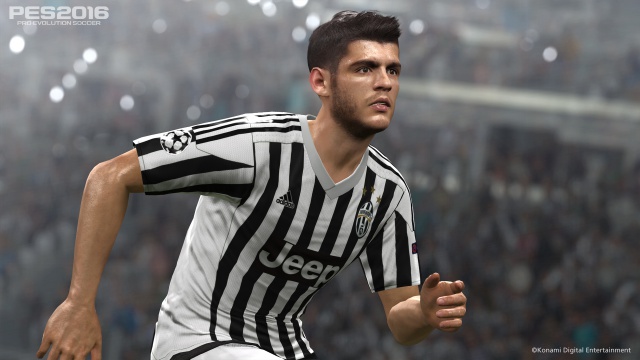 Looking sharp
Before I delve into the issues that PES 2016 suffers from, let's talk about what Konami has done well. First the look of the players, which is immensely detailed. The CGI capturing that Konami did on player faces, and hair in particular, has been time well spent. This translates into some great action on the field, with players wincing during a crunching tackle, and the whites of their eyes showing when tracking a ball mid-air. As such, for gamers that enjoy watching their goals hit the back of the net again and again, the replays look superb.
One downside however, is that Konami has littered one's match full of them. For example, when you score a goal, you not only receive a replay to mimic an actual broadcast experience, but also another replay in the editor screen. All of this hampers the gameplay, especially if you simply want to get back to the action (with no way of turning it off).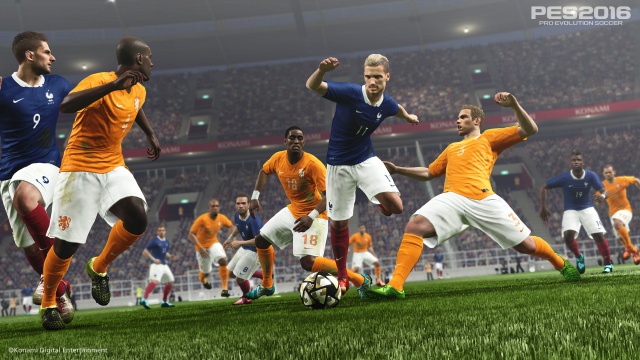 Tactical awareness
Moving back to the look and feel of players in-game, Konami has also done a good job of getting the body structure buttoned down. Unlike FIFA 15, whose players seemed to be wearing shoulder pads, PES 2016 players have the lithe physique you expect from a professional footballer. Movement too looks very natural, and when creating your own in-game player, you can customise everything from the body shape while sprinting, to the way they strike the ball.
Added to this is a more dynamic number of positions for gamers to pick from. It is not simply a matter of choosing between defender, midfielder and striker; it's far more nuanced than that. For example, if you prefer your second striker to make inside out runs, or like your central midfielder to be more static with their movement and dictate play from deep, all those kinds of options are available.
While these elements might seem too engrossed for some, it forms a vital part of why PES 2016 plays so well. Player movement is far more fluid than previous iterations, with the team shape in a state of flux depending on the momentum in the game. A great example of this is when you're chasing a game; the fullbacks start to push further up the field, and the team's deepest lying midfielder drops back to become a third centre back in order to apply more pressure on the opposition.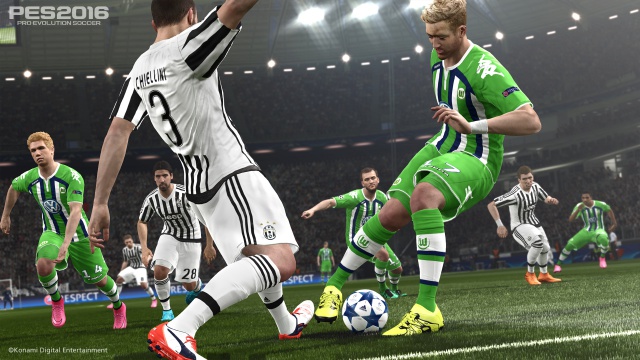 Spit and polish
Konami has gone to great lengths to make the in-menu experience of PES 2016 solid. It certainly looks great, and has a modern feel to it. The main screen is easy to navigate, with dynamic live tiles that light up when selected. The more detailed screens, like those found in the Master League mode is a little more difficult to decipher. As such, there is a bit of a bedding-in process that needs to take place.
The same kind of hit and miss feel has filtered into the licensing aspect of PES 2016. It's one area that has unfortunately held the PES franchise back, and in this new iteration there are a few holes that are hard to overlook. The most glaring is lack of licensing for the Barclays Premier League and the vast majority of teams therein.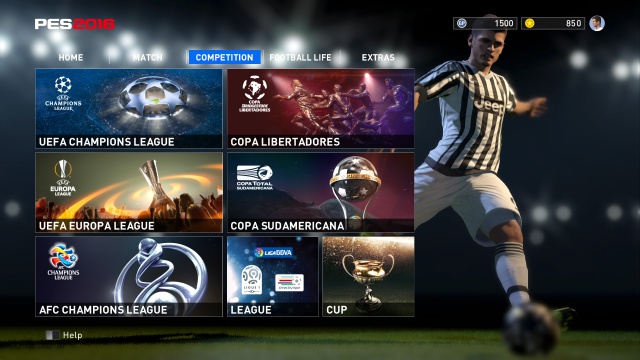 Missing piece
In PES 2016, it is renamed the English Premier League. The only team to get full recognition is Manchester United, which is great news for Red Devils fans, but for the rest, gamers might feel a little short changed. Along with renaming the league, Konami has also rebranded each of the teams. Liverpool and Everton for example are cleverly named the Merseyside Red and Merseyside Blue respectively. There isn't the German Bundesliga either (except for a few German teams), but some respite is offered in the form of the French Ligue 1 and Spanish La Liga.
One other issue that jumped out is the squads, more specifically the fact that they are not correctly updated. While playing as Merseyside Red, I was surprised to see Steven Gerrard and Raheem Sterling in the team, and equally puzzled by not seeing any of the real life team's new signings either. It might be important to point out that some updates are missing from FIFA 16's roster as well, although the overwhelming majority of new signings are there.
While I could overlook the team name and kit issues, the fact that squads are not yet updated is a little hard to ignore, partly because full updated squads is one of the major reasons why gamers purchase the latest iterations.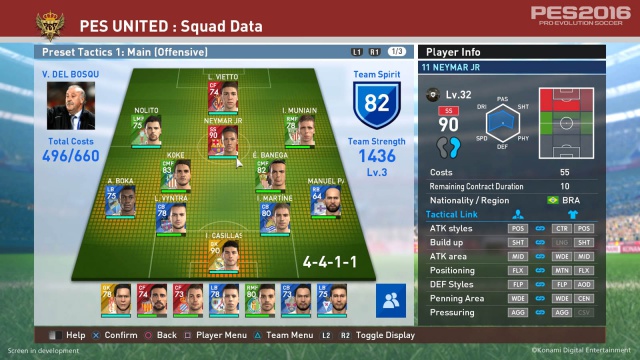 Final Verdict
When trying to draw comparisons between PES and FIFA, I often think of the warring tech factions of Android and iOS. For me, PES 2016 is the former, with a niché following of gamers that are more concerned with the on-pitch gameplay than the glossier look of FIFA 16. As such, PES 2016 will only truly be enjoyed by gamers that aren't too concerned with licenses, but want a game that captures a football unlike any other.
While PES 2016 has its competitor beat on the gameplay front, it still has a bit of work to do on getting its overall experience up to snuff. For that reason, it still retains its hipster status as a niché football game.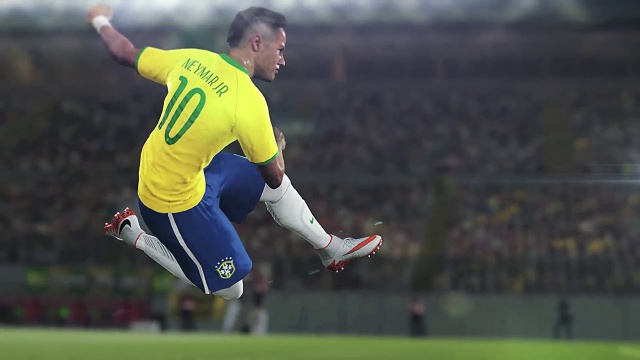 Great on-pitch gameplay; Realistic looking players and movement
Licensing still an issue for some leagues; In-game menus a little hard to decipher