Last year's PES offering from Konami was superb. If it wasn't for a lack of licensing, I would have recommended it over FIFA 16. As such, the bar for PES 2017 was set pretty high, especially so as the demo for the game showed great promise. Does this new title live up to the hype and further close the gap on EA Sports' FIFA?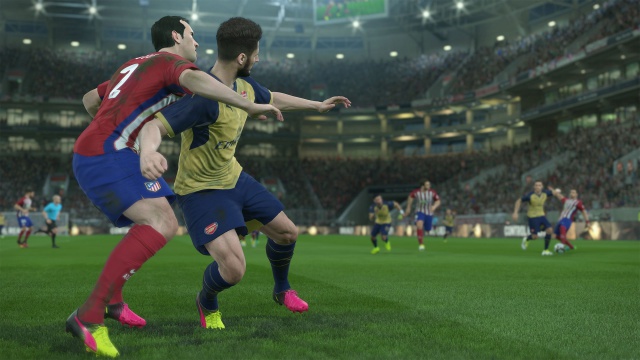 On the field
Before delving into a fully fledged verdict, let's go over what Konami has nailed for PES 2017. If you ask any objective party whether PES 2016 or FIFA 16 delivered the better on-field gameplay, the former would more than often win out. While I haven't played FIFA 17 just yet, PES 2017 is already making a strong case for itself.
For this iteration, Konami introduced a new gameplay engine for adaptive AI. This meant that non-gamer controlled players move off the ball in a very similar fashion to how you would expect in the real-life version of the game.
To that end, if a pass was played into your striker with his back to goal, the opposition defender would try and beat him to the ball. If that failed, then all attempts (legally of course) to stop the striker from turning with the ball were made. Added to this was pressing from the nearby opponents, forcing you to be more inventive with your passing and tactics.
In this way, PES 2017 really shines. If one of your player's is dominating the game, or all your team's attacking moves occur on a specific flank, the adaptive AI of the defence will adjust accordingly, either putting two defenders on your key player or shifting their focus to that respective side of the field.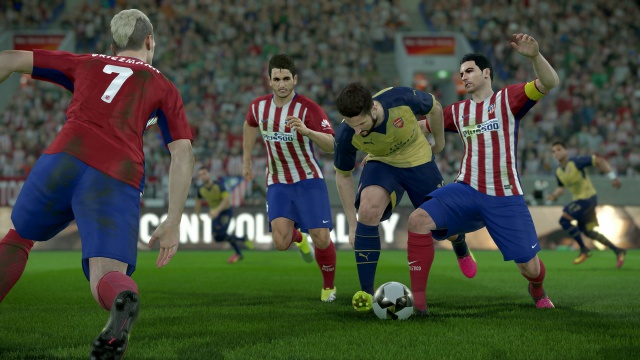 A couple issues
The on-field aspects of PES 2017 are not perfect, however, as I found that while sprinting in possession of the ball, players changed direction in a very un-organic way. As such, players looked a little unnatural as you try to weave through defences and get your shot away.
Another weird thing I noticed was when a player was intercepted, the player that passed the ball was abnormally slow to react. Strangely, while on-field gameplay for PES 2017 is great, I found the experience more compelling on PES 2016.
Off the field
One area that PES has routinely fallen short is licensing, and 2017 is no different. There are a few new additions like Liverpool and Borussia Dortmund, but the number of real-life teams you can play is still not compelling enough.
In the English League for example, only the Reds and Arsenal are real-life playable teams, with the rest featuring made-up names, kits and club badges. Unless you're exclusively a Ligue 1 (France) fan, there are no complete leagues in PES 2017. Quite simply, until Konami can get more entire leagues signed up, FIFA will always hold an advantage.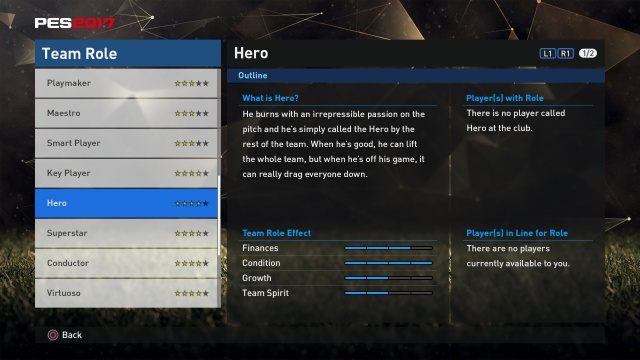 Information overload
In order to compensate for its lack of fully licensed teams, Konami has tried to make the different game modes as immersive as possible, from an information and control perspective. In Master League (likely the most commonly played gaming mode), gamers have a complete overview of the club, being able to get weekly updates of your team's progress, how each individual player is progressing (or not in some cases), as well as players earning roles such as Maestro, Hero or Bad Boy.
Having this level of detail is great for some, but personally it feels a bit too much like Football Manager. As such, I quickly wanted to skip all the non-essential managerial stuff and get straight to the matches.
Final verdict
I was hoping that Konami had made some strides with PES 2017 and built upon the strong showing of last year's game. While this new title doesn't feel like a step back, it feels a little stagnant, despite producing a great on-field gameplay experience.
If PES 2016 helped Konami close the gap on EA, then PES 2017 has given its rival the chance to widen it once again. However, if you can get past the lack of licensing, there's a very good football game to be found here.
Great on-field gameplay; Adaptive AI spot on; Players look and move well
Managerial mode awash with excess info; Lack of licensing still an issue