Like the name suggests, Revo's Wireless delivers audio sans the annoying wires running from the headset to the music player. The headset supports Bluetooth version 3.0 for wireless audio streaming as well as NFC (near field communication) for quick and easy pairing with mobile devices.
The latter is foolproof in that all you need to do is to touch your NFC-enabled smartphone to the left earcup for your device to be paired with the Revo Wireless. When you want to stop streaming music from your mobile to the Revo, you simply tap the device on the left earcup once more to unpair both devices.
How do you control the music playback without inline controls then? Jabra addresses this via its Turntable Touch Controls that are located on the right earcup of the Revo Wireless headphones. Admittedly, these are a bit confusing at first and takes some getting used to, but after awhile we were skipping, pausing and playing tracks via the touch controls like a pro.
Navigating through your playlist is done by tapping the front of the earcup to skip a track and pressing on the back part of the earcup allows you to listen to a previously played song. You turn up the volume by performing a clockwise motion with your finger on the right earcup whilst an anti-clockwise scrolling gesture turns the volume down.
If you prefer to utilise traditional inline controls or your smartphone's battery is running low because Bluetooth is constantly turned on, then you can opt for the provided 3.5 mm audio cable. This tangle-free cable sports inline controls to play or pause music or answer incoming phone calls, as the headset does boasts an onboard microphone.
An appetite for enhanced sound
Revo joined forces with audio specialists Dolby to enhance the sound experience offered by the Wireless via Dolby Digital Plus. Although we did miss the noise-cancellation technology present on other high-end devices such as the Beats Executive (review), the hi-fi frequency sound produced by the stereo speakers of the Revo Wireless headset packed a big enough volume dollop to remain clearly audible even at midrange volume levels.
We were highly impressed by the sound quality and volume on offer with the headphones, and even though the bass levels remain more natural than the overly boosted, rich bass response available on Beats headsets, it did not detract from the auditory experience when listening to either bass-heavy dance music or hip-hop.
By downloading Jabra's Sound App from Apple's App Store or Google Play, smartphone or tablet users will be able to tinker with the sound and share their playlists over Facebook and Twitter.
In addition, the Sound App can be used to create and manage music playlists, and enables users to customise various aspects of their music listening experience. This involved preset equaliser options (Jazz, Rock, Pop etc) that you are further able to customise according to your sound preferences.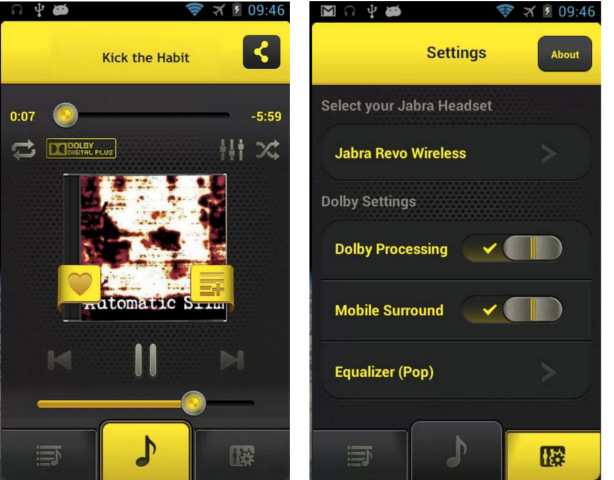 Form follows function not fashion
Unlike Monster's Inspiration (review), Jabra's Revo Wireless headset does not boasts the same design punch to match its highly potent sound performance on offer. The all-plastic unit looks pretty ordinary, but, thankfully, feels sturdily constructed and high quality.
The headphones rests comfortably on one's head even during extended music listening periods. This is due to the cushioned earcups and the padded headband that can be adjusted to fit users with bigger sized heads.
You charge the headset by using a USB charging cable that comes in the retail package. According to Jabra, users will be able to stream around 12 hours of music after a single full charge. During our tests, this seemed plausible as we utilised the unit over the course of a weekend, with six music listening sessions ranging from 20 minutes through to 55 minutes in duration.
Just like the Nokia Purity, Beats- as well as Monster headsets, users are able to fold the unit up on itself for quick, easy storage. The Revo Wireless headphones comes with a handy protective travel pouch as well, which road warriors will surely appreciate.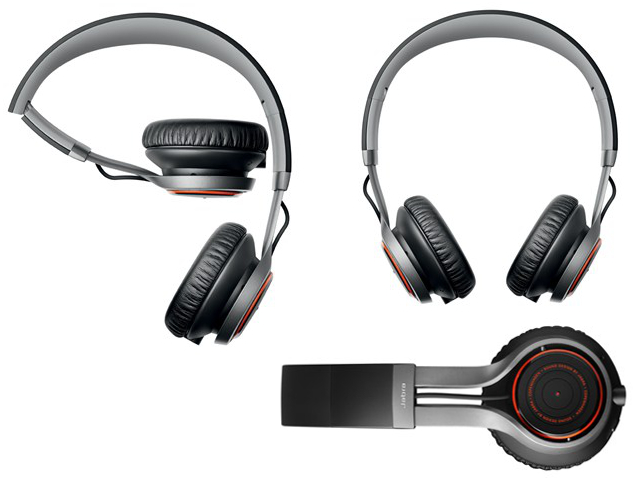 To the point
Jabra's Revo Wireless headset provide users with amazingly clear sound that has been enhanced with the help of Dolby Digital Plus technology. Users can ditch those pesky audio cables by employing the handy wireless connectivity features the likes of single-touch pairing via NFC and Bluetooth audio streaming, but a tangle-free cable is still provided in the retail package for Bluetooth(less) music players.
As you can expects from a headset costing R4 000, these earphones easily competes against premium rival brands such as Bose and Beats in terms of quality and volume as well. If audio quality is a paramount concern and price is an afterthought, Jabra's Revo Wireless headphones will be music to your ears.
Pros:
Touch controls work well once you get used to them.
Excellent sound quality and volume output.
Handy travel pouch.
Solid construction.
Decent music playback time from a single charge.
Cons:
Bass response does not match those of Beats headsets.
Not the most stylish unit on the headset block.
No active noise cancellation technology.
Expensive.
Touch controls work well once you get used to them; excellent sound quality and volume output; handy travel pouch; solid construction; decent music playback time from a single charge.
Bass response does not match those of Beats headsets; not the most stylish unit on the headset block; no active noise cancellation technology; and expensive.