Besides epic visuals, sound is a crucial component for the best gaming experience, with a quality headset helping to immerse gamers deeper within their virtual world. Is the tunes from Asus' Republic of Gamers Orion headphones music to players' ears?
The Orion gaming headset sits comfortably on your head during extended gaming sessions thanks to a lightweight (268 g) design and large padded over-ear cushions. You can easily adjust the size of the padded headband to fit various head shapes and sizes.
Also lending itself to a more comfortable listening experience is the lengthy (2.5 m) braided cable. This length means that you can plug in the headset to your gaming rig or console, placed under a desk, without having to worry about getting whiplash from jerky neck movements due to a cable that is too short.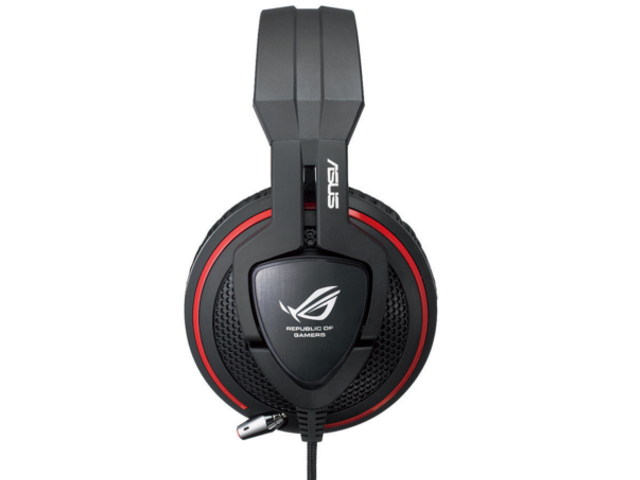 Audio performance
Thanks to the large padded earcups of the Orion, the headset packs some degree of passive noise isolation technology which helps to drown out any auditory distractions from your nearby vicinity.
Along with a decent sound volume (adjustable using the inline controls) and relatively good audio quality, the noise isolation helps keep gamers focused on the onscreen action, rather than the theme song of the soap opera in the room next door. The buzzing of the crowd comes alive within sports titles such as FIFA 14 (review), whilst FPS players can pinpoint from which direction their adversaries are approaching and also soak up the one-liner gold within titles such as Borderlands 2.
When switching from games to movies or music, the Orion does not really hold a candle to the superior audio on offer on the higher priced, dedicated music headsets from Monster and Beats. For the money though, it delivers a good overall sound performance with the stars of the audio quality cast being a slightly better than average dollop of bass, as well as some accentuated treble levels.
Also aboard the Orion is a retractable noise-filtering microphone, which you can switch on or off via the inline controls. Whether you're issuing commands to teammates in Battlefield 3 (review) via a cross-platform application such as TeamSpeak 3 or video calling an overseas-based family member using Skype, the voice quality remains clear.
Conclusion
Asus' ROG Orion gaming headphones pack a decent sound volume and quality, handy retractable mic, all within a very comfortable package. It goes for a recommended retail price of R900, meaning its not cheap since you can spend just a little more (R250) to get the full 7.1 surround sound experience with Logitech's G430 headphones (review).
However, the headphones perform very admirably when you're gaming, and can be used for watching a movie or listening to music as well. The price should not be a huge deterrent to gamers willing to fork out a bit more for better quality from their dedicated gaming headset.
Decent volume and quality; sits comfortably on your head even during long gaming stints; and can be used for movie viewing or music listening sessions as well.
There are plenty headsets available that are a lot more affordable.