While we all can't have an infotainment system in our car, TomTom's Bluetooth hands-free car kit for smartphones provides a solid offering if you require Bluetooth calling and sound.
What we like about the TomTom kit is not only its solid mount which can stick to your windscreen (or dash via adhesive disk), but an extendable cable makes it easy to get the microphone into a position where your voice is easily heard (to your sun-visor for example). The speaker located at the back of the mount is also loud and clear, with the added benefit that the unit can not only make and receive calls, but thanks to its AD2P Bluetooth capabilities, also stream music. Having said that, the 2 Watt speaker is certainly not home theatre quality, doing fine for podcasts or talk radio but not really for music.
The power to charge
While some Bluetooth car kits are battery powered, the TomTom draws its power via cable from your cigarette lighter. It unfortunately means that a cable needs to run down your center dash to the socket (only three cable clips are provided for both the power and microphone cable – too few), but it adds the ability to charge your phone while driving.
This comes in handy when using Google Navigation or the TomTom navigation app to find your way, seeing that using GPS can suck your battery dry in no time.
If you are using one of the larger phones, such as the Samsung S3 or HTC One X, you will struggle mounting the phone in portrait mode, since the TomTom will be extending to its maximum capabilities. Rather keep it in landscape, which is best when navigating anyways.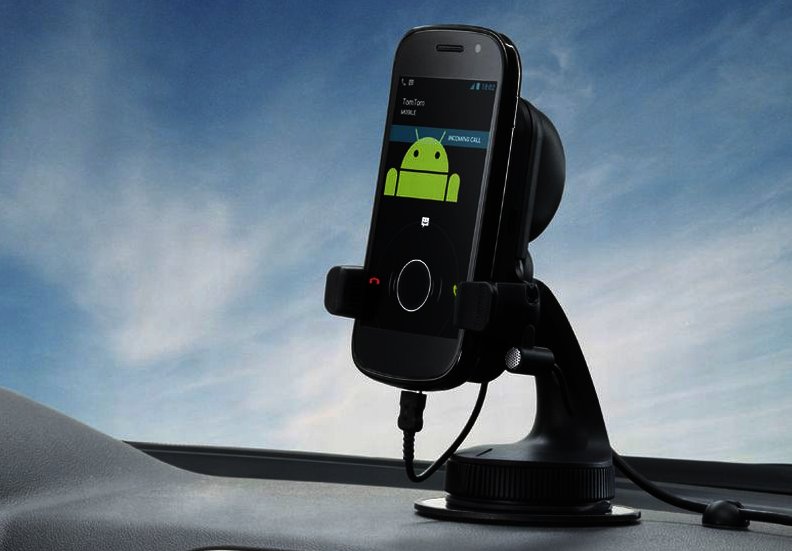 The TomTom hands-free car kit can mount on a dash thanks to an adhesive disk.
To pair and share
The pairing process is about as easy as expected, and the unit can pair with up to five phones, with only two phones being connected at the same time – ideal for family situations where a car is shared. You are able to use voice commands to dial, but it's a feature we barely used. Calls can be accepted or rejected on the TomTom unit itself, so you can keep your phone in your pocket when driving.
To the point
In the two months that we've been driving with the unit we found it dependable not only for receiving calls while driving, but it also connects to the phone as soon as we start the car without hiccup. The cable running down to your lighter socket might hinder, but charging your phone while driving is extremely helpful. For smartphones other than iPhones (it won't charge due to the micro USB connector used by the unit), the TomTom car kit is a solid offering.
PROS: Good mount; decent sound; can stream music via AD2P; can charge phone; dependable.
CONS: Needs constant power so a cable needs to run to your cigarette lighter; speaker good for podcasts but not music.
Disclaimer: The TomTom car kit was received as a seeding unit.
Good mount decent sound can stream music via AD2P can charge phone dependable
Needs constant power so a cable needs to run to your cigarette lighter speaker good for podcasts but not music.