The TW9200 is one of Epson's top of the range home cinema projectors, and a large one at that. Boasting class leading colour quality as well as 2D and 3D capability, we see how it measures up.
Large-Scale
On initial inspection, Epson's EH-TW9200 looks pretty formidable, measuring 466 mm wide, it takes up a fair amount of real estate in your living room and immediately demands your attention. Its hulking size is down to the newly fitted 3LCD touting lens that Epson believes produces three times brighter display quality than similarly specced models.
This projector also boasts some equally impressive features to ensure image quality remains uncompromised, but we'll get to those a little later.
The TW9200 may have a large plastic frame, but it is fairly easy to manoeuvre and weighs a surprisingly light 8.4 kg. This does not put it on a par with specifically designed portable projectors, but does make it easy enough to comfortably move, if the need arises.
The sheer size of this projector cannot be understated, when we unboxed our review unit, we were taken aback at just how large it is, a room with ample space for setup is definitely a major consideration if you're looking at the TW9200.
The one thing that it's sizeable dimensions does afford, is more than enough access to the various controls and ports that the TW9200 has incorporated. This means setup can be performed quickly and easily, without any fumbling around with cords and connections.
Epson has also included a remote to provide complete projector setup, image adjustment as well as input device selection. It is also used to access all of the projector's menus for image and display control including backlighting, contrast ratio and 2D to 3D conversion.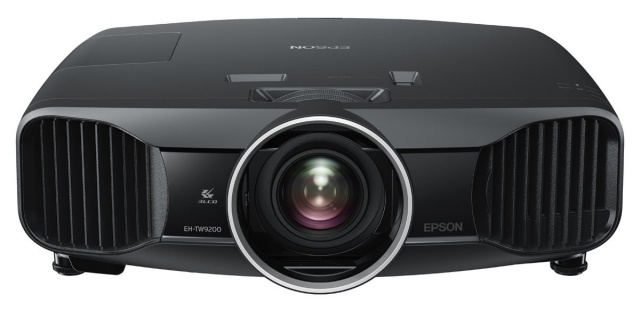 Let It Shine
The distinguishing feature of any home cinema projector, is the quality of its display, and the TW9200 can proudly boast one of the best we've ever seen on a household consumer unit. The aforementioned projection lens is powered by a 230 watt UHE lamp that generates an impressive 2400 Lumens for both Colour Light Output and White Light Output. This is integral to Epson' s specially designed 3LCD system, as it results in a richer more dynamic colour palette for your projected image.
This aspect performs particularly well when viewing movies or playing games, as vibrancy is retained for users with a contrast ratio of 600 000:1. This translates to an extremely high level of luminescence that registers twice as high as most other top end projectors in the same price range. The TW9200 also touts a native display resolution of 1080p (full HD), with an aspect ratio of 16:9, making it clear to see that image quality is its greatest party piece.
Adjust and Enjoy
As far as image adjustment controls go, Espon has fitted the TW9200 with four dials in particular. The first pair of dials are orientated horizontally perpendicular to one another and control display image size of 34" to a massive 355" (87 cm to 9.03 m) as well as the degree of focus respectively. These are both located on top of the unit directly behind the projection lens.
The next pair of dials are situated apart from one another, the dial positioned vertically adjusts the projected image by 96.3%, both upwards and downwards, in a similar fashion. As expected, the horizontal dial moves your image from left to right 47.1% in either direction, and vice versa. Both controls offer a solid range of image movement, allowing users to position their projected content as desired, with little worry about obstacles obscuring it.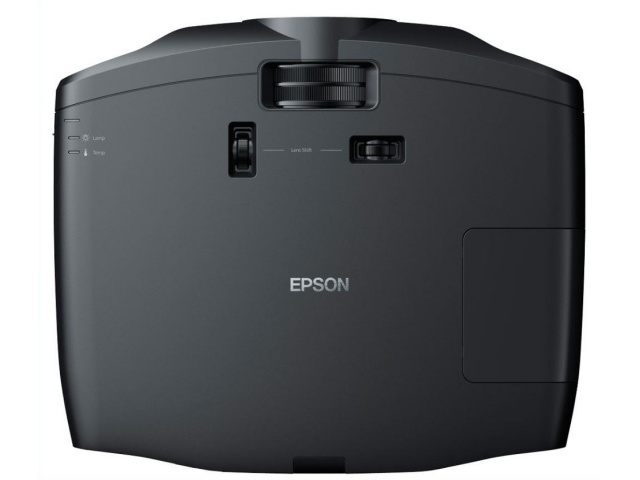 The TW9200 also has an added keystone corrective capacity of ± 30 degrees thanks to four twist-adjustable legs located on the bottom corners of the projector. But the digital corrective capacity on this unit ensures that the projected image can be adjusted with relative ease, thanks to the aforementioned remote.
On the back panel, Epson has fitted all of the necessary controls required for setup. This includes two HDMI ports, which affords users the ability to hook up two devices and make use of the handy Picture-In-Picture mode if desired. The dual device setup also extends to a split screen mode as well.
Other connections involve a single RCA and component video port, as well as one D-Sub 15-pin RGB connection and finally, a RS232c port. The Picture-Picture and split screen modes also extend to these ancillary functions. It is therefore safe to say, that with regard to connections, Epson has certainly got you covered.
Multidimensional
Apart from the standard 2D display capability, Epson has also been talking up the 3D functionality of the TW9200 and after some time with this projector, we can tell why. In 3D mode very little image clarity and crispness is lost, it also remains relatively bright when compared to the normal 2D display. This is down to high level contrast ratio stated earlier, ensuring that luminescence is not lost and image does not produce any dullness, a problem often run into with 3D display devices.
The TW9200 also features a 3D conversion mode, which converts ordinary 2D content into a 3D format. This process is a bit more of a novelty, as the conversion is not as strong as 3D-specific content.
Epson has also included two 3D glasses, that look a considerably better than the ones you get at local cinemas. These glasses also feature a mini-USB charging port that delivers an estimated 40 hours worth of battery life from one full charge. Making them perfect for a weekend 3D movie marathon.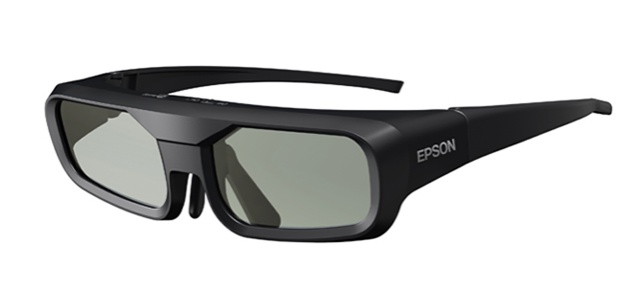 Hot Under The Collar
There is very little we can identify as glaring issues with the TW9200, there is however three areas that may frustrate or concern users. The first being the noise generated by the unit, specifically during powering up and shutting down, with some clanking sounds being emitted from the projector itself.
Next is the amount of heat it produces, after twenty minutes of use during our initial setup, the projector was radiating a noticeable amount of heat from a panel on top of the unit on the right hand side, this may be an area of concern in the long run, especially in smaller sized rooms. This makes a room with good ventilation and cool air circulation equally important when considering a projector of the TW9200's size.
The final aspect is less worrying than the first two, but all screen adjustment controls are adjusted manually. Which seems a little close-fisted considering the R47 000 the unit will cost you. None of the issues we found with this unit were significant enough to impact the strong overall performance of the TW9200, and it still remains a worthwhile purchase.
Final Say
We understand that R47 000 is by no means a small amount of money to be shelling out for a home cinema projector. But that is really the whole point, as home cinema projectors are viewed more as a luxury than a necessity, and as such, the TW9200 is the perfect projector for those looking for an uncompromised viewing experience.
We cannot overstate the marked difference that the new UHE lamp and 3LCD colour display combination make, when comparing the TW9200 to other top end units. Further added to this 3D functionality is a fantastic feature that users will truly enjoy.
So if you're looking for the very best home cinema projector that money can buy, and there isn't much that R47 000 can't buy, the Epson EH-TW9200 should be one of the first options you consider.
Fantastic image quality and contrast ratio; Host of connections allows for multiple device setup; 3D feature great integration
Projector produces fair amount of heat; Pretty expensive home cinema unit