When you think of alluring, exciting technology, more than likely tablets, ultrabooks, smartphones and game consoles come to mind, rather than routers. However, Belkin's Play Max Wireless router turns this convention on its head, since functioning as a wireless router is the least it can do.

Design and set up

The device itself is of a fairly considerable size, though not unmanageable nor unattractive by any means, as its conservative gray appearance let it blend unobtrusively into our home office. Niftily, it comes with a base stand attached, which allowed us to stand it up next to our ADSL line.
Beyond simply plugging it into a power source and connecting it to our line, the included software, once installed, ran us through the setup procedure.

Admittedly, setting up and configuring a router can vary in convenience, from being a painful, confusing nuisance, to being easy, logical and quick. Belkin's Play Max Wireless Router fell into the latter camp, with the process taking us about 25 minutes, (software installation took the most time) and was as easy as we could have hoped for.

The one caveat to this, and word of advice, is to have your ISP username and password available ahead of time, along with the included card containing the network name (SSID) and password.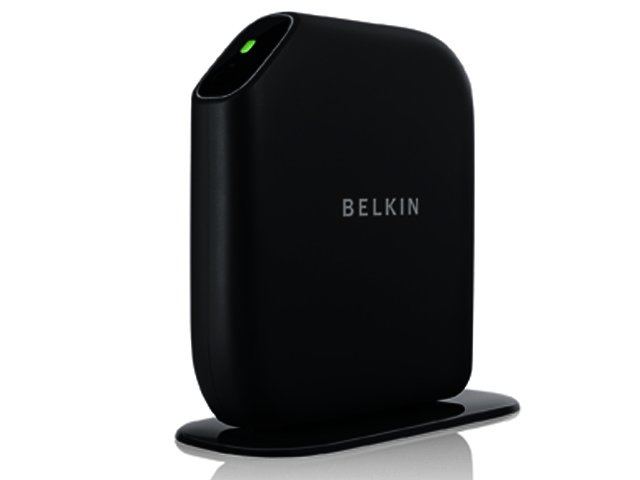 The PlayMax router comes with a useful stand that offsets its larger dimensions
Performance and Interface

Admittedly, the advanced features on offer that one can configure on the modem can be a little daunting to some. However, this is offset by a clean and well laid out browser based interface that has at least made an effort to make customising one's router as intuitive as possible, with settings divided by section. These include LAN, Wireless, Firewall, Play features and utilities, through which you can update the router's firmware.

Testing our connection speed through the Play Max gave us a very good 19 ms ping speed, however, it was the wireless performance that we were most interested in, considering the router supports IEEE 802.11n. On this front, we weren't disappointed. The router supports two wireless speeds – 2.4 GHz, for streaming data and pictures and 5 GHz, for streaming more intensive media such as video and games.

On both fronts, we noticed a considerable bump in speed when streaming wirelessly, as compared to our old Telkom ADSL router.

Features galore

The router itself has four Ethernet ports to connect other wired PCs on one's network, as well as two USB 2.0 ports that support external hard drives or flash disks in both FAT32 and NTFS format.

This enabled one of the numerous features that made the router stand out – namely the ability to connect an external hard drive and enable the router to continue downloads when one's PC is switched off.

The integrated Torrent Genie, for example, enables one to download large media files and torrents directly to an external drive via the router. For frequent downloaders, this could be particularly useful, enabling users to perform downloads at night without having to worry about keeping their computer running.

Additionally, connecting an external drive enabled us to make all the contents of that drive accessible to our network, without necessarily powering on our PC beforehand.

An equally useful feature offered by the Play Max is Memory Safe. This enables one to automatically backup selected operating systems files, application files and selected folders to an attached external drive using the router. While no doubt many people backup their files to the cloud (whether using Dropbox or another service), it certainly cannot hurt to have yet another backup solution.

The purpose of the second USB port offers an additional capability of the router, namely to allow one to connect a printer to the device and access it from any other device (such as a notebook or tablet) connected to the network.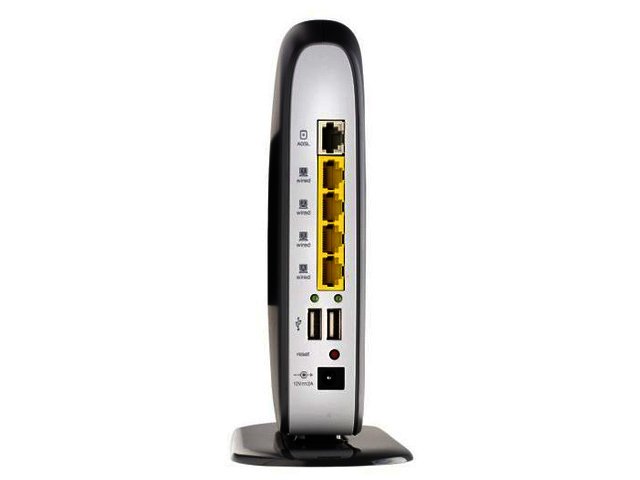 The back view of the router reveals its four ethernet ports and two USB 2.0 ports
Going the extra mile

Yet another feature, BitBoost, allowed us to prioritise which activities took preference when our network was experiencing heavy usage. For example, if busy on a Voice over IP conference call, BitBoost enabled us to make bandwidth available for this first and then allocate the remainder of our bandwidth to other network applications.

Included with the router is the media player and torrent programme, Vuze, which enables one to download torrents of movies and media. These can then be sent to numerous devices on one's network, including one's PS3, Xbox 360, iPod, and PSP, to be watched wherever one desired.

Finally, guests could be granted access to our broadband connection without being able to join our personal network. A unique network name and password for the guest network is provided with the router, which guests will need to use when accessing the internet, much like is implemented by coffee shops and shopping centres.
To the point
Along with the rich additional features offered by the Play Max Wireless Router, the ease of setup and noticeable speed bump, particularly when using wireless connectivity, impressed us no end. Whether you intend using even a fraction of the additional features on offer, in our minds this certainly made the case for this router being high up on one's technology wish list. It has an RRP of R1899.
Pros
Easy setup
Excellent speeds
Abundance of extra features
Cons
Fairly large
Made our Telkom modem look prehistoric by comparison
Expensive
Easy setup, Excellent speeds, Abundance of extra features
Fairly large, Made our Telkom modem look prehistoric by comparison, Expensive