Acer is reaffirming their position in the notebook market, releasing a string of innovative products over the past year. These include the monstrously powerful Acer Aspire TimelineX 5820TG and the impressive, but not too exciting Acer Aspire 7740G. Last week the company sent us the new entry-level Acer Aspire 5334 to test out. This is how it fared.

Design

First off, the Aspire 5334 isn't going to win any beauty pageant. The styling and design, while practical enough, looks like it came straight from 2001. Of course, an entry level notebook such as this can't be expected to be the best looking device around, but even the Proline W763S impressed us more with its raised key design.

That said the keyboard layout has been designed with user friendliness in mind instead of looking good. Typing on the keyboard is smooth and all the keys are responsive with a matte design that makes your fingers stick to the keys quite nicely. A number pad is included which is a useful if you're working with spreadsheets a lot. Its keys also have wide spacing in-between, making no hassle of quick number crunching.

The same matte design that makes an appearance on the rest of the keyboard is present on the touchpad, with the touchpad reasonably responsive although a little jittery at times. There is no multi-touch present.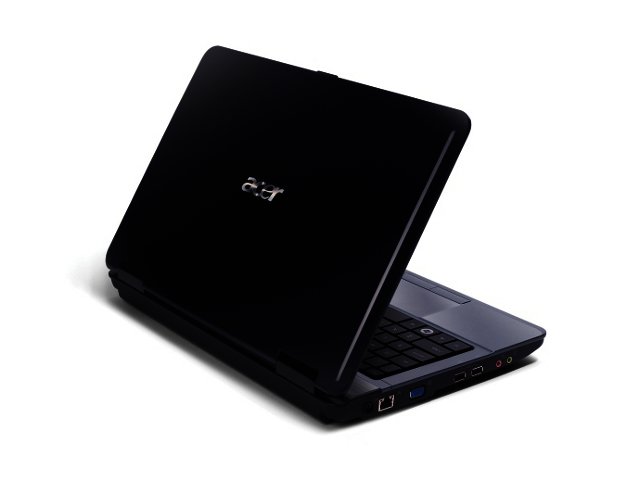 Features

Internally the notebook has some decently powerful specs for an entry-level machine. This includes an Intel Celeron T3300 processor running two cores at 2.0 GHz. An Intel GMA 4500M onboard graphics processor takes care of the graphical display, just don't expect to play resource hungry games on the machine though. 2 GB of DDR3 memory (4 GB option also available) was present on our test device, enough to handle a decent amount of multi-tasking without a hitch.

During benchmarking the Aspire 5334 scored an overall passable mark of 731 on 3D Mark 06. It doesn't stand up to the 1922 of the more expensive TimelineX but it's a decent enough score for an everyday user notebook. In Heaven Benchmark v2.0 it sported an overall score of 42 (yes Douglas Adams fans, we know) and a frames per second (FPS) rating of 1.7 throughout the test.

A 320 GB hard disk drive (HDD) saw service on our test model and provides ample space for data. The notebook is also available with either a 160, 250, 500 or 640 GB HDD depending on your preferences. A DVD-Super Multi DL optical drive ensures you can play any disc short of Blu-ray.

Wireless capabilities is provided in the form of a Npilfy 802.11 b/g/n wireless receiver while a multi card reader ensures support for SD cards, Multimedia Card's (MMC) and xD-Picture Cards (xD). A built-in 1.3 MP webcam allows users to chat online and the camera supports a max resolution of 1280 x 1024 pixels.

As far as ports go the Aspire 5334 failed to impress, it features only two USB 2.0 ports along with one RGB port and one standard 10/100 network port. Having only two USB ports can become quite annoying, especially if one is used to support a mouse practically all the time.

As far as sound goes the device can be used to play movies or music at a decent audio level, as long as there is not a lot of ambient noise in the vicinity. Don't expect to hear much in an airport terminal or even a mildly busy office, these speakers will only reach you clearly in a quiet room.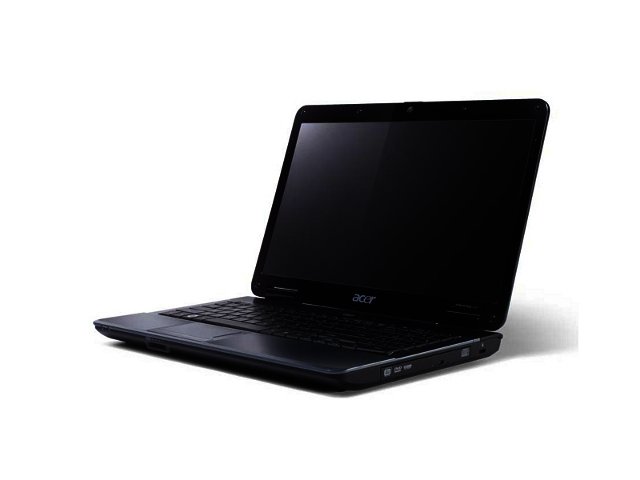 Display

Taking care of visuals is a 15.6" HD-ready display with a native resolution of 1366 x 768 (widescreen). It features a high brightness level and Acer's CineCrystal LED-backlit TFT LCD technology with an aspect ratio of 16:9.

The display actually surprised us in how well it handled our lovely country's substantial glare. Sure, using the device in direct sunlight is still not recommended, but we were able to make out a lot more on the Aspire's display than on some other notebooks.

Size and weight

The device is reasonably compact although we wouldn't call it the perfect travelling companion. It measures in at 327 x 246 x 39 mm (W,D,H) and weighs 2.7 kg with the battery pack inserted.

Battery

The Acer Aspire 5334 features a 6-cell Li-ion battery which performs good for an entry-level machine. In strenuous testing (running benchmarking programs at the time) the notebook ran out of juice after just over three hours. When used a little more sparingly the battery easily gives four hours and more - good enough for an entry-level machine.

Conclusion

The Acer Aspire 5334 is a decently powerful device with a full list of features and a large amount of user-friendly appeal. It may not be the prettiest notebook in the pond, and it may not be the most modern either, but it packs a no nonsense spec sheet and everything you would expect from an entry-level notebook today. It retails for a recommended price of R4999 and is available from Incredible Connection.
Full keyboard and numpad along with a high quality display worked in favour of the Aspire 5334.
A slightly boring design and only supporting two USB ports puts a slight damper on things.