If PCs were automobiles, then gaming notebooks would be the sports cars of the auto world, expected to deliver no holds barred performance in a svelte, sexy and head-turning chassis. Indeed the metaphor is all too apparent in the Gigabyte P25, which delivers on both counts.
To start with, the notebook is unabashedly conspicuous – its yellow lid, ringed by a silver border practically screams "I am here!" like the rare yellow Ferrari 458 Spider that it brought to mind. It practically dares other gaming notebooks to go head-to-head with it.
The P25's aesthetic appeal continues when you open the lid, as chamfered edges, and an all black keyboard setting, lend it a smart-looking appeal as well.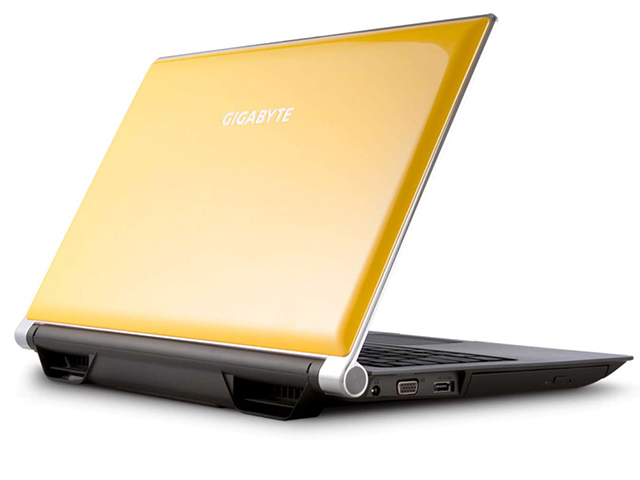 Thanks to its distinctive yellow lid, the likelihood of misplacing or losing your closed notebook in a crowded room is very low. With its stellar performance, the likelihood of your PC gaming mates turning yellow or green with envy is considerably higher.
First, the good news
The 15.6" display, which in our opinion amounts to a more manageable and portable gaming machine as compared with a 17" offering, boasts full HD resolution (1920 x 1080). To give an indication of how impressive it looked, it had us scrambling to our PC games library and almost drooling (figuratively speaking) at the prospect of loading up some new and old favourites to see how they looked as well as played.
Suffice to say, the screen certainly holds its own, boasting rich colours, excellent brightness and, a boon for games in particular, deep blacks and very good viewing angles. This was particularly impressive, considering the fact that Gigabyte has opted for a matte screen rather than a glossy (but reflection prone) one. However, banish concerns that the screen might look duller for the matte treatment, as this was certainly not the case.
Hands on and hands off
We were also very pleased to see that company omitted making their screen touch sensitive on its Windows 8 machine. Not only did this result in a bit more stable Windows 8 user experience, it would also have been completely unnecessary on a gaming notebook, unless you like looking at sumptuous graphics through a film of oily fingerprint residue. We don't, and we suspect no gamer in their right mind would either.
At this point you may be wondering whether the onboard sound lives up to the screen, and whether the appeal of watching movies on the notebook is just as enticing. In nutshell, yes on both counts. Sound from the built-in four dual channel stereo speakers is not just loud, cranked up to full, it's also still distinct and clear, while the integrated subwoofer offers the requisite bass oomph.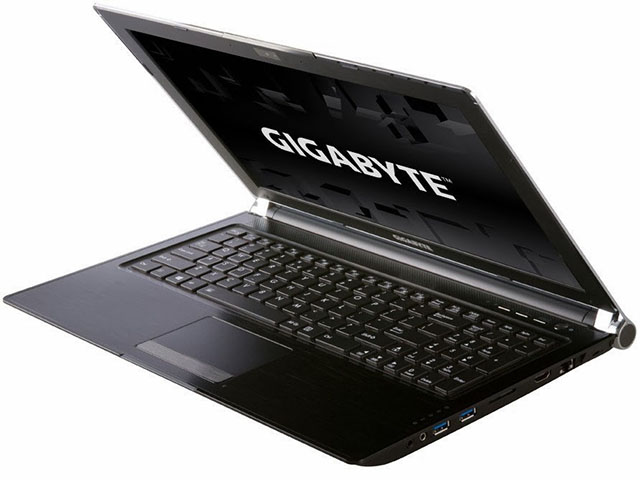 Lifting the lid reveals a smart looking notebook and full sized keyboard, with emphasis on the much used WASD keys.
Don't be shy now
The good news is that judging by the specs on offer, players certainly need not be shy about taking on their mates at a LAN. Gigabyte has packed the P25 with a Haswell Core i7 (4700 MQ), a generous 8 GB of DDR3 memory, while a 3 GB Geforce GTX 770M powers the graphics, along with switchable Intel HD graphics 4600.
Our benchmark scores bore out what our experience indicated, namely terrific all round performance. In 3D Mark, we received an exemplary 17 298 3D Marks, while our Heaven benchmark gave us a score of 926. Alas, on our review unit, the latest version of 3D Marks refused to give us Ice Storm and Fire Strike scores due to a driver issue, but suffice to say, to our eyes, these two tests ran extremely smoothly and looked amazing. After a driver update for both the integrated Intel Graphics as well as the Nvidia graphics card, the P25 showed, not surprisingly, great results in our latest 3D Mark benchmarks, giving scores of 11 296 in Firestrike, 12 445 in CloudGate and excellent 56375 in IceStorm.
Actually, there isn't any bad news
Continuing the good showing, the P25's full size and backlit chiclet keyboard proved quite nice as well, with just enough depth to satisfy, while the all-important gaming WASD keys received a bit more of an emphasis.Even though the slightly recessed trackpad was decent and responsive enough, we actually expected it to be slightly larger than it was. Even though it wasn't small, we still would have liked a larger touchpad area, and found our fingers unconsciously searching for tracking sensitivity where none was present.
That, however is a small gripe, since more than likely, gamers would accompany the P25 with their gaming mouse of choice.
Also working in its favour – and an ever-present issue for gaming machines in general – is that the P25 never really got overly hot in our time with it. While we did notice a little warmth across the notebook when under load, this was far from uncomfortable, and quite evenly spread. Apparently, this fine distribution of air is owing to the fact that the notebook employs a dual heat sink and rear dual air vent system, which keeps the warm air away from either sides of the notebook and instead cools the CPU and the GPU separately.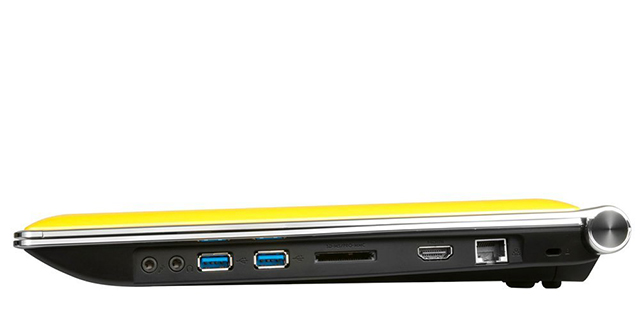 Granted, at 32 mm high and weighing in at 2.8 kg, the P25 is not the thinnest or the lightest notebook available, but it's not as cumbersome as these figures may suggest, and well worth the top-class performance.
Storage story and minor gripes
On the storage front, the P25 also boasts what we consider ideal – a 128 GB SSD for ensuring fast, near instant boot times, along with a 750 GB SATA harddrive (7200 rpm, rather than the slower 5400 rpm) for accommodating media that you will likely want to store on the machine. Furthermore, peripherals are catered to with two USB 3.0 ports and another eSATA USB charging port, an HDMI port and an SD card reader.
Indeed, it's particularly refreshing to come across a notebook where its pros clearly outweigh its cons. If we had to nitpick, the only difficulty we experienced with the notebook was initially installing the removable battery, which takes a little bit of maneuvering to lock in place.
Even this though, is forgivable, since the replaceable battery option means that you can extend your forays away from the power cord. Added to this is the fact that we saw the P25 offering in the region of between three to six hours on a single charge (largely dependent on how much you push it) and it certainly makes it a viable machine to take PC gaming on the go.
Our only other nitpick would be its somewhat staid name. Based on what the notebook has to offer, Gigabyte could quite easily have been bolder, perhaps calling it the Zeus, The Bismarck or the Gigerrari or something equally as imaginative (and less ridiculous) and more befitting of the gaming giant this PC actually is.
Affordable excellence
That being said, we must give props to some of the P25's small touches, such as Gigabyte's Smart Manager software, which enables you to control oft-accessed functions like Wi-Fi, smart cooling, screen brightness and audio, and even monitor switching and font setting, from one easily accessed console.
The Gigabyte P25 retails for R23 999 for the 8 GB version.
Fantastic screen, Excellent performance, Stylish design, Not hampered by touchscreen, Great sound
Touchpad could be larger, Battery installation a bit tricky