Mecer's C22G tablet is very well built and offers powerful performance, but its heavy weight and poor sound work against it.
The 11.6" C22G tablet is certainly well built, and feels not just very solid, but also durable and fairly rugged. To its credit, the C22G tablet does boast full PC specifications and power – under the hood is a Core i5 3337U processor with 4 GB of memory, Intel HD Graphics 4000 and a 64 GB solid state drive. In effect, from a performance point of view, this makes it comparable to an 11.6" ultrabook, albeit with a detachable keyboard.
Its ruggedness however comes with a drawback, because it is also weighty in the hand (1066 g without the keyboard, and 1.3 kg with it) and not a device you would likely hold for long stretches without looking for some way to prop it up.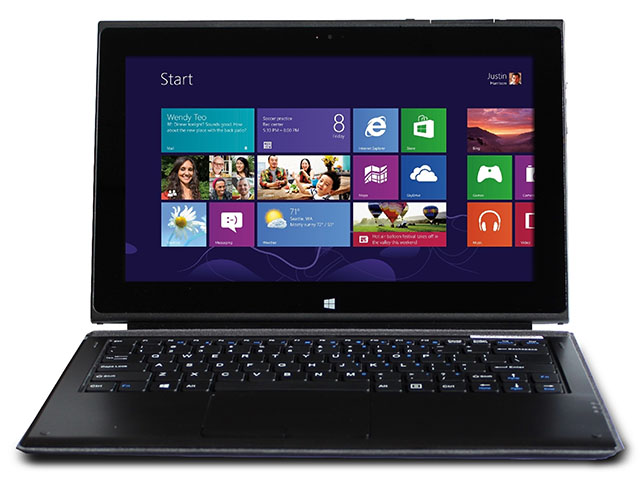 Is it a tablet or is an ultrabook hybrid? Well, with the detachable keyboard cover, it's a bit of both actually
Dark clouds and silver linings
The C22G's 11.6" screen, which is sharp and offers rich colours, boasts a decent 1366 x 768 resolution, while the back of the tablet itself plays host to a kickstand. The latter is meant to work in conjunction with the included rather nice keyboard cover (which includes a trackpad and lovely, springy mouse buttons as well). The included keyboard is similarly very good, with a surprising amount of keypress depth considering how thin it is. However, typing as one would on a notebook on your lap is out of the question, a firm surface is required.
The tablet does have its issues though, such as far too soft audio, even when the sound is cranked to maximum, and slightly sluggish screen orientation sensitivity. Our experience with Windows 8 on tablets is that it is simply not at all elegant as Android or iOS. That being said, to its credit the smart looking C22G does offer two USB 3.0 ports, an SD card slot and a microHDMI as well on the tablet itself.
We wouldn't rule Mecer out too quickly, especially if they are able to trim down the burdensome weight and improve the audio of the next iteration of the tablet. Its RRP is a pricey R11 550.
Well built, Solid, Very good performance
Expensive, Heavy