By all standards, Gigabyte's P27 gaming notebook is a monster – it is large, fairly heavy (3.2 kg), built to feel as solid as a Mack truck and boasts formidable specs. To start with, the notebook shares one similarity with the P25 (review); it too offers a beautiful, rich display with a matte finish. The colours are no less rich, blacks no less deep and contrast no less sharp than that which impressed on its smaller brother. But on this 17.3" display, these screen standouts are even more noticeable and enjoyable.
Like on the P25, glare and reflections are kept well at bay, but a matte display doesn't mean dull colours on this notebook; quite the contrary in fact. It further ensures that the notebook is less susceptible to oily fingerprint smears and stains. This is only aided by the fact that the P27's screen is not touch enabled. Quite frankly, this is a feature we didn't miss in the slightest.
Furthermore, the full HD resolution (1920 x 1080) only helps matters – suffice to say looking at the screen, whether playing games, watching movies or just viewing pictures, is a treat for the eyes, even if it can't lay claim to boasting Retina display rivaling resolutions.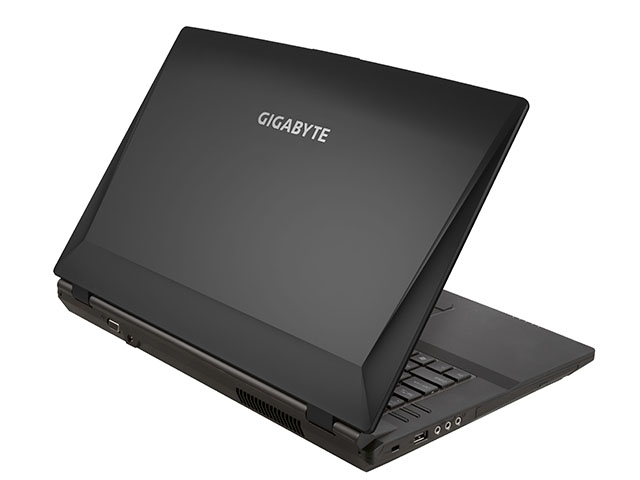 Granted, the P27 doesn't have all the lighting options as found on the likes of Alienware's machines, but it is still strikingly attractive in a sleek 'black is beautiful' kind of way.
Get ready, set, go!
Complementing the screen is the sheer performance capability of the machine itself, thanks to the presence of an Intel Core i7 (470MQ) processor running at 2.4 GHz , 16 GB of RAM (expandable to 24 GB) and a Geforce GTX 765 M graphics card with 2 GB of RAM. Together, these specs chew through general tasks like Usain Bolt through 100 metres.
When you don't need all the Geforce's graphics grunt, you can always switch over to the integrated Intel HD Graphics 4600 to conserve battery life. Storage, meanwhile, is once again catered to with the best of both worlds – a 128 GB SSD drive for fast booting and a 750 hard drive for media (also expandable up to 2 TB).
Key essentials
The full sized chiclet keyboard was a pleasure to use, with just enough depth and springiness to the keys for our liking. This is accompanied by very nice backlighting, always a boon when you're playing in a darkened room or in the wee hours of the morning – which to our minds, is still the best time of day to get lost in a great game. Another point in the keyboard's favour is the fact that Gigabyte places its trackpad in the centre of the frame, and not to the far left as other manufacturers who similarly include a full numpad tend to. Neither a positive nor a negative, but rather a matter of personal preference, some users may be divided by the large palm rest area, which covers your wrists as well as palms when typing.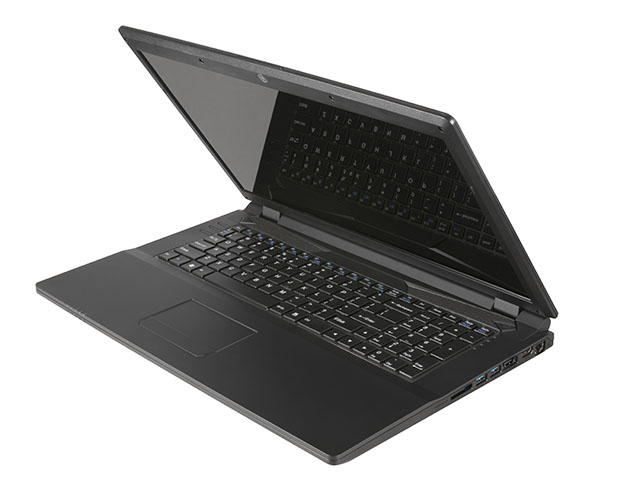 Flipping open the lid reveals two essential and very pleasing components - a beautiful matte screen, and a generous, full sized and lovely backlit keyboard.
One peculiar omission is that the all important gaming WASD keys are not highlighted; it's hardly an issue, but it is curious, given how ideally game centric this notebook is. However, the comparison between some other gaming-centric notebooks can be stark, such as Alienware's offerings, which not only have various lighting zones but also allow you to customise these to your heart's content.
While we found the trackpad to be responsive from edge to edge, once again we felt that it could have, dare we say, should have, been a bit larger, particularly on this 17" offering. It's neither tiny nor small but given how roomy the palmrest is, it left us wondering why a more generous trackpad was not implemented. That being said, it's not a dealbreaker, if only because serious PC gamers tend to have their own favourite gaming mice and wouldn't dream of using a trackpad to try play a game.
Details' delight
Minor gripes aside, there are also some small, minor touches that we really enjoyed. One of these, for those who miss the old, easy way to turn off or restart your notebook from Windows 7's menu bar, is Gigabyte's own virtual Smart Switch, a virtual icon that sits near where the Start menu used to be, and enables you to quickly and easily cause your notebook to hibernate, shut down, restart, sleep, or, if you're just popping away from your desk for a moment, lock.
Furthermore, Gigabyte has seen fit to provide a few extra tactile buttons on the side of the keyboard, to quickly and easily mute or unmute sound and turn on or off Wi-Fi without having to fuss around in the operating system. It's a small touch, but it is also one we found ourselves employing and enjoying often, and it is the kind of small attention to detail that makes a difference in general and frequent use.
At maximum, the audio was loud, crisp and clear, though with not as much bass as we expected. Again, this wasn't really a dealbreaker, since sound was certainly sufficient to enjoy our games and movies. Finally, there are a plethora of ports on offer, including two USB 3 ports, an eSATA/USB combo port, an SD card slot, USB 2.0 port, an Ethernet port and an HDMI port.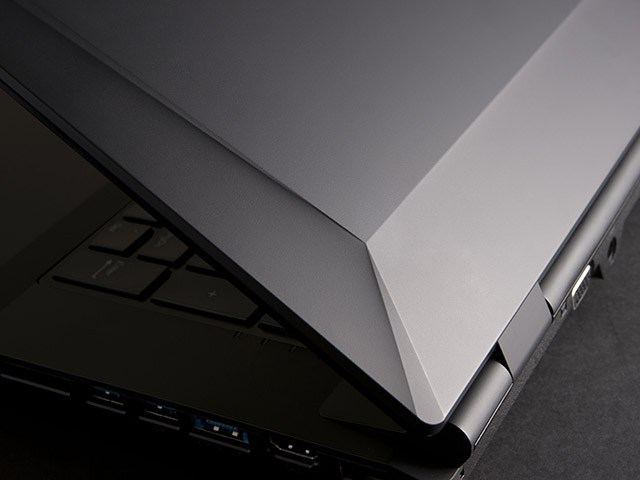 What really seals the deal here though is the small touches that grace the P27, both on the hardware and software front.
On the whole...
As is the case with certain select devices, such as Apple's iPad or Canon's 5D Mark III, the whole is more than the sum of its parts. Put simply, the P27 is an absolute pleasure to both work and play on.
It feels, to resurrect our travelling analogy, like flying in business class as compared with economy class, or riding in limousine as compared with just catching a 'nothing-special' cab. Is it the obvious superlative build quality, the impressive screen or the size of the machine that conveys this? The answer is all of the above.
If size and weight are no object, and you want a larger screen than that offered by the P25, then the P27 is a PC gamer's desktop replacement dream, provided of course that you can afford the price. RRP: R20 000.
Beautiful screen, Blistering performance, Very well built, Lots of thoughtful tweaks, Lovely keyboard, Matte finish keeps reflections at bay
Heavy, Trackpad could have been larger, Not much bass