Review: Hisense Sero 8 Pro
Last year one of the big surprises at the office was the Infinity Maxe X1 (review) phablet from Hisense. Known locally for their televisions (they have a factory in the Cape), we were impressed by the device's great value for money. This is certainly the case too with the new Sero 8 Pro tablet the company has recently launched in South Africa.

At R3 000 the Hisense Sero 8 Pro is seriously impressive.
At R3 000 we didn't expect a lot from the Sero 8 Pro, but what's actually on offer is fantastically impressive. Let's start with the 7.9" IPS screen, which at 2048x1536 (320 dpi) is rock solid when it comes to resolution, and especially so in this price range. When moving up from an older tablet, one of the first things you'll notice is how crisp the text looks while browsing, which also holds true when watching movies.
The look
The look of the Sero 8 Pro is another striking feature, since its 6.35 mm thin body housed in a stylish anodized metal frame is on-par with any other high-end unit. Hisense claims it's the thinnest 7.9" available at just 6.35 mm, but it still provides enough heft in hand to feel like you're holding something.

The metal body can become slippery at the back.
At the back however, this metal body provides very little grip and instead your hands move to two plastic strips located at the bottom and top for better handling. The metal tapers from the front to the back of the unit, which also makes the Sero 8 a pain to pick up. A sharp edge running along the back sides of the unit confirms that in regards to handling, Hisense still needs to get a few things right.
On the top of the Sero 8, you'll find your headphone jack, power button and microSD card slot which expands the 16 GB capacity of the unit by up to 32 GB. Interestingly enough, the unit doesn't feature a volume control rocker, instead you need to contend with volume up and down on-screen as part of the on-screen buttons at the bottom of the display. There are pros and cons to this configuration, and this will depend on how quickly you can get used to it.

At 6.35 mm thin, Hisense claims it's the thinnest 7.9" tablet around.
And on the inside
As far as innards go, the Sero 8 is solid, featuring an ARM Rockchip quad-core processor running at 1.61 GHz. It's not the fastest, but certainly not the slowest, beating out the likes of the Samsung Galaxy Tab Active (review) and LG G Pad 8.0 (review) in AnTuTu scores. Alongside a good injection of 2 GB of RAM, the Sero 8 certainly purrs along quite nicely, proving that at this price-point the Sero 8 impresses.
Android KitKat 4.4.4 takes care of the software side, while Hisense installed their Vision UI, certainly the most frustrating aspect of the Sero 8. Much like on certain Huawei devices, you don't have an app drawer, rather just different screens featuring all your apps. These can be managed into folders so it's not truly a concern and easily gotten used to.
What is a problem, is the three whole screens that Hisense dedicates to pre-installed nonsense. One for recommended apps, one for Viewster (a movie streaming app showcasing uninteresting b-grade movies, luckily for free since I wouldn't pay for any of them), and one for MyApp (which you can sign into Instagram with as far as I can tell and displays photos from there). These pages cannot be removed, and the apps cannot be uninstalled, only deactivated, which still displays the pages.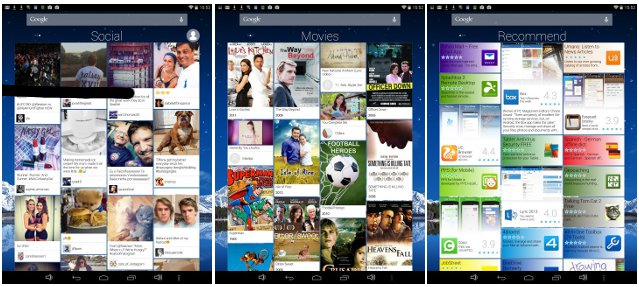 The bloatware in question.
Not only are they intrusive, but it manages to never make the tablet feel like your own, since these pages are always there staring you in the face. This is the worst example of bloatware we've seen yet and something Hisense needs to drop ASAP if they want to be taken seriously.
Another niggle is the Hisense's average battery life, with the 4400 mAh battery allowing for a bit more than four hours of movie watching before dying. If you want to take pictures with your tablet, an action we would never recommend anyways, you will find an 8 MP back and 2 MP camera of so-so quality. Rather take out your camera phone or your DSLR.
On many tablets, the sound is not sufficiently loud, luckily the Hisense does not suffer from this. Dual speakers at the bottom of the device makes allows for a decent movie watching experience, if not slightly on the tinny side. There is a Dolby app included, which comes to the fore if you are wearing headphones.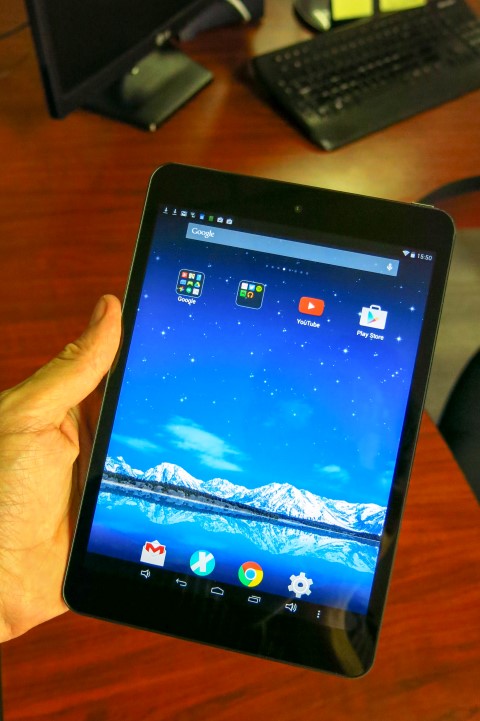 Not too big, and not too small.
And done
While the Sero 8 Pro still have a bit of work to do regarding camera quality, battery life and annoying bloatware, where it matters most – a beautiful screen, solid innards and a sleek, well-constructed body – Hisense certainly got it right. The best part is the expected retail price of R3 000, which makes the Sero 8 Pro highly recommended.
Beautiful screen, impressive metal body, good sound, solid innards
Slippery and difficult to pick up, BAD bloatware, average battery life