With the launch of Windows 8 a couple of months ago, it was only a matter of time before our anticipation of seeing Windows 8-laden offerings would come to fruition. Thus it came as little surprise when Samsung's Series 5 Ultra ultrabook landed on our desk for review.
The good news is that on the hardware front, the Series 5 Ultra makes a solid first impression. While there are some issues (more about this a little later), for the most part, there is quite a bit to like.
This begins with this its solid construction, as evidenced by not only a great chassis, but from rigid hinges and a screen that neither wavered nor displayed any flex. In the looks department, the Series 5 Ultra also reminded us of another impeccably designed ultrabook, Asus' Zenbook, most particularly since the front of the notebook is noticeably thinner than its back.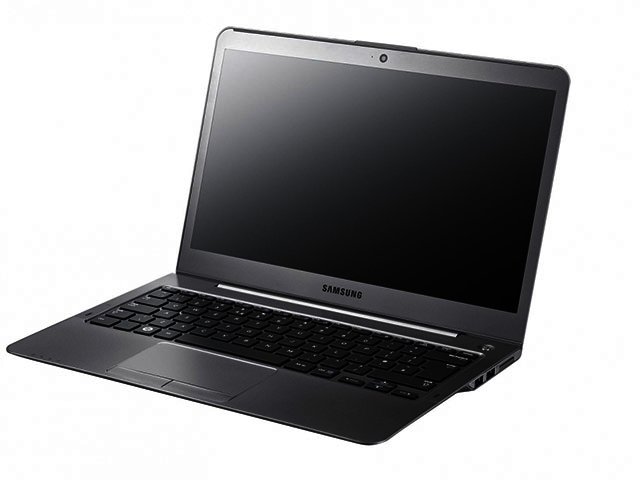 The Series 5 Ultra is certainly an attractive, well designed and classy-looking machine.
Designed to impress
On the design front, the Series 5 Ultra boasts a smart, modern aesthetic, with a combination of gunmetal grey (officially dubbed metallic titan) and black touches which we suspect will appeal to the more mature and business-end of the market.
Additionally, some of the curves and sleek lines reminded us a little of the beautiful Series 9 notebook from last year. Like it did then, this design evoked a futuristic appeal, and on that front, the ultrabook certainly exhibits the kind of thoughtful styling that is appropriate for the 21st century.
In a nutshell, the Series 5 Ultra is a strikingly beautiful piece of kit, and certainly one ultrabook we would not be embarrassed to pull out in public. At 1.6 kilograms, the ultrabook is certainly light enough to carry around with one for extended period without requiring a visit to the chiropractor.
However, as the saying goes, beauty is skin deep, and thus we were very keen to see whether the notebook performed as elegantly as it looked.
It's showtime – or not
The first element, naturally, to come under scrutiny was the 13.3" LED backlit screen. While it offers a decent resolution of 1366 x 768, it also boasts a 300 nits brightness, which is noticeably brighter than the Acer S7, but not quite as bright as some of the other screens we have laid our eyes on this year. Nonetheless, it is serviceable.
While the colour saturation is quite good, the display seemed to hover somewhere between the ultra glossy screen that some manufacturers opt for, and the slightly duller matte finish that keeps glare at bay, at the expense of colour and contrast. It is not a bad screen, but frankly, we have definitely seen better.
Viewing angles in particular were quite poor, which means that if you plan on watching movies on the notebook, that will probably be done solo.
As we expect to see on many forthcoming Windows 8 machines, the Series 5 Ultra sports a responsive touchscreen, for scrolling across Windows 8's tile-loving interface. Navigation across the touchscreen, and scrolling pages of tiles, proved to be smooth and fluid, although not quite as fast as you would enjoy on an Android tablet like the
Samsung Galaxy Note 10.1
.
The screen was redeemed by the chiclet keyboard, which was laudably comfortable to type on, while the keys themselves offered a very nice balance between depth, and springiness. Alas, no backlighting was evident; which is always a disappointing omission.
Additionally, the decently sized trackpad was responsive from end to end, while two very nice tactile buttons beneath it served as mouse buttons. On that front, we encountered no problems when neglecting our external mouse and just using the mouse and trackpad for navigation.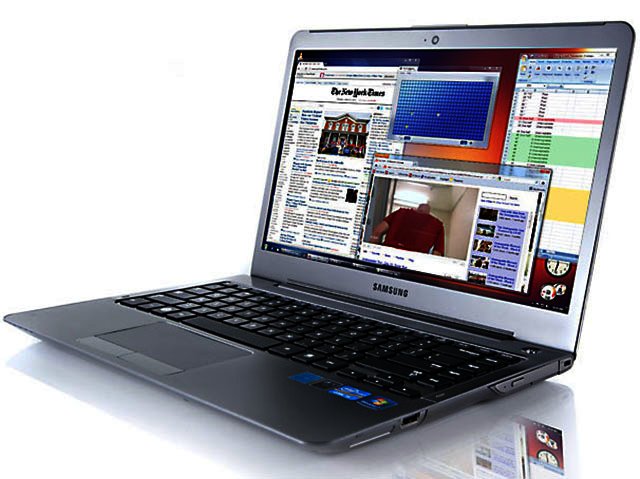 The Series 5 Utra's screen is fine in most respects, however, poor viewing angles mean that watching movies on it will likely be a solo affair.
Outing the innards
Beneath the attractive looks, the ultrabook is equipped with a 1.7 GHz dual-core Intel Core i5-3317U processor and 4 GB of RAM.
Additionally, a 24 GB ExpressCache solid state drive accounted for relatively the quick start up times (17 seconds from powered off), and closer to 4 seconds from sleep, while this is accompanied by a 500 GB SATA hard drive. This hybrid combination is particularly useful in our opinion, for those who wish to benefit from a quick starting notebook, but still have a myriad of media files they need the extra space for.
The performance side, therefore, is much as we have come to expect from this configuration. Programmes opened quickly, web browsing was smooth and generally, we had no complaints about lag or subpar performance. In our opinion the third generation Ivy Bridge i5 provides the best value for money.
Graphics are handled by the Intel HD Graphics 4000, which is suitable for some light and casual gaming, but will not support aspirations (or in this case, fantasies) of running Crysis 3. In our benchmark test, the Ultra Series 5 scored 2178 on 3D Marks 6, which fell behind both the HP Folio 13's score of 3460 marks in our 3D Mark 6 benchmark, and the Dell XPS 13's score of 3503, while also being surpassed by the Lenovo U300s's score of 3392 marks.
Audio excellence and NB points
One of the standout features where the notebook performs excellently is in its audio. In a nutshell, the notebook's sound is outstanding. Clear, crisp, sharp and very loud when pushed to maximum, watching movies and videos on the notebook was an auditory pleasure.
Additionally, the ultrabooks battery life topped out at a respectable six hours, which while not as good as the Folio 13's eight and a half hours of running time, is still a respectable amount of juice for its fair share of mobile workers.
Like most ultrabooks, the optical drive has been excluded, but the notebook does host a bevy of ports, including two USB 2.0 ports, one USB 3 port, an HDMI port and mini VGA port, as well as an Ethernet port. The latter cleverly expands to accommodate an Ethernet cable and folds into the base of the notebook when not in use. Additionally, an SD card slot is also included, and all of these are thoughtfully well distributed across both sides of the ultrabook.
The one niggle was that the notebook tended to become fairly warm at its base after a while. While this won't have you rushing to the emergency room, it may be enough to compel you to alternate it between your lap, and your desk, particularly when the notebook is put under intensive workloads.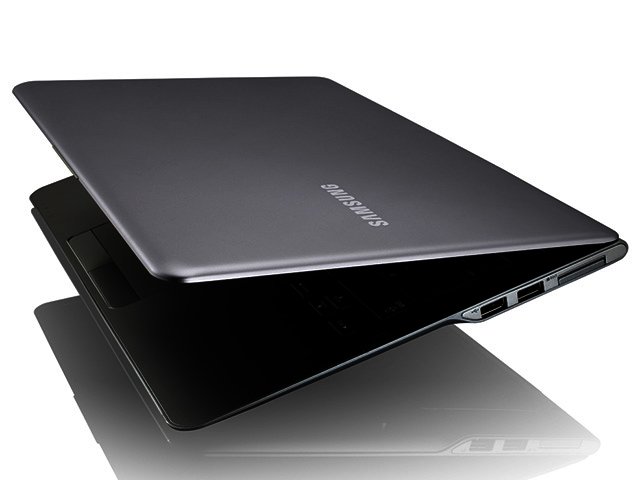 It offers evenly spaced ports across the left and right side of the device.
Throwing stones at Windows
The bigger problem we had with the Series 5 Ultra is not a fault of Samsung's or the hardware. Rather, this came from the idiosyncrasies offered by its Windows 8 operating system.
Unlike a Windows 7 ultrabook, where the OS mostly moves out of the way and leaves the hardware to prove its value, Windows 8 in some ways seemed intent on doing the opposite, raising our ire and irritability levels to the detriment of our experience with the ultrabook.
To an extent, Microsoft's inexplicable decision to remove the Start menu from its OS can be countered by installing a third party application, such as
Stardock's Start8
start menu or the free
Classic Shell
. While a Start8 trial version is available, the full version does cost $5 (R44) for just Start8, or $50 (R440) for Object Desktop, which includes Start8 as well as a host of other Windows enhancing features.
Even after installing Start8 though, certain annoyances hampered the Series 5. One of the most irritating was the OS's predilection to dish up random apps with the slightest movement of the touchpad, which resulting in us having to keep Task Manager on high alert to shut down the offending intrusion.
If you like or are used to Windows 8, then the Series 5 Ultra packs quite a bit to enjoy on terms of its computing experience. If like us, Windows 8 is rapidly earning your irritation and dismay, then consider yourselves warned, and rather give the impressive Windows 7 sporting
Samsung Series 5
your consideration, or at least wait till Windows 8 Service Pack 1, which should hopefully sort out a few of the teething problems.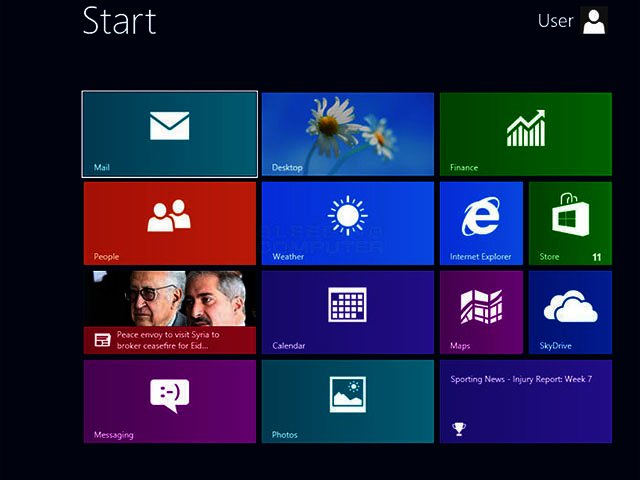 The source of our biggest frustration when using the Series 5 Ultra came not from the hardware,
but alas, from Windows 8 itself. Here's hoping that these are addressed in a Service Pack soon.
To the point
In short, the Samsung Ultra Series 5 is actually a pretty good ultrabook, despite its middling screen and one particularly disappointing omission from its feature set (backlit keyboard, we're looking at you). It has its notable up sides – such as very good performance, a fine keyboard and superb audio.
However, users' enjoyment factor of the device is going to largely depend on their response to Windows 8, as Microsoft's newest OS is stamped all over the device. In our experience, we found it hampered the hardware; that does not mean though, that it will do the same for all prospective purchasers.
This however, is not restricted to Samsung's offerings; as this impacts on all Windows 8 machines from a variety of manufacturers. It has a RRP of R14 000.
Pros
Excellent build
Beautiful design
Comfortable keyboard
Superb sound
Cons
No keyboard backlighting
Middling screen
Poor viewing angles
Bloatware and Windows 8 idiosyncrasies
Excellent build, Beautiful design, Comfortable keyboard, Superb sound
No keyboard backlighting, Middling screen, Poor viewing angles, Bloatware and Windows 8 idiosyncrasies