The first thing that is noticeable about the Portégé X30 right out the box is just how light it is, at just over 1 kg. This, to the extent that when first unboxed, I thought it may be missing its battery (it wasn't), with the razor-thin (15.9 mm) 14" notebook even making my iPad Air feel heavy in comparison. For the business user, at whom this notebook is aimed, this is notably advantageous, particularly for those who find themselves on a plane or on-the-go frequently.
At the same time, this easily transportable package has not been achieved at the expense of build quality or power. Regarding the former, the Portégé X30 is a solidly built machine, with no discernible creak or flex on either the base or screen respectively. Its base has an anodised aluminium feel to it, while rather noticeable metal hinges seem to have been paid particular attention to here, holding it firmly in place at all times to the screen's benefit.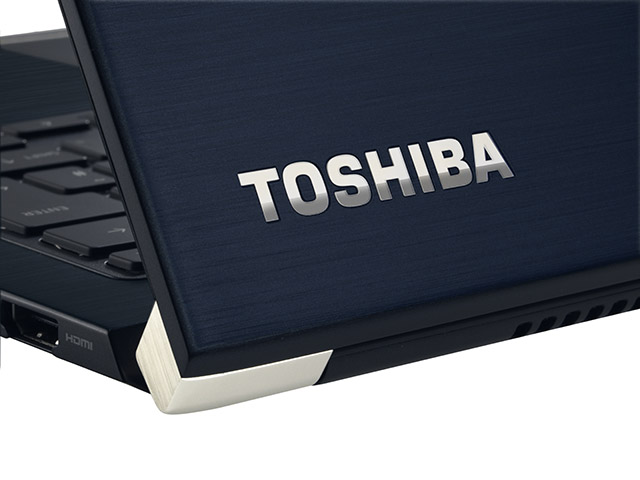 More power to you
As far as processing power is concerned, the notebook on review was certainly not the victim of neglect. It sported a Core i7 processor (7500U) clocked at 2.7 GHz, along with a healthy 16 GB of RAM and 225 GB SSD. This combination ensured very quick performance across the board, for everything from churning out documents, navigating the web, through to watching videos online, with the latter being aided by excellent speakers (more about them later).
Additionally, the 14" matte screen is lovely. A solid 1920x1080 resolution may not beat the highest 4K display available on some notebooks, but colours were nonetheless rich and smooth, while viewing angles were outstanding. Admittedly, I didn't find it to be the brightest screen out there (Dell and Acer still seem to take the cake on that front), but nor could it be characterised it as dull or subdued. In fact, to me it seemed a bit easier on the eye than some of the brighter offerings available, although this likely has more to do with sensitivity of one's eyes rather than any screen technology.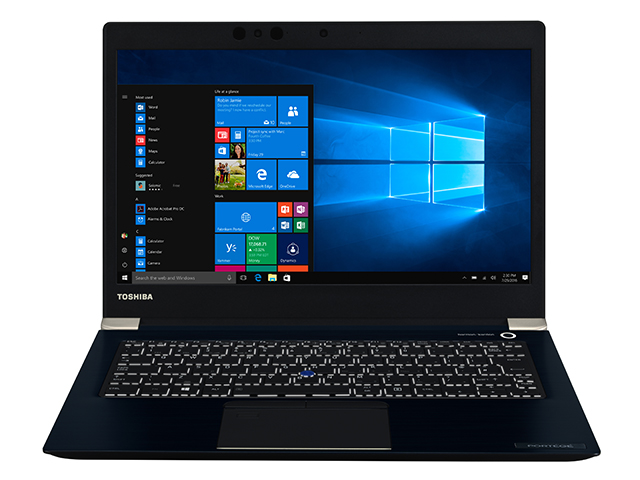 Listen up
On the one front that the Portégé X30 stands out though, is sound. That does not really come as much of a surprise, since there are Harman Kardon speakers onboard here, which made watching content such as YouTube videos a pleasure. The speakers are not only loud, they also remain crisp with a good amount of bass at the top end.
As would be expected from a notebook that is this thin, the key press would not be the deepest, and such is the case here. That, however, is somewhat mitigated against by their springiness, which uses the depth they do offer to its optimum, and certainly makes for a more pleasing typing experience. However, even as some of the keys have been truncated, like the Shift, Backspace and Space bar, it did still feel a bit cramped to me. Even so, considering this review was typed on the Portégé, I don't foresee it being a major issue for keyboard warriors, at least once familiarity settles in.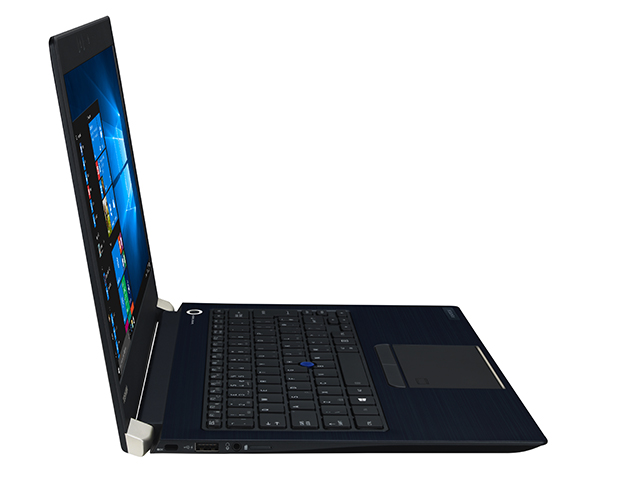 Touchy, touchy
A nicely responsive trackpad is accompanied by an embedded fingerprint reader as well as a pointer nib. Additionally, while there are two mouse buttons above the trackpad, it is also clickable. The impression this gives is that the notebook has been designed to cater to a variety of user preferences. Like dedicated mouse buttons? Well, they are there. Prefer clicking on the trackpad? You have that option. Favour using a tracking nib to move your cursor, you are covered as well. If you prefer navigating Windows 10 using the touchscreen, no problem. For such a compact package, the variety of options of how you interact with the notebook is particularly broad.
This makes it really difficult to fault its interfacing. While I occasionally found the trackpad to be a bit finicky, with left clicks being mistaken for right ones, there was an easy workaround mere millimetres from my fingertips.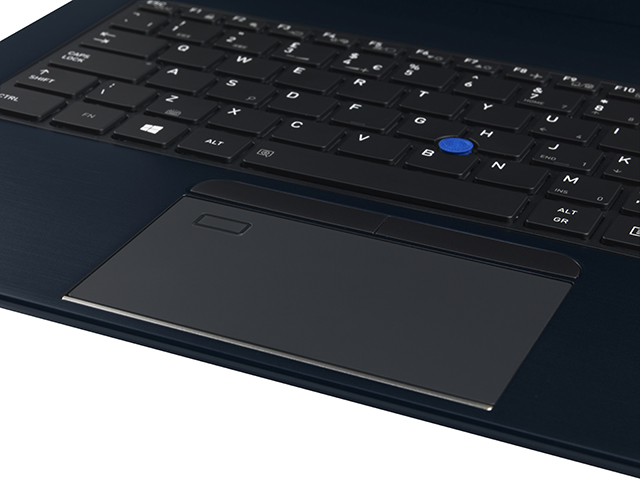 Live on
As for battery life, while the estimates given by the system varied wildly - anywhere from 2 hours at below 50% to 11 hours at full charge, I found a more realistic expectation to be about 8 hours on a charge, certainly enough to see you through a medium length overseas trip. I suppose you could argue whether the notebook's battery would have been better served by a Core i5 processor, considering this is not a gaming machine and probably wouldn't be used for extensive video editing. However, it is difficult to complain about having more processing power, and a speedy system, at one's fingertips.
WIth all this said, I have to come back to what I think is the X30's biggest strength - its lightness. For business trips, and for travellers watching their weight, including it as a companion is a complete no brainer. Its high end productivity performance, along with superlative portability, make it a winner for business users and travellers in particular. The Portégé X30 has a RRP starting from R19 000 and is available as of this month.
Thin, Extremely light, Powerful performance for a compact package, Excellent sound
Finicky touchpad, Slightly cramped keyboard