Canon might be better known for its various ranges of digital cameras and camcorders, but the company also makes some good all-in-ones (AIO), the likes of the PIXMA MG6140. This AIO delivers high quality print jobs at a really impressive pace and also boasts an unusual, yet simple to use interface.
Design
Canon's stylish black printer does consume a bit of desk real estate, measuring 470 x 368 x 173 mm and weighing in at a chubby 9.2 kg.
The unit sports a 3" colour TFT display, which looks similar to the one utilised on the
Lexmark Pinnacle Pro901
, but unlike the much more pricey Lexmark's display isn't a touch-screen. Instead it boasts a number of PlayStation 3-esque touch-sensitive buttons, via which the AIO's settings and print job settings are handled.
This system, which Canon calls its Intelligent Touch System, is easy to use and provides the printer with a distinguishing look and feel from the run-of-the-mill models featuring the standard buttons or touch-screen based interfaces. It remains as simple to use as a touch-based display though, with the only difference being that you don't touch the screen but the touch sensitive buttons. You'll also be able to find the correct viewing angle for the colour screen, as it easily pops up so that it can be tilted, which together with its crispness and clarity makes the menus easy to read even with its limited size.
Interface with a difference
There are three buttons just below the TFT display that you use to select the majority of the functionality on offer as well as a directional keypad just below that with four directional buttons and an 'OK' button for selecting options. Next to the directional keypad are a further seven buttons that remain inactive and unlit (which in conjunction with the black panels of the printer makes them almost invisible), until required such as the home button, back button and Stop (cancel job) button. This is a nice touch as you are not overwhelmed by the sheer quantity of buttons to press.
Paper Handling
This AIO can be employed as an small office printing workhorse as it offers 300 sheets of printing pages to be loaded in the two paper trays. There is an internal input tray (max. 150 sheets capacity) at the front of the printer and another one at the back of the printer (also sporting a 150 sheets capacity). Both can be adjusted to allow for different paper sizes such as A4 and 10 x 15 cm glossy photo paper. If the front tray runs out of paper though, the printer will not automatically switch to the rear tray, as you have to set it to use that draw via the AIO's interface or on the printing preferences page after you've pressed print.
Printing jobs are done at a frenetic pace on the fastest setting, although the quality of the jobs do take a considerable hit. Overall quality is excellent on the normal and high quality settings, obviously also the case when printing photos on Canon photo paper. The latter does result in a dramatic drop in printing pace, but that is pretty standard.
There is a large output tray at the front of the printer that catches printed pages as they leave the unit, which also also conveniently, automatically drops down by itself if you are printing and forget to pull it down.
The MG6140 also offers automatic duplex (double-sided) printing, which works well and is simple to set up, as you simply tick the duplex box on the printing preferences page which pops up after you send a printing job.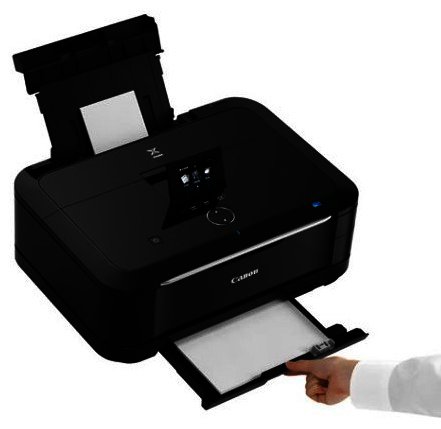 Additional features
Canon has included its Solution Menu X software that utilises an uncomplicated but good looking interface which is also not the norm with AIOs we've tested before including the
Lexmark Platinum Pro905
. All the functionality is conveniently grouped such as photo printing and scanning. Scanning can be done to a maximum of A4 sized pages at an excellent maximum resolution of up to 4800 x 4800 dpi. These can saved (as PDF, JPEG, TIFF or BMP) to the PC or directly on your SD, memory stick, memory stick duo or CF memory cards via the provided slots at the front of the printer.
The MG6140 offers IEEE802.11 b/g Wi-Fi, which boasts a trouble-free setup. You simply have to search for a network and input the WEP code (security code used on most Wi-Fi networks) and Bob's your uncle. Then other PCs on the network simply add it on their end (does take a good couple of minutes though) and can then also start printing over the network.
Those lucky enough to possess a Canon digital camera or camcorders that boasts HD video recording capabilities, can employ this printer and its Full HD Movie Print software to capture the best frames and send these to be printed. What this basically mean is that you can print pictures from video - handy if you're big on video and sometimes forget to take pics.
If you write a lot of music or movies onto CDs, DVDs or Blu-ray Disks, you'll also appreciate the fact that you are able to print directly onto blank printable versions these (usually indicated on the packaging) using a special tray provided with the printer. You can then decorate the cover of your home made movie of the family getaway, with photos of your relatives for example, which is very handy and will save you the printing costs involved with printing it at a printing and photography store.
Final word
With its user-friendly interface, direct disk printing facility and useful software, the Canon manages to stand out from the normal crop of AIOs and offers a better scanning resolution to boot. It's definitely worth considering as your next small business or home network printer and goes for a recommended retail price of R1899.
Pro
Good printing quality, high printing speed, easy-to-use touch menu system, direct disk printing option and useful software included.
Con
A little on the heavy side, doesn't automatically switch between the two input trays.
Good printing quality, high printing speed, easy-to-use touch menu system, direct disk printing option and useful software included.
A little on the heavy side, doesn't automatically switch between the two input trays.