You have to hand it to the noble printer: while many of its flashier gadget peers, such as tablets, smartphones and ultrabooks, are showered with attention and benefit from their seemingly effortless appeal, printers seem to have to work so much harder to attract even a second look.
But, while printers may not be the object of desire that the gadget hungry dream of, they have made no less significant advances in terms of the ease of use they have to offer.
The HP Deskjet 3070A is a perfect example of this. The device itself is actually quite attractive and compact for a wireless printer, scanner and copier, robed in a pleasing combination of light grey and olive green which lent it a smart but still appealing appearance.
Installation and Accessibility
The interface was minimalistic to say the least – all functions are controlled via navigating a 50 mm non-touch LCD screen and three touch buttons. The only other buttons found on the printer was one to turn it on and off.
However, we found this worked to its advantage, particularly as we could imagine users seeking as little fuss as possible to take advantage of the Deskjet's core functions. Along with printing from one's PC, scanning images to one's network and copying documents directly, the printer does offer three types of quick forms which it can print at a single touch, namely a fax cover, checklist and calendar.
Accessing the printer's functions and navigating its menu was actually quite intuitive, particularly after we installed the included software on our PC to enable the device's wireless functionality.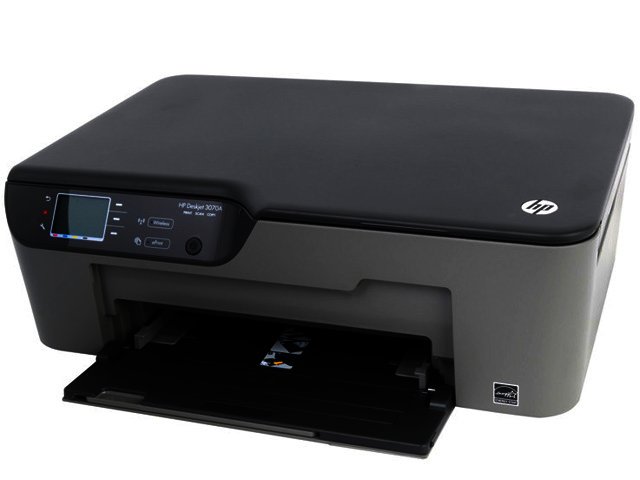 The Deskjet 3070A is attractive and smart looking
Wireless accessibility
This proceeded largely without a hitch, requiring an one-time connection to the PC via the included USB cable to identify the printer and install it on our network. We should note though, that this is not imperative; users are still free to connect the printer to their PC using the cable and scan, print and copy the old fashioned (wired) way, although we would be hard pressed to understand why anyone would want to if they have a wireless network available.
Indeed, wireless use of the Deskjet 3070A was that easy. We purposely positioned the printer a fair distance from our wireless router to see how it would perform, and on this front, we had no complaints. Scanning documents took less than a minute to appear on our PC, and photos that we sent from our PC to the device printed without delay.
Additionally worth mentioning is HP's ePrint which enables users to access the printer from any web browser, as well as using a mobile device, provided of course that the printer is connected (wirelessly or not) to an internet connected network.
This we found quite useful, particularly as more and more of our reading, photo browsing and writing is done on a mobile tablet from somewhere else other than our office.
Printing Quality
Speaking of which, inkjet printers' reputation rest on the quality of the images they can print, and on this front, we were impressed. One of our test prints was a particularly demanding one, with strong highlights that still had distinguishable detail in the snowy mountains, ranging all the way to conifers clouded in shadow, with some barely noticeable details in the deep black portions of the image as well.
In between, lay at least three different shades of blue (light blue sky, as well as darker and slightly lighter reflections in a still, northwestern lake) and several shades of green. This challenging range of highlights, midtones and shadows printed beautifully, while the colours of the final print were vivid and saturated.
Scanning and copying
Scanning and copying proved to be equally as straightforward. We did find that scanning an A5 notebook, which required us to bend it along its spine, met with greater success when laid on the device in a landscape orientation versus a portrait one. As was expected, the text and drawing closer to the spine was notably darker than the rest of the scan. Even so, it was still usable.
While the Deskjet 3070A does offer some fine tuning for moderating whether the initial scan would be darker or lighter, we eventually found that we preferred using post processing to adjust the overall lightness and contrast of the image.
On the copying front, one can elect to copy documents placed on the tray in colour or black and white. The former produced the same impressive results we found with printing colour images.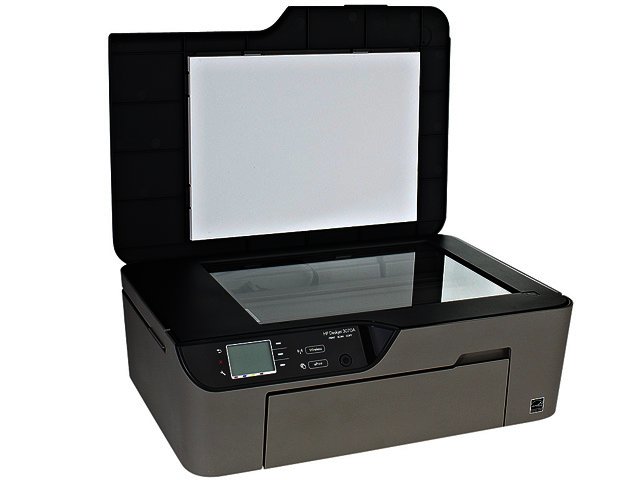 The printer's rigid rather than hinged cover meant it would not close entirely when scanning
even a relatively thin A5 paper notebook.
Room for improvement
As the saying goes, there is always room for improvement, and on the Deskjet 3070A, that room came from a cover that could've have offered a bit more latitude.
When scanning and copying our relatively thin paper notebook, we found that the cover wouldn't close completely; a hinged cover would have easily solved that annoyance. Nonetheless, it was not a dealbreaker, nor did it adversely affect the final scan, but it would have been a welcome refinement.
The one caveat - which applies to all inkjet printers - is that they require black, magenta, cyan and yellow refills. Depending on one's printing load, and what exactly one intends printing, refilling these can become expensive.
However, it should also be born in mind that some assert that refilling multiple cartridges is still more cost effective than replacing all in one cartridges when one colour is depleted.
To the point
If printing photos, where quality is a concern, is one's predominant use, we believe the Deskjet 3070A certainly merits consideration as it met our demanding expectations with regards to final output.
In short, the device did everything we asked of it with aplomb, while offering up a refreshingly uncomplicated ease of use and straightforward accessibility to its features.
Granted, printers may never be the glamorous Brangelina's of the technology world. While the HP Deskjet 3070A doesn't wholly change this, it did prove to be akin to the girl or guy next door - who when you get to know them, proves to be an excellent longterm gadget partner on which you can depend to deliver time and again.
Pros
Excellent colour rendition
Wireless scanning and printing worked very well
Feature menu is simple and accessible
Cons
Device cover is inflexible
Inkjet cartridges can become expensive (depending on printing load)
Excellent colour rendition, Wireless scanning and printing worked very well, Feature menu is simple and accessible
Device cover is inflexible, Inkjet cartridges can become expensive depending on printing load