We are big fans of HP's business focused Officejet line-up of all-in-one (AIO) printers, including the
HP Officejet 6500A Plus
and
HP Officejet 7500A Wide Format
. These devices boast elegant designs, handy functionality and quality as well as speedy printing capabilities. The latest AIO to emanate from the company's stable is the HP Officejet Pro 8500A Plus - we check if it's a printing thoroughbred or hopeless mule.
Design
HP's Officejet Pro 8500A Plus certainly takes on the sophisticated appearance of a black stallion. This stylish printer measures in at 502 x 472 x 308 mm and weighs in at a somewhat hefty 12.65 kg, but isn't as big or heavy as the bicep-building 14 kg
frame of the 7500A
. It's covered in glossy black plastic that looks chic, but does attract its fair share of dust and fingerprints.
At the front of this printer is an easy-to-use 4.3" CGD (colour graphics) touch-screen, which slightly resembles a bigger
Samsung Galaxy S
smartphone, especially if you tilt it upward to adjust your viewing angle. This responsive touch-enabled display is the command centre of the AIO, which you employ to access its functionality such as checking its ink levels, copying, and scanning.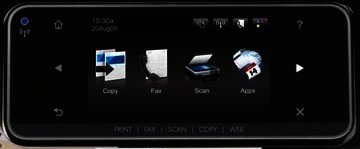 Printing performance
Although the 8500A Plus offers various functions, it will mostly be used as a printer. Thus, it boasts a paper input tray at the front that can accommodate 100 additional pages over and above the standard 150 page average, with this tray also being adjustable for various paper sizes. Right on top of the input tray is the printer's output tray, which can catch around 150 A4 pages as these leave the unit.
This combination makes it a capable office workhorse, although it must be noted that the output tray is a little flimsy. It does catch documents as they leave the printer, but a document with a large amount of pages won't necessarily end up as a nicely stacked pile. It is also worth noting that the warmup time of the printer (when you switch it on or when it wakes from sleep mode) is somewhat long.
Documents are printed at an impressive resolution of up to 4800 x 1200 optimised dpi for colour documents and up to 1200 x 1200 dpi for black and white printouts. Although HP claim a maximum printing speed (draft mode) of up to 35 pages per minute (ppm) for black and 34 ppm for colour, we managed to print colour pages at around 15 ppm in normal mode and over double that in draft mode. Automatic duplex (double-sided) printing is available and works well.
You aren't limited to printing on A4 and letter sized pages, as this AIO prints onto a multitude of formats the likes of plain paper, HP premium inkjet paper, HP advanced photo papers, matte, transparency film, greeting cards, glossy, as well as brochure and flyer paper.
AIO prowess
HP's Officejet Pro 8500A Plus might be able to print on a variety of documents, but as an AIO this device can also perform more functions than just printing. Scanning jobs are completed at an impressive resolution of up to 4800 ppi (pixels per inch) and your scans can be saved as an image (JPEG), PDF, or editable document (OCR).
These can also be saved to your PC or onto one of the many different devices via the variety of connectivity options the printer offers. The latter being ports for a MMC, SD, Sony's proprietary memory stick, as well as memory stick duo cards and there's also a PictBridge port to connect your camera. It is worth noting though that although you can print photos and other images right off your USB drive for instance, you cannot do the same with documents as you have to print these via the PC only.
Besides these connectivity options, Wi-Fi 802.11 n is also on-board and is easy to setup. Some of the other printers we've reviewed have tended to locate our Wi-Fi network at work much easier than the HP Officejet models though.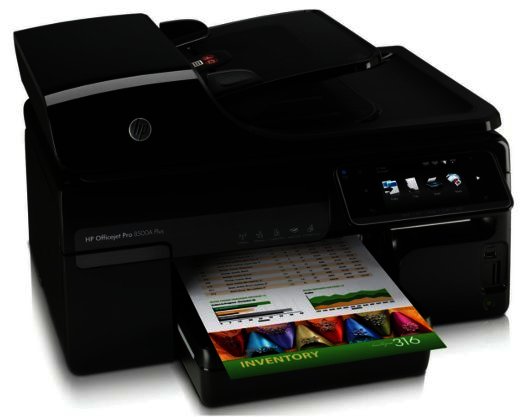 Automatic Document Feeder
Jobs aren't just done at an impressive quality, but also at a great pace, especially if you employ the very handy 50 sheet automatic document feeder (ADF).
This ADF can be found at the top of the printer and enables you to print, scan or copy multiple paged documents in one go. It even handles double-sided documents with ease, allowing you to scan single-sided documents and print these out double-sided or vice versa.
Copying is also done at a very good resolution of up to 1200 x 600 dpi (dots per inch) and pace, seeing that it manages to print out (scan and then print) four colour copies of a high-res image in under a minute.
Other features
HP ePrint enables you to print from virtually anywhere thanks to the printer's assigned email address to which you can mail documents. You can simply send an email with the attached document or picture to the device and you'll have a printout as soon as the message is received.
This can be done with Word, Excel and PowerPoint documents, PDFs, or photos that need to be printed. Obviously your printer needs to be connected to the web for this to happen.
HP AirPrint is another useful printing technology aimed at users of Apple devices operating on iOS 4.2 or better, such as the
iPad
,
iPhone
and
iPod touch
. It allows the users of these devices to print wirelessly to their HP ePrint enabled printer when using certain apps.
Final word
HP delivers another rock solid business AIO in the Officejet Pro 8500A Plus. It offers a quick printing pace and quality, very decent scanning and copying, as well as added functionality in the form of ePrint and Air Print.
Compared to the 6500A Plus, the 8500A Plus offers a much larger (3x) ouput tray, bigger and more responsive touch display, bigger ADF, PictBrige connectivity, slightly better (3 ppm) overall printing speeds, as well as a much improved (more than double) duty cycle, which is the maximum number of pages it can print per month.
The recommended retail price for this AIO is R3399, which is R1400 more than the 6500A costs. Does the extra capacity and features justify the extra money? We aren't so sure.
Pro
Multiple connectivity options, handy colour touch-enabled display, ADF, ePrint as well as AirPrint and auto duplex.
Con
Bulky AIO, flimsy output tray can't print docs straight from the USB, long warmup time.
Multiple connectivity options, handy colour touch-enabled display, ADF, ePrint as well as AirPrint and auto duplex.
Bulky AIO, flimsy output tray cant print docs straight from the USB, long warmup time.