Bean to cup coffee machines are certainly the most convenient way to get your daily dose of caffeine. Pour your beans in the top, add water, press a button and within a few minutes you have your cup of Joe. No mess, no fuss.
The Philips 3200 Series provides exactly this, with a range of drinks to choose from, including Americanos, Espressos and a regular coffee. However, if it's milky ones you're after - Cappuccino and Latte Macchiato, it does these too thanks to the LatteGo milk frother.
If you've ever had one of these machines, it's the milk frother that usually is a pain to clean. Not so with the LatteGo since the carafe simply clips off, with it dishwasher safe and quick to clean with a rinse under the tap to remove milky build-up. It's also convenient to detach and pop the carafe in the fridge for the next time round.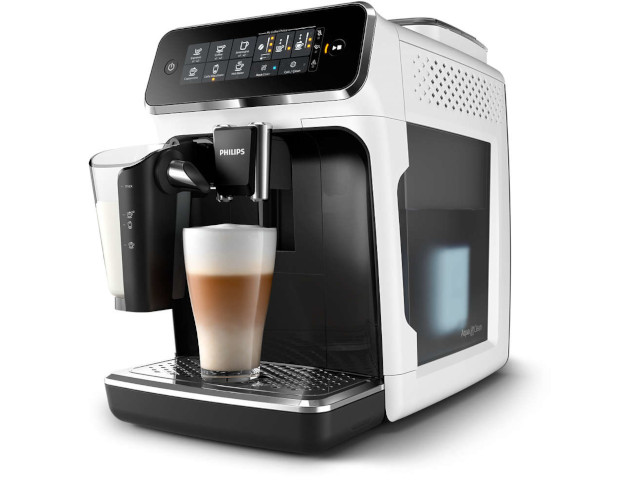 Customise and go
Another benefit is that each of your coffee options are customisable, with three strength settings for the aroma and quantity of each brew, as well as for the amount of milk for the drink. These settings are saved for the next time you want the same drink. Also, if you want a double of any coffee, you simply press your drink selection twice.
When switching it on, the Philips 3200 will do a bit of self-cleaning, to be ready for coffee selection in just under one minute. For a full-sized cup of coffee to pour it takes a further 1.20 minutes, with milky drinks requiring a bit more time due to the milk being frothed. You can add milk manually to your black coffees by selecting the "Hot Water" option and attaching the carafe. Interestingly, the Philips 3200 can also take ground coffee, while you can set how hot you want your water to be by programming the machine.
One thing to know is that these types of machines can get loud. It's noisy when it starts up, when it grinds the beans, as well as when frothing the milk. If you're an early bird and the rest of the house not, you might want to hold off on making your first cup for a while.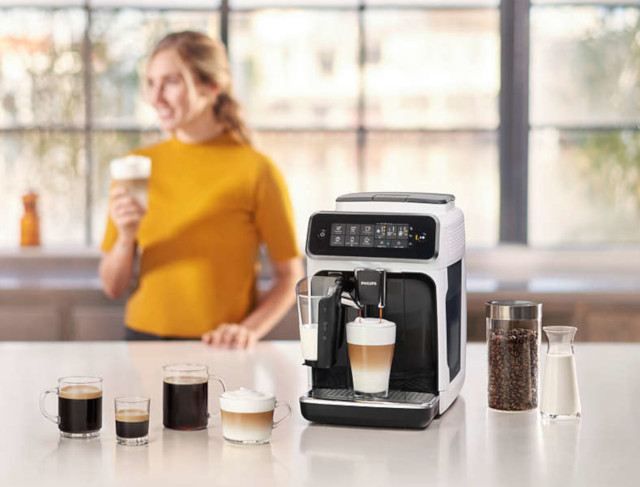 Doing the necessary
There are a few chores to take care of if you own one of these machines. The machine will let you know when it needs water as well as when the coffee ground container has filled up.
Your drip tray catches water each time the machine switches on when it does a bit of pipe cleaning and a small little red button will pop up the more it fills up. One thing for which there is no alert is the coffee bean tray – this you have to check manually ever so often. During the two months I had the machine, it asked to clean the brew group once. Philips do state that the brew group must also be cleaned using a coffee oil remover tablet ever so often. Luckily the brew group is easily detachable.
A good cup
So finally, how was the coffee? Very good I would say. The milk frother does an awesome job of creamy foam for cappuccino. However, I tended to stick with the regular coffee option, preferring it above the similar Americano. That said, if you are fan of Espressos, you might miss a decent amount of crema, one of the few aspects Series 3200 fell short on.
But perhaps the thing that I enjoyed the most was the convenience of Series 3200. Having a coffee ready in under three minutes is quite exceptional and surely beats out longer, more involved methods on a busy work day. If you have R7900 to spare for good coffee from a stylish machine, the Philips Series 3200 is worth every penny.
Quick and convenient, drink customisation available. LatteGo good for a quick clean
Loud, crema perhaps not that great, no alert for low coffee beans, lack of crema