Samsung's stable of Ultra HD/4K sporting monitors garnered a reasonable amount of attention at this year's CES event in Las Vegas. Chief among which was the 28" (16:9) UD590. For those not in the loop, the UD590 essentially offers users viewing resolution, four times that of normal HD, at 3840x2160 screen. On the surface, the 590 looks an impressively specced monitor, but does it have enough about it to make consumers want to part with their hard earned shekels?
Keeping things to a minimum
The minimalist look and feel of the UD590 makes it extremely appealing, as is its ability for set-up. Once unpackaged, you need little more than a phillips head screwdriver and some elbow grease to piece together, with most of the brushed metal stand components slotting into one another effortlessly. Connecting to the UD590 to devices is similarly easy, provided set device uses HDMI or a compatible 4K DisplayPort.
Samsung has fitted this monitor with two HDMI ports, which lends itself perfectly to the Picture-By-Picture (PBP) and Picture-In-Picture (PIP) functions the 590 boasts. Response between device and monitor is extremely fast, listed at 1ms (G2G) by Samsung. We noticed no lag in connection at all, with an estimated 60 Hz refresh rate for the DisplayPort and 30 Hz for the HDMI port respectively.
The important thing to note is that devices connected to both the DisplayPort and HDMI ports will be available to display your content in 4K resolution. This is down to Samsung fitting the UD590 with two HDMI 1.4 connections. This version of HDMI technology has the capacity to also display 4K content. This means the UD590 can handle almost anything you can currently throw at it.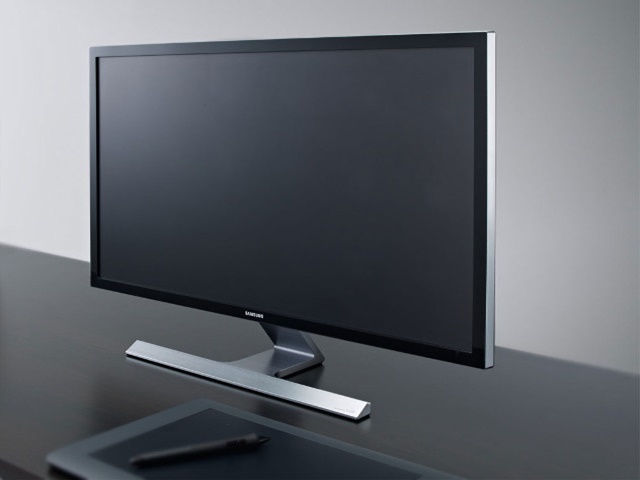 Splitting screens
Samsung has billed the UD590 as a perfect gaming and design companion, and for the most part, we tend to agree. The 28" (diagonal) display offers a substantial amount of real estate to brings games like GTA V and Call of Duty: Black Ops II to life, with each design element popping off the screen in staggering detail. It can offer a great gaming experience for those lucky enough to own PS4 (review) or Xbox One. As a dedicated gaming unit the UD590 truly shines, but that is not the extent of its use.
The UD590 can of course just as easily be used as a design monitor as a result of the high quality resolution it offers. The PBP function takes particular advantage of this, with users being able to snap together applications such as Adobe Dreamweaver and Photoshop next to one another, helping to make the entire design process a lot more efficient. This PBP function can also be used for two separate PCs or notebooks, with both devices displaying on the UD590's split screen, each with its own designated native resolutions.
The PIP feature works as well as expected, with the UD590's screen size allowing users to glance at the secondary, smaller image easily. This feature although effective, does not offer the same functionality as PBP, especially if you're looking to interact and use both connected devices.
Final Verdict
The UD590 is beautifully designed monitor, and we especially liked the minimal approach that Samsung has taken with it, allowing the quality of the display to truly speak for itself. Samsung say this unit will be hitting stores by the end of the first quarter this year (late March, early April) and should cost an estimated R9 000 (depending on exchange rates).
At that price, the UD590 makes a lot of sense for consumers who value a high quality gaming experience or work as a graphic/web designer. This is a top-tier device that requires users that can take full advantage of it and if you are willing to meet the sizeable price tag for it, you will have a monitor that will retain its value and technological relevance for the next three years at least. The UD590 is a solid purchase for those whose work or passion can match its performance capability.
Stunning Display, Excellent refresh rate, High end port technology
Requires user with large amount of 4K and UHD content, otherwise it's a waste