From the outset, it becomes apparent that there is much to like in Canon's 10x30 IS II binoculars. For starters, the build quality, as expected from Canon, is terrific as the binocs are clearly solidly well constructed.
They also feel rugged and boast a bit of heft, especially reassuring if you expect them to live up to the demands of the outdoors and also helpful in adding stability. That being said, at 600 g, they are not so heavy as to discourage one from slinging them around the neck or shoulder in the first place.
The eyecups do have a limited swivel, so if your eyes are really set more widely apart than is the norm, you may have a bit of a problem. However, despite the small angle for adjustment, I found that I could easily position them without an issue.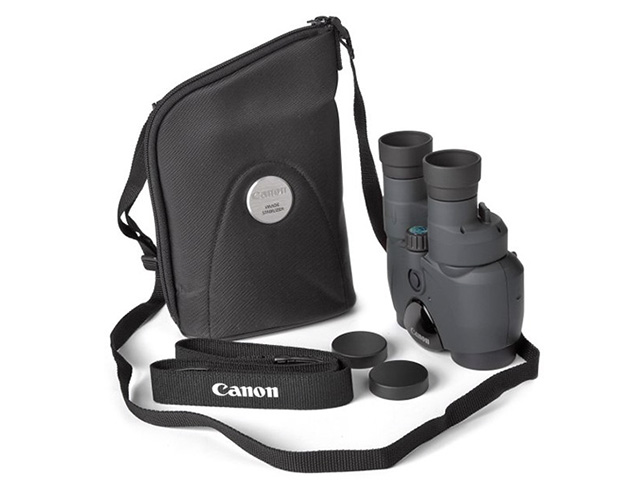 See the light
Moving on to the more important part though, was the optics. As the name suggests, the pair on review here provided a 10x magnification and 30 mm front optic. Thanks to the use of Canon's Porro II prism-based optics and Super Spectra Coating, I found the resulting view was outstanding. Clear, sharp and crisp rendering of distant images, with no discernible distortion or vignetting, made using them a pleasure.
Where the binocs' optics came into their own was in looking for and appreciating small details I would normally have missed, such as the veins on a distant leave, the tiny thorns on a purple flower, the various details of nature and wildlife that can (and do) too easily go overlooked.
If you are a photographer, you may argue that you could accomplish the same objective with your DSLR and a suitably long lens, and you would be partially correct, but the big difference I found in using the 10x30 IS II binoculars is that I was much more easily and smoothly track movement in a scene, than I can on a weightier camera and lens combination. Also, thanks to the ergonomic design, I found panning to be smooth and quick, rather than slow and clunky, as has been the case on some heavier and larger alternatives that don't feel quite as much a natural extension of one's eyes.
Focus your vision
Worth mentioning though is the positioning and feel of the focusing ring – important since you will be using it a great deal if you plan on doing a lot of nature watching for example, to focus and refocus the binocs. The good news is that it naturally falls right beneath the index or middle finger of one's hand, and its ribbed texture does a great job in providing a firm grip.
A nicely sized image stabilizing button is just beneath it, as thus just as easily reached without lifting the binocs from one's eyes. You do need to press this to activate the image stabilization (IS) feature, and in my tests I found this to work like a charm. The IS is powered by two penlight batteries. According to Canon, users can expect about nine hours of operation, with battery consumption significantly reduced compared to predecessor models.
Delights and details
Other small, but still important touches, also added to the overall experience. I particularly appreciated the comfortable soft-touch silicon rubber eyecup – apparently, these are friendly to those who use glasses as well – although not something I can attest to. Additionally, the binocs thoughtfully come with a nice, slim soft case.
The one pain – and I'm inclined to chock it up to a design oversight – is the eyelets through which you can thread an included neckstrap. Getting the strap through these is a tall order, far more so than I've experienced on the company's DSLRs or even compacts. This is mainly because these two narrow slots are located much too closely to the eyepieces themselves, giving you little room to maneuver the strap. That being said, it is possible, as my efforts proved, but you do need some patience.
All in all, the 10x30 IS II binoculars are very impressive, and are an easy to recommend addition to one's kit, especially if you are an enthusiast traveler, nature or sports watcher. They have an RRP of $550 (R6 700).
Great build, Clear and crisp optics, Comfortable to use, Well laid out controls
Ill placed eyelets making threading strap difficult