FULL DISCLOSURE: Flashlight was received from overseas supplier as a seeding unit and was not returned.
As with most things these days, it's incredible to see how far flashlights have come. A few years back a MagLite with an incandescent bulb would do just fine. These days it's all about LEDs and the functionality built around it. Cue Folomov, a company not from Russia as one might think but rather China not surprisingly, that is carving out a name for themselves with rather impressive flashlights.
The Folomov 18650S is one such device. It's small enough to drop in your manbag/pants pocket with the rest of your Everyday Carry (EDC) gear, without giving an inch when it comes to doing the hard work. In a way it provides the best of both worlds due to two specific modes on offer - Illumination mode for your regular needs, and Tactical mode for when you need something more specific. However, with all this functionality onboard, you need to keep your wits about you when it comes to the user interface, or face a very confusing dark night.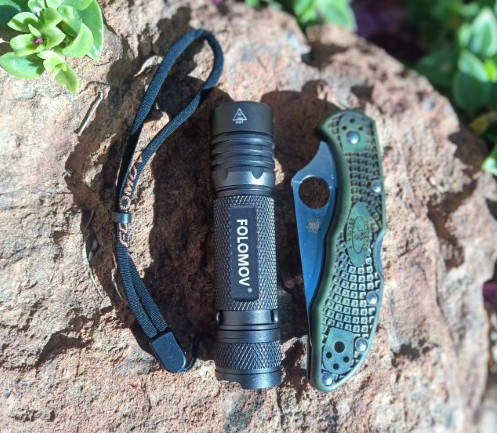 Spec check
We'll get back to that a bit later, because it's pertinent to run through the construction of the 18650S first. Made from aluminium alloy with an anodized finish, the Folomov feels like it can withstand a few knocks, rated at being drop resistant from one metre. It's roll resistant, can stand on its back, and most importantly in my book, it's small (99 mm) and light (under 100 g with battery). Easy enough to slip in your pants pocket and since it's under 100 mm it fits perfectly in my hand, with a lanyard thrown in for good measure. Finally, rated as IPX-8, the company notes it can resist 2m of water, coming with two extra o-rings.
Unlike some smaller flashlights, there's no "pull focus" on the front to focus the beam, although the different intensities of the beam make up for that. Talking of which, the flashlight falls into the neutral white category, thanks to the Nichia 219A LED that is used, with a highest setting of a significant 960 lumens.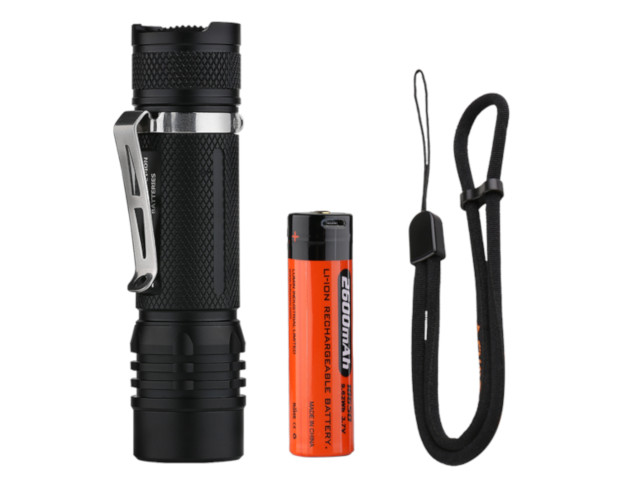 On the battery front you have quite a unique offering. The 18650S sports, of course, an 18650 Li-Ion battery, familiar to those who use larger sized vapes. However, this one actually charges through a microUSB port at the top of the battery. In regards to size, 2600 mAh does the trick, with Folomov stating that the battery will last for four hours at the highest 960 lumens setting. I ran the battery from full at this setting, and the flashlight still had power after seven hours - granted it was far below 960 lumens. There's a charging cable in the package, but seeing that it can charge off microUSB, those not on Apple should have enough cables spare. I have no qualms about the battery and if you are mainly using this flashlight in the lower settings, it will last you a significant amount of time.
Modes and more modes
As mentioned before you have two main modes – Tactical and Illumination. For tasks around the house, Tactical might be best, seeing that if you press and hold the power button, it will shine as long as it's pressed. With a long press it will conventionally stay on until pressed again. Both these function at "Turbo Level', basically the highest setting of 960 lumens. According to Folomov this gives a maximum beam distance of 170 meters, and I would think that's about right. When on the highest setting the area around the front heats up, but not discomfortingly so.
If going camping or in those silly load shedding moments, the regular Illumination mode might work best. A long press starts you off in moonlight brightness (0.5 lumens), sufficient if you're looking around for something in your tent. From there you cycle through the brightness, with five levels available. This can be stored in the flashlight's memory, with a short press activating this setting from off.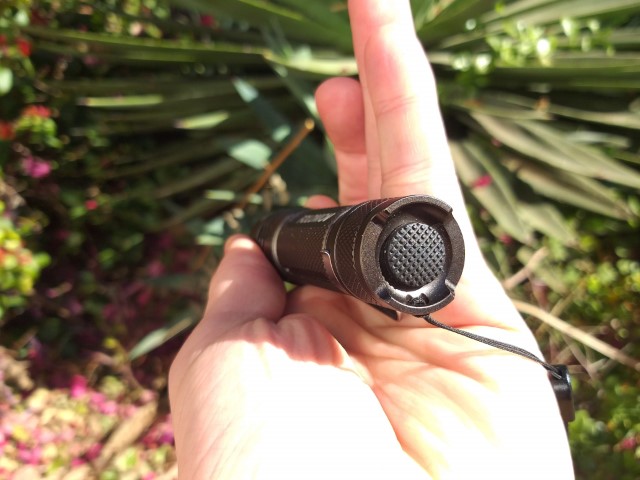 You move from Illumination Mode to Tactical by quickly pressing the button seven times, and the LED will flash six times if successful. A feature I'm always happy to see is the Strobe effect. It's an effective measure to disorientate someone, and could provide you with the time needed to get out of harm's way. The Strobe is activated by quick pressing the on button twice. Furthermore, if you are in Illumination mode, you can also activate an SOS emergency signal by pressing the power button twice, once you are in Strobe mode. Press it twice again and you are in beacon mode, which activates a 50 lumen signal that shines every five seconds. This brings the amount of different modes to 15 in total.
If this all sounds a bit confusing, well, it is. These cycles aren't properly explained in the instructional pamphlet that comes along – rather head to the 18650S website here. My recommendation is to spend a lot of time with the flashlight before taking it into situations where you are dependent on it.
As a side note, there's no side switch to control the intensity of the beam, while you also don't have a small LED screen to show you which mode you are in.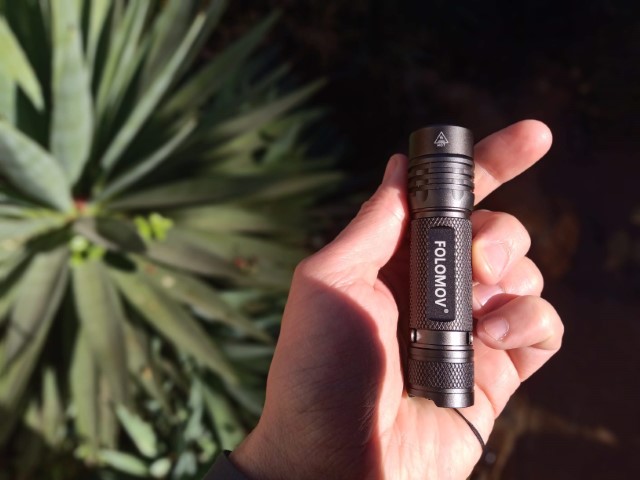 Final Thoughts
Not too big, not too small, the Folomov 18650S is pretty much perfect for my EDC needs. If you're out living on a farm or in the bush, you will need something bigger, but in the city with only a few brushes with the dark, the Folomov, with its 15 different modes almost feels like overkill. At 960 lumens it doesn't shy away from the night, while the rechargeable battery provides a significant power benefit. It is worth noting that, as with many of these modern flashlights , figuring out (and remembering) the user interface is going to take some time.
In regards to price, the Folomov 18650S flashlight can be found in South Africa through Bidorbuy for about R650, which I believe is fair for what you get (although I can't vouch for the seller and it seems like they are simply the go-between for a shop in China). Gearbest, operating from China, has it at $29 (R408) but you have to put your trust in the SA postal system, plus there might be extra duties payable.
Small and light, great battery, decent throw on the beam, loads of modes
Confusing interface