Wearables have literally flooded the technology market over the last eighteen months, it seems as if we cannot go a single week without a manufacturer releasing a new model, as the need to gain a one up on their competitors ever increases.
Now Garmin is entering the wearable fray with its fitness band offering, the Vivofit, aiming to take on an already highly saturated market. Has Garmin's first foray into sports wearables come too late to be relevant? Or has the Swiss manufacturer learned from the errors made by competitors to design the best active lifestyle tracker to date?
Fitness bands are the á la mode wearables designed to offer users, who place a high value on leading an active lifestyle, as much information as possible. It should ultimately ensure they get the most out of their day, displaying user stats like the amount of steps taken and calories burned throughout the day. A fitness band is only as good as the individual using it, but it's up to manufacturers to make their devices extremely accurate for the best possible user experience.
Incognito stylings
The Vivofit is by no means the most radically designed fitness bands we've come across to date. Instead of trying to be eye-catching, Garmin has opted for a more discreet approach, favouring substance over flair and keeping things as simple as possible.
It's clear to see that Garmin has drawn from design elements of two fitness bands in particular: the Nike Fuelband and FitBit Flex. The water resistant plastic used for the band (10.5 mm at thickest part) has the same feel as both rival units, with Garmin integrating a similar single button navigation function found on the Fuelband, as well as the two-pronged adjustable strap found on the Flex.
One area however where the Vivofit has adopted some originality is in the display, utilising a LCD-based screen (25.5 mm x 10 mm) over the brighter LED options used by competitors. The display unit, which houses the accelerometer, gyrometer and other sensors, can be removed from the plastic wrist strap. This is a pretty novel feature, that allows users to change to a different wristband colour, should the standard black version prove to be a little bland. Current colour options include blue, purple, teal and slate (R260 each), with two bands included in the box with purchase.
Get up and go
Setting up your Vivofit is relatively easy, with Garmin providing a ANT USB drive to connect to your PC and pair up the device using a specifically designed Garmin Connect application. This allows the Vivofit to sync all information for personal reference, including an infographic of your daily and monthly measurements and goals. The Vivofit is able house up to three weeks worth of information before a sync is required.
The Garmin Connect app is also available for free in the Google Play Store and Apple App Store, syncing up with any mobile device that has Bluetooth 4.0 functionality.
Users will also have access to the Garmin online community, which allows one to interact with other Vivofit users, challenging one another as well as setting group goals. This feature again, falls in line with services provided by other manufacturers, but does not contain any unique elements to distinguish it or entice users to make a change to Garmin.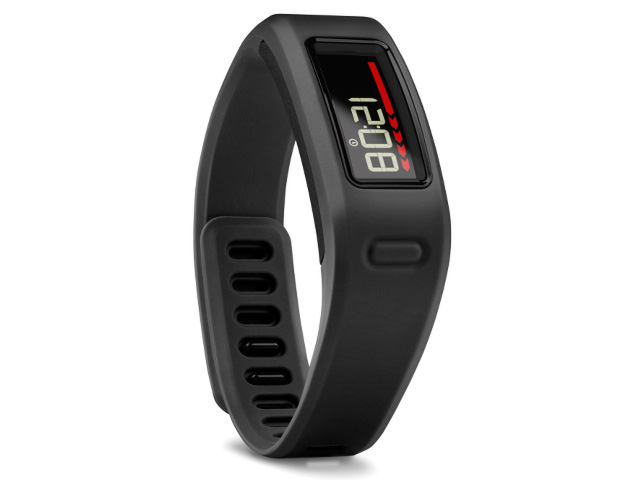 Pinpoint accuracy
The navigation button (located or the left or right side of the screen based on handedness) is used to pan through the host of different readings. Among the Vivofit's various information modes are a pedometer (step counter), daily step goal, distance covered (in kilometres), calories burned, time and sleep monitor. The sleep monitor is user activated and measures how long one sleeps, as well as the amount of restless movement made.
Many of these functions exist among common fitness bands, what makes the Vivofit different is its level of accuracy, something that really impressed us. Take for example the Nike Fuelband, one of the Vivofit's competitors. Both units use accelerometers and gyrometers to measure movement and ultimately how active you are. However the Vivofit is able to accurately detect the difference between purposeful and superficial movement.
The Nike Fuelband will rack up 'fuel' points based on any kind of movement. Even the motion of your hand while changing gears and turning the steering wheel during your commute. This is essentially an inaccurate reading as far as your level of activity.
The Vivofit however does not suffer from this problem, we shook the unit for a solid minute while seated with no registered change in the pedometer reading, but as soon as we walked up some stairs, the reading changed. For this reason alone, you can be assured that the Vivofit is going to give a true reflection of your daily activity, which in a way forces you to be more active and aware of the type of movements you make throughout the day.
The Vivofit also boasts a built-in heart rate syncing feature. This will however require the purchase of a Garmin heart rate monitor strap which retails separately for R730. Users can purchase a bundled Vivofit and monitor strap package for R1 800. Also be aware that the Vivofit will not sync up with other heart rate monitor strap brands.
Slightly vague
If there is one area that we have to fault with the Garmin Vivofit, is the quality of the display, with information not appearing as bright or as clear as needed. This issue is extremely prevalent when viewing the screen in high light conditions, which is slightly disconcerting when an active lifestyle in South Africa often involves being outside. This might be a symptom of the LCD screen, and will need addressing for future iterations.
A good year
As far as battery life goes, the Vivofit is fitted with two replaceable CR1632 coin discs that offer up to one year of use. Changing these batteries however is not easy, as you'd have to take the Vivofit to a registered Garmin servicer, as the battery case can only be accessed by taking the entire unit apart. We're not doubting your skill with a screwdriver, but in this case, it's probably better to simply get an expert to assist.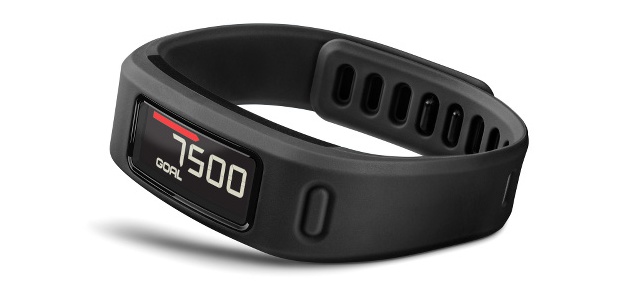 Decision time
With the vast number of fitness bands currently available on the market, the Garmin Vivofit stands head and shoulders above the majority, as it's able to offer a greater deal of accuracy, when compared to competitors. For that reason, the R1 400 that it will cost you is certainly money well spent, especially if you value a device that marries function and precision so well.
Whether or not the Vivofit has enough showroom appeal to attract users away from the likes of the Nike Fuelband and Fitbit Flex remains to be seen, but those that do, will get a supremely solid performer.
Easy setup and useful cross-platform application; Accurate sensor information for precise performance measurements
Lackluster screen is poor in heavy sunlight