When we heard about the sun-powered PUMA phone way back at the start of the year it ticked our interest. So when the phone arrived in cool carton packaging proclaiming "I am not like all those other phones", we had our hopes up for a cool experience of this sport/ lifestyle orientated device. Sadly this wasn't quite the case. Here's why.
The Good
Firstly let's start with the stuff that we did like. PUMA did not opt for the usual straight forward menu structure and commands, instead going for some informal off-the-wall banter. So for example when the phone is booting it tells you it's "Waking Dylan" – PUMA's Puma, "laying red carpet" and "gathering friends". If it needs to charge it will command "Get me to a charger, I won't last much longer". We liked this more informal approach and it brings relief from the usual clinical operating systems.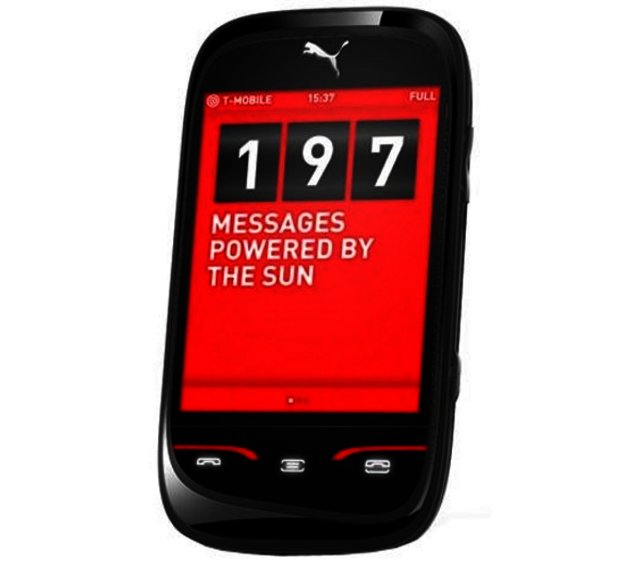 Design
The very pocket friendly size and design of the phone reminds us a lot of the
Samsung Genoa
. The distinct PUMA logo adorns the top of the device while two red stripes distinguishes the answer and end call button. A slight slant beneath the answer button adds a sporty feel to the device.
There are three main screens, allocating your more sports orientated options (more about them later) on the left hand side, with life style options on the right. The main screen in the center can be customised to include your most used abilities such as calculator, phone book or calendar. Since the phone is touch-enabled you can flick between the different screens.
Hidden underneath these skins is a second layer which gives you access to your different settings such as sounds, connections and security. There's also a pull down menu providing quick access to for example switching your Bluetooth on and off, alarms and GPS. This setup sounds more complicated than it truly is and generally we found it a very clean and neat experience.
Solar Panel
One of the big benefits of the phone is of course the solar panel at the back- as long as you don't expect a quick charge. It took longer than expected for the phone to charge, so don't really count on the sun to fully recharge the device, just as back-up when you don't have your charger with you.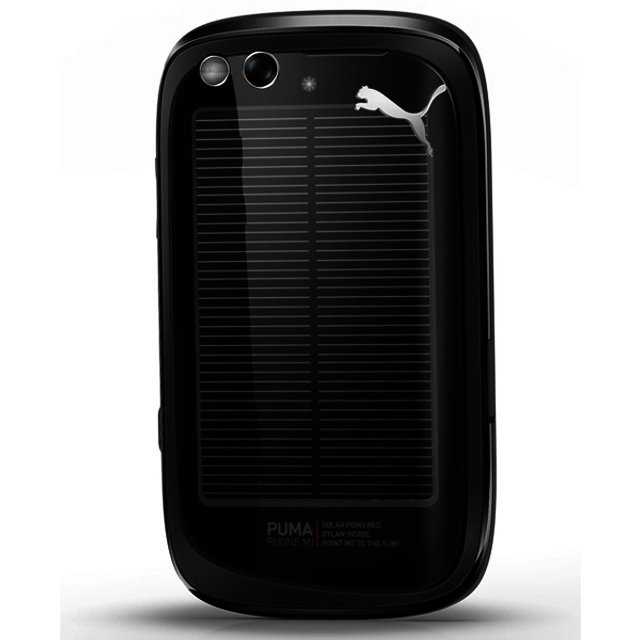 Sport
There's a couple of interesting things happening on the sporty side, especially with the sports tracking software. When jogging it tracks your speed, distance and logs your route, keeping records stored (your map though needs to be downloaded).
Cyclists can use the speedometer and distance tracker, plus there's also a 3D yachting compass and stopwatch present (it's good to remember that although PUMA is very much a lifestyle brand these days, it has its roots firmly in the sports field with PUMA's founder Rudolf being the brother of Adolf Dassler, founder of Adidas.)
The bad
Despite its sporty looks the PUMA phone is painfully slow. Combine this with capacitive touch-screen that has some accuracy problems and you have the confusing scenario where you've pressed something on-screen but the phone is not responding, leaving you to wonder if your touch registered or whether the phone is simply taking its time to respond.
Lots of phones are also integrating Facebook (and some Twitter), but unfortunately there is none of this here, while browsing the web is also not really a hassle free experience. There's also no 3.5 mm jack to plug in your earphones, although there is a converter present.
Conclusion
It does feel like the PUMA phone is gracing these shores about six months too late, since a number of competitors now offer better specs against a lower price, not the least LG's
Optimus One
.
It also has other problems to deal with, the most frustrating being the general pokiness of the device that detracts from its friendly off-the-wall user interface. An onboard GPS and sports tracking capabilities are a couple of the better features, while the solar panel won't help if it's a quick charge you're after.
With no Facebook integration, no 3.5 mm jack and touch-screen accuracy problems Dylan the Puma needs to get back to the drawing board for the next incarnation of the phone (and we truly hope there is one).
The PUMA phone is available from Vodacom for R3 099.
Pro:
Nice sports tracking abilities, interesting interface.
Cons:
The phone is slow and touch-screen has some accuracy issues, solar panel charges slowly.
Nice sports tracking abilities, interesting interface.
Slow and touchscreen has some issues, solar panel charges slowly.