More often than not, we find ourselves in the position of reviewing phones that are aimed at the mid to high end of the market, usually trying to secure their share of users by boasting faster processors, a smart screen or some nifty new feature, but with a price tag to match.

The Vodafone 555 Blue is different in two ways – its price tag (R749 on prepaid or R99 per month on contract) screams affordability, while its main feature is that it is a feature phone that was developed by Vodafone in collaboration with Facebook.

Form

For a budget conscious phone, the Vodafone Blue is actually quite well built. While it has a noticeably all plastic feel, and as a result was rather light in our hand, it was nonetheless mostly well constructed, offering no flexing or creaking that indicates a poorly manufactured device. Additionally, it is rather attractive in its own right, with touches of silver, white and black in equal proportions which are fairly reminiscent of – though not quite as stylish as HTC's ChaCha.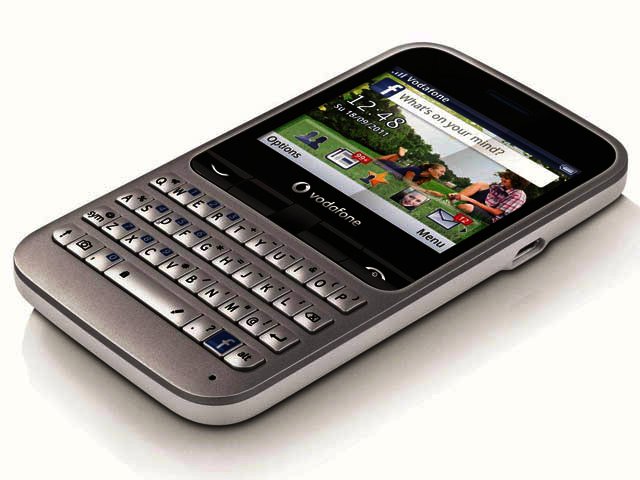 The Vodafone 555 Blue is a rather attractive cellphone.
Features
Between the 2.4" QVGA (320 × 240) screen and the QWERTY keyboard, rests a panel with four navigation buttons and a track pad. The screen itself was sharp and bright, with the text on it proving well defined and easy to read, while the backlit keypad were equally a pleasure to type on.

Although it wasn't terrible, the all black navigation keys and trackpad were a little more difficult to use, mainly because there was little distinction between where one button ends and the next begins. This would have benefited from a splash of colour or better yet, some backlighting of its own.
It's all about Facebook

However, the dedicated Facebook button did not suffer from this problem, being clearly marked and easy to notice as the iconic 'f' against a blue background. More importantly though, it was the functionality of the Facebook button that won us over, as the phone allowed us to assign what exactly pressing the key would do from five choices.

These included opening our Facebook status update, opening our Facebook news feed, accessing Facebook notifications, starting Facebook's search function or refreshing Facebook data. The limited customisation was our main gripe with the HTC ChaCha and yet addressed elegantly and straightforwardly in the Vodafone Blue.

Additionally, we could choose between basic updates, news feeds only or news feeds with pictures, and then further choose between high resolution pictures or normal resolution images for faster updating.The phone further places one's Facebook account front and centre on the screen, with a navigation bar that we could scroll across to open up our friends list, news feed, favourite contacts, profile, messages and calendar.

This deep integration of Facebook into the phone is evident immediately when one powers up the device. Facebook is available right away, rather than just being an app one has to launch or a widget one has to wait to load.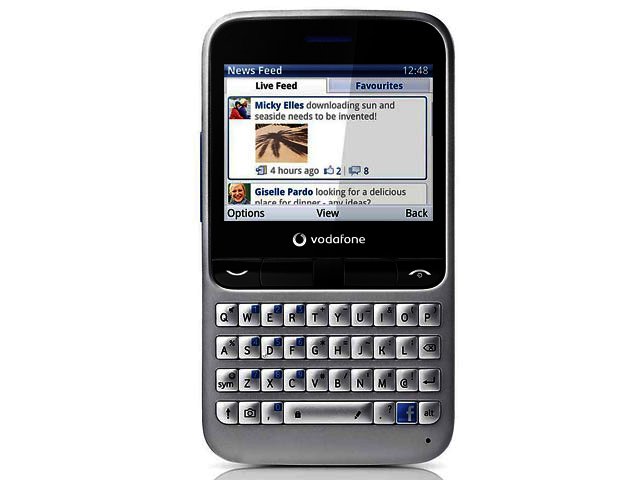 The phone places Facebook front and centre.

Specifications

Beyond that, its technical specifications were much what we expected from a phone aimed at the lower end of the market, featuring a 200 MHz CPU and internal storage of a rather paltry 40 MB. This can be expanded with a microSD card though, up to 16 GB. However, you will have to bring your own, as one is not provided in the box.

The two megapixel camera and its LED flash produces passable images, competent enough to post to one's Wall but not to be considered as a camera replacement by any means. Additionally, unlike the ChaCha, the phone does not run off an Android based OS, but rather off its own Java system, which lacked the finesse and the speed we have become accustomed to from Android, as well as the variety of apps available from the Android market.
Foibles

The one issue we had with the phone, which detracted somewhat from its otherwise good build quality, was that the back plate was rather difficult to remove, clinging stubbornly to one half of the phone, and making us a bit concerned about inadvertently breaking the thin plastic layer. We did manage to pry it off, eventually, but it certainly needs to be done with care when accessing the device's battery.

Additionally, there is no Wi-Fi on the device, which can be expected from a budget range phone, but is still rather surprising in this day and age. Nor does the phone run on 3G networks, or include assisted GPS (aGPS).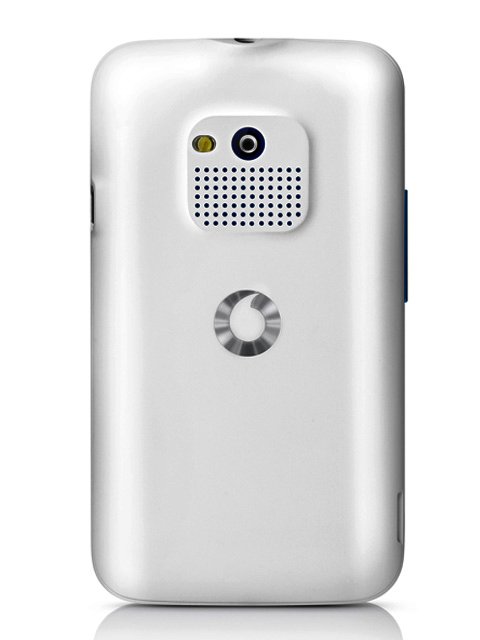 The back of the phone is simple, but proved difficult to remove.
Conclusion

Nonetheless, the Vodafone Blue 555 Facebook phone has its virtues, and no doubt will appeal to the segment of the market that is seeking a highly affordable device that offers deep integration with their Facebook life. The device is available in participating Vodacom outlets, and has a RRP of R749 on Prepaid or for R99 per month on a Top Up 99 Vodacom 4 Less contract. Both deals will include free 30 MB of data, which should provide for a month of Facebook browsing.

Pros

Deep integration with Facebook
Customisable Facebook button
Backlit keyboard

Cons

Flimsy back plate
No Wi-Fi
Deep integration with Facebook, Customisable Facebook button, Backlit keyboard
Flimsy back plate, No Wi-Fi