Certainly the first brand that comes to mind when you think rugged phones is CAT. Although some decent contenders from China have made it to local shores, CAT is in many ways still the go-to manufacturer.
If you've used a CAT device before, you'll know everything is bumped up a notch: your screen goes that much brighter to compensate for outdoor usage, your speakerphone volume is louder to help with hand-held use, and now CAT has boosted the battery power too.
What a battery
Usually on today's smartphones, you receive battery capacity in the region of 3500 mAh. CAT bumps this up to a massive 5000 mAh, managing two days' worth of use on a single charge, and even more if you only make and receive calls and refrain from browsing the web a lot.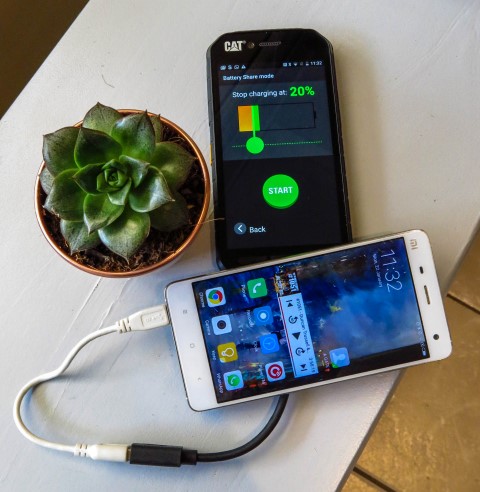 Added to this, CAT actually allows the S41 to charge other devices. There's a mini-USB to USB adapter included in the box that you can plug into the device , through which you can charge your co-worker's phone. Granted, dongles often get lost or are forgotten at home, but if you can store this in a cubby hole and use when needed it's great to have this recharging option available.
Some more specs
As for more hardcore specs, CAT includes MIL SPEC 810G grading, the S41 is drop-proof onto concrete from 1.8m, and, like many other phones, is IP68 water and dust resistant certified. Granted, for this type of protection, you do receive a far bulkier device (218 g and 12.85 mm thick), but it's one that should survive the life of a builder, electrician, farmer or perhaps even in the hands of your blundering two-year old kid.
The programmable button on the side is once again present, allowing you to, for example, launch Chrome with a short press and the flashlight on a long press. CAT's comprehensive App Toolbox makes it easy to find apps that fit the lifestyle of the phone's intended user, and can be scoured for a number of outdoor-, construction-, farming- or rugged work apps.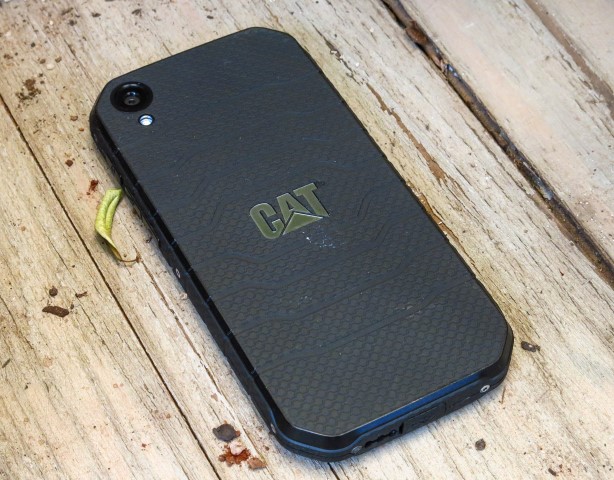 Camera a let down
What the CAT S41 doesn't contain, is the rather useful thermal imaging camera as seen on the S60. Instead you get a regular 13 MP camera with autofocus. It's one of the least impressive features of the device, not quite as good with colour reproduction as it should be.
Two more quick points of critique. CAT makes it extremely difficult to remove the SIM card holder and we suspect more than a few thick fingered men will have trouble removing the little tray gently from the side. Secondly, the buttons on the side do not protrude that much, making it a pain to find the power button, which is used to activate the screen. Operating the phone with gloves on might be a problem then, although not the 5" full HD (1920 x 1080) display since it supports glove-on scrolling as well as wet fingers. By the way, the 5" screen is the largest you will find on a CAT smartphone. Even though it's made of scratch proof Corning Gorilla Glass, CAT throws in an added screen protector for good measure.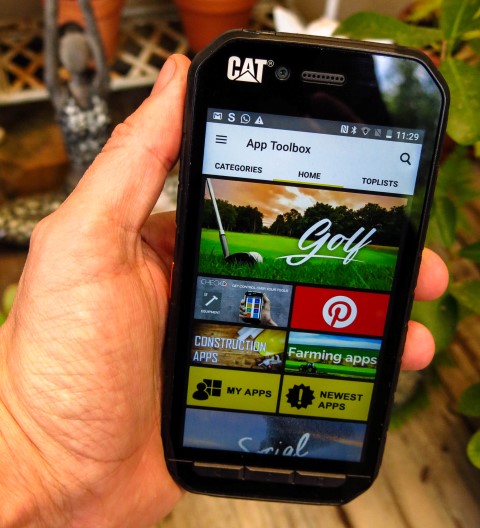 Midrange specs, plus Nougat
Operating on Nougat, it's not that far off Android's latest iteration, while there's no UI to hinder the user interface.
The 3 GB RAM and 32 GB of storage space should serve you well, while an added MicroSD slot is also present (up to 2TB). Handling the hard work is an octa-core Mediatek MT6757 Helio P20 (2.3 GHz) chipset, which allows the S41 to keep pace with other midrange devices. With benchmarking done through AnTuTu, it scored 56 228, just below devices such as the Bluboo S1 and the Motorola Moto Z Play, although far behind flagships such as the LG G6's 137 637.
Doing its rugged best
There's a reason why CAT has become the trusted name in rugged phones, with the S41 another example of a well-built device able to withstand care-free usage.
It's clear that the CAT took all the elements of the S31 and turned it up a notch. Most appreciated are the massive 5000 mAh battery, while the few inches extra on the 5" screen also make a difference. The few cons experienced are far from deal breakers, although CAT could have done better on the camera.
The CAT S41 is yours for R8 550. For enquiries email sales@catphones.co.za, or call 011-465-3047.
Great build, big battery can be used to recharge other phones
Camera could have been better