Review: Huawei Ascend G7
There's no doubt that Huawei's stock is on the rise. Case in point their latest smartphone, the Ascend G7. Each year the Chinese company comes up with even better devices, with the new G7 laying a strong claim to the midrange market, embracing the world of metal.
The 4G enabled G7 covers most of what can be expected from a modern midrange device, including an appealing design, good cameras, solid innards and a bigger than average screen. Indeed, as a 5.5" device it borders the ever thinning line between smartphone and phablet.
With its chamfered edges there is a certain resemblance between it and the iPhone 5, and although the G7's design can be commended, I'm still partial to the HTC One M8's style (review).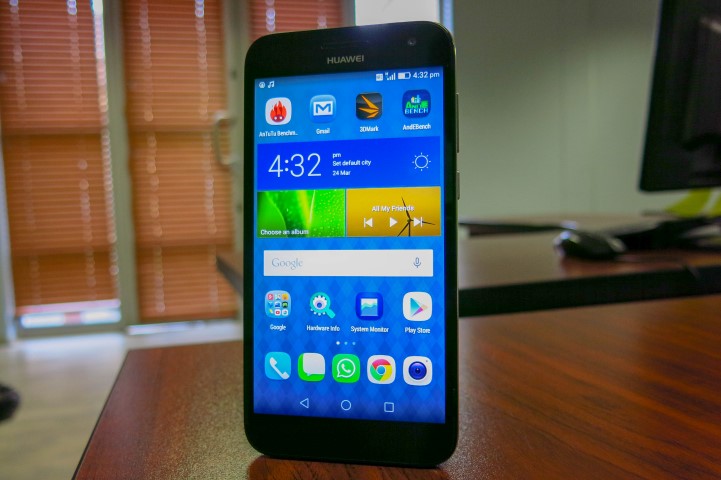 At 7.6 mm, the G7 certainly isn't the thickest phone on the market, but at 77.3 mm wide, you know you are dealing with a big phone in hand, more so than the 5.5" LG G Flex2 (review) for example. Compared to last year's P7 flagship (review) the G7 is much larger, both in size and weight, and where I would have taken the 5" P7 jogging with me, I won't attempt that with the G7 – it's simply too big.
The screen displays smartly, but the resolution of the unit doesn't cross over the magical 400 ppi mark, nor is it full HD. On offer is 720 x 1280 pixels, on par with other phones in its range, but its extra 0.5" takes the pixel density to a middling 267 ppi. It's a sure sign that you are not dealing with a top of the line device, but that's not to say we had difficulty viewing webpages or watching movies, providing good saturation and decent viewing angles.
If you need a smartphone with loud enough volume from the external speakers, the G7 is very capable, allowing for sufficient volume when playing movies, listening to music or taking calls on the speakerphone.
Pop the bonnet
Running under the hood is a Qualcomm 410 processor, clocking 1.2 GHz with four cores, supported by 2 GB of RAM. It's a capable setup for this midrange price point, but you will see some lag when opening up the camera for example, or your recently used apps. The processor is 64-bit ready too, which gives it a leg-up on the competition.
During benchmarking it scored 18 908 which puts it on par with other midrange devices such as the Acer Liquid Jade (18 2140) and a bit below its main competitor, the Samsung Galaxy A5 (21 644). For the most part you'll find that the processing power on the G7 is more than sufficient, unless intense 3D gaming is your thing.
What does count in the G7's favour is that it stays cool, even while benchmarking or watching movies. It's also smart on battery life, with a 3000 mAh battery a standout compared to other midrange units (the Samsung A5 only has 2300 mAh). With this battery you will comfortably get to midnight with average use, if not, click on the ultra-power saving mode to make the most of that last bit of juice.
Snap yourself silly
If the processor manages the phone just fine, then the same holds true for the 13 MP camera at the back, since in most circumstances it will do the task required. The autofocus won't hold you back too long, while selfies are taken care off by a 5 MP front facing camera. In all, photos are not iPhone 6 image quality, but should keep your Instagram account ticking over nicely.
One thing I was surprised to find is a plastic cover for the unit inside the box. As far as I can remember, no other manufacturer has ever done this, and it saves the hassle of coughing up a few extra rands to keep your phone protected.
Huawei's EMUI user interface stays out of the way for the most part, but one thing new Huawei users will need to get used to is the fact that no app drawer is present. This means all of your apps are located on your different screens. A word of advice, make use of folders to store apps not used often in order to declutter your device.
And the price?
Knowing Huawei, another aspect they keep a firm eye on is price. The G7 retails for R4 700, which we believe is a good price for what's on offer. A larger than average 5.5" screen (although with so-so pixels per inch) and 3000 mAh battery, a lovely metal look, LTE connectivity, plus a decent engine for processing, makes it easy to recommend the G7. In my books, our current champ of the midrange, Samsung's A5, has a serious competitor on its hands.
Big screen, LTE, Good battery, Nice design, Comes with case
Bulky, Screen could have contained more pixels