When Samsung launched the original Galaxy Note in South Africa in 2011, the phablet served a very niche market. Today, phablets have gone mainstream with a range of devices to choose from including LG's Optimus G Pro.
Phablets are essentially well-specced smartphones that boasts screens larger than 4.8" but more compact than 7" tablets. LG's Optimus G Pro follows suit by offering a 5.5" (1080 x 1920; 401 ppi pixel density) display that is a boon for multimedia consumption such as reading ebooks, browsing the web, and watching movies or YouTube clips.
LG's Optimus G Pro was unveiled at the beginning of the year during MWC 2013 as a Galaxy Note 2 phablet rival, and consequently the G Pro packs better specs compared to the Note 2. Phablets fans should take note however, that Samsung's Galaxy Note 3 is will be hitting local shores soon.
Despite the bigger screen, the G Pro is still thin enough (9.4 mm) to comfortably slide into your skinny jeans back pocket. Thanks to a height of 150 mm and thickness of 76 mm, you can comfortably sit down with the device in your front jeans pocket, an advantage this smartphone has over Sony's massive 6.4" Xperia Z Ultra.
Lots of grunt under the South Korean bonnet
Powering the Optimus G Pro is Qualcomm's Snapdragon 600 chipset, which also does duty in the HTC One (review). The SoC (system-on-chip) boasts a quad-core processor running at 1.7 GHz per core and Adreno 320 GPU, coupled with 2 GB RAM. This combination enables a quick user experience within Android v4.1.2 (Jelly Bean) and buttery smooth gaming performance whilst playing some demanding 3D games such as Riptide GP 2 and Blitz Brigade.
When it comes to benchmarking, the Optimus G Pro puts in an excellent performance, obliterating the Note 2 in every benchmark including Smartbench 2012 (6579 vs 8218) AnTuTu (13683 vs 22 875). The Optimus G Pro did however fall short against the like of Samsung's Galaxy S4 (review) and even the similarly specced HTC One during benchmarking, although it did manage to edge out the S4 in Futuremark's 3DMark graphical benchmark (9270 vs. 9331).
Jelly Bean runs the OS show
It has to be said that Android 4.1.2 (Jelly Bean) seems a bit of a dated version after the unveiling of both Android 4.3 (Jelly Bean) followed by Android 4.4 (KitKat). LG's Optimus skin brings a flurry of software additions to the mobile platform, most of which we have already seen in action on device like the Optimus L7 II (review) and Optimus G smartphone (review).
These include QSlide, which is a video multitasking feature enabling users to watch a movie whilst continuing to perform another task such as chatting via Facebook Messenger. QSlide provides a slider that enables you to adjust a video's transparency on the fly, which might not be the most practical solution but certainly makes for a visually stimulating one.
Similarly flashy is Live Zooming that allows users to perform a pinch-to-zoom on screen in order to zoom into a video you are watching. Additional features include Smart Screen and Smart Video, both of which employ the front-facing snapper to track your eyes.
The former checks whether you are still looking at the display and then prevents the screen from turning off, whilst the latter pauses a video when you look away from the display when a video is playing. Smart Screen worked well, but Smart Video tended to pause the video even when you are still looking the display at night under an artificial light source.
Like the Galaxy Note 2, the Optimus G Pro allows users to run multiple apps at the same time on screen via QSlide apps. By dragging the Android pull down menu down users are able to access the selection of QSlide applications that include the calculator, calendar, memo and video player.
These QSlide apps do not run side by side as on the Galaxy devices, but on top of any other application you have open, allowing for a range of multitasking scenarios such as responding to a WhatsApp message whilst continuing to watch you video. As with the QSlide video feature, users can set the transparency and size of the QSlide apps, and are also able to move them around the display for better placement.
At the top of the smartphone resides a small IR blaster, allowing the Optimus G Pro to act as a remote control for a range of electronic devices. This feature is used in conjunction with LG's QuickRemote app and worked well, allowing us to switch the channels and turn up the volume on both an standard LG TV set, as well as a Sony Bravia full HDTV.
Other features
Users have access to 16 GB worth of internal storage, which you can expand by as much as 64 GB via the microSD memory card slot. Also onboard the Optimus G Pro is Stereo FM radio with RDS, dual-band Wi-Fi 802.11ac (latest standard), LTE (4G) connectivity for snappier downloads, Bluetooth v4.0, and NFC (near field communication).
At the back of the Optimus G Pro is a 13 MP autofocus rear-facing camera with LED flash, whilst the face of the smartphone packs a 2.1 MP snapper for selfies and videocalls. The main camera is about as impressive as it was on the Optimus G, offering plenty of detail, as well as crisp colours.
LG includes a number of added camera features including dual camera, which enables users to take photos or record video using both the front- and rear-facing cameras simultaneously, of which there really is very few real world usage scenarios. It might only really come in handy for parents who want to capture their child as he scores the match winning try as well as their reaction to it for posterity's sake.
The relatively large 3140 mAh Li-Ion battery within the Optimus G Pro will easily get you through a full working day of usage. We also managed to wring out two days of usage with the display brightness turned down to 50% and battery saving quad-core control functionality engaged.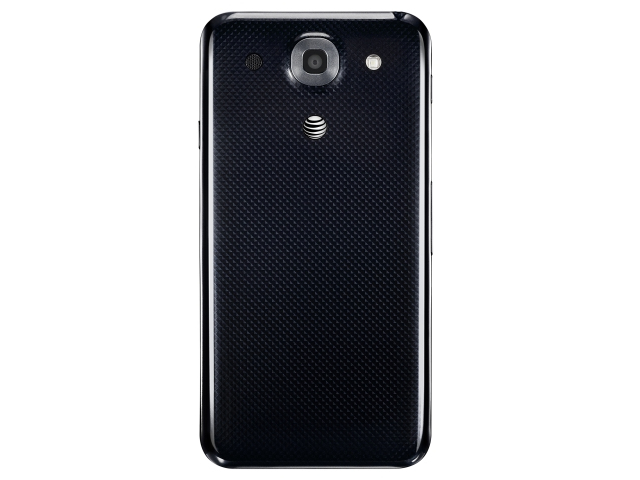 On the back of the Optimus G Pro resides a 13 MP rear-facing camera that captures photos with plenty of detail and crisp colours.
To the point
At a recommended retail price of R8 000, the G Pro sports the specification and added functionality to compete with any smartphone on the market and for our money, is the best phablet currently available as well.
That being said, Samsung has already unveiled its Galaxy Note 3 phablet that should arrive later this year with a more premium look and feel and even higher spec level, meaning that the Optimus G Pro may not be our favourite phablet for long.
Pros
Excellent display.
Great performance.
LTE connectivity and Wi-Fi connectivity.
Plenty of added software features.
Great cameras.
IR blaster on board.
Cons
Not the lightest or most compact smartphone.
Not the most distinctive or eye-catching styling.
Not the most up-to-date version of Android out of the retail box.
Excellent display; great performance; LTE connectivity; latest Wi-Fi standard; plenty of added software features; great cameras and IR blaster on board.
Not the lightest or most compact smartphone on the market; not the most distinctive or eye-catching styling; and not the most up-to-date version of Android out of the retail box.