While its hardware arsenal is lacking against flagship Android smartphones, the 41 MP camera of the Lumia 1020 is a spec weapon of mass destruction. Does this make it a compelling buy?
Nokia's Lumia 1020 measures in at 10.4 mm and tips the smartphone scales at a beefy 158 g, making it both thicker (8.5 mm) and heavier (139 g) than the sleekest design Windows Phone to grace our palms - the Lumia 925 (review).
The main reason for the added bulk can be found protruding from the back of the smartphone - its 41 megapixel rear-facing camera with Zeiss optics. Using the camera's dual capture feature enables you to simultaneously take a 38 megapixel photo for advanced editing via Photoshop or on the device itself, as well as a 5 MP version of the image for sharing across social networking sites. Espoo's Lumia 1020 delivers unsurpassed photo and video quality within the smartphone arena, with users being able to zoom into stills or videos without the image quality suffering as a result.
The anatomy of a 41 MP shooter
The 41 megapixel camera boast six physical lenses plus backside-illumination that help deliver clearer photos even in low light conditions. It further packs optical image stabilisation for blur-free image capturing of still and video, with a Xenon flash being called into action whilst snapping still images, and its LED flash used whilst recording video.
You can also buy a snap-on ergonomic camera grip separately for around R800, which sports an extra control button, tripod mount, and additional battery life via its 1020 mAh battery to expand your photographic horizons.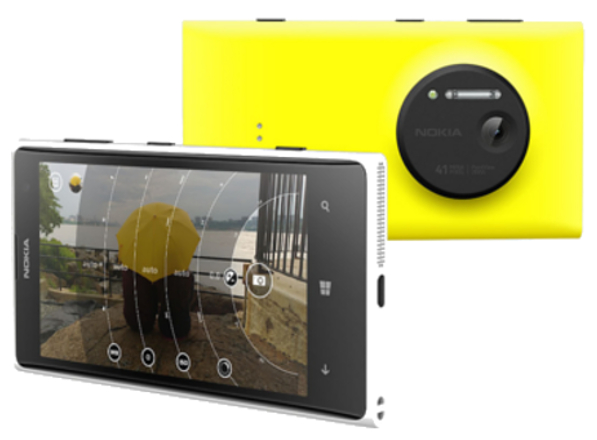 Beyond the camera
Media is reviewed on a 4.5" (768 x 1280; 334 ppi) PureMotion HD+ AMOLED display, which does not match the increasingly common 1080p panels on high-end smartphones these days. Where the PureMotion HD+ screen strikes back though is with its class-leading readability outdoors and the fact that it can be used whilst wearing gloves.
The smartphone is powered by a 1.5 GHz dual-core Qualcomm Snapdragon S4 processor and boasts 2 GB of RAM, meaning that navigation of its Windows Phone 8 operating system and running multiple apps remains smooth and snappy. Also onboard is 32 GB worth of internal storage (no microSD card to expand upon this), a 1.2 MP wide-angle selfie-shooter, enhanced stereo sound recording via Nokia Rich Recording, a full day's worth of usage thanks to a 2000 mAh battery, and quicker downloads via LTE (4G) connectivity.
Refocusing in on its appeal
Nokia's Lumia 1020 is a capable smartphone that delivers an unrivalled camera performance. Will this see a lot of Android or iPhone users make the switch to Windows Phone? We don't think so, since the App Store wallops the Windows Phone Store when it comes to number of quality apps, whilst Android users can get higher specced devices for less than the R9 150 recommended retail price of the Lumia 1020.
Nokia- and Windows Phone fans, anyone looking for an alternative mobile operating system to the main platforms, or buyers in the market for a smartphone offering a great photo capturing experience will all be happy snappers should they opt for the Lumia 1020.
Best camera on any mobile device; LTE connectivity; great sound and video recording abilities; good performance thanks to non-resource intensive Windows Phone 8 OS and 2 GB or RAM; good display; and well screwed together.
Not the thinnest, lightest or most premium feeling Windows Phone smartphone; not up to date in terms of specs when compared against its rivals; expensive; and app gap between Windows Phone Store and Google Play/App Store.