Nokia's entry-level Windows Phone 8 smartphone, the Lumia 520, boasts some impressive spec bang, considering its affordable pricetag.
In terms of design, the Lumia 520's removable matte plastic back cover feels quite sturdy, but lacks the quality feel of the polycarbonate casing employed on the higher-end Lumia models. Beneath this cover resides both the microSIM slot and the non-hotswoppable microSD memory card slot that enables users to expand the phone's 8 GB storage by as much as 64 GB.
The power inside
Just like its bigger brother in the Lumia stable - the
Lumia 620
- the 520 is powered by a dual-core Qualcomm Snapdragon MSM8227 CPU, running at 1 GHz per core, along with 512 MB of RAM. In general, performance does suffer a bit compared to the Lumia 820 and 920, as this budget CPU and RAM combo could not hinder noticeable lag, particularly when multitasking.
Additionally, the Lumia 520 produced the lowest WPBench score (158.64) of any of the WP8 operating smartphone we have tested thus far. Both
the Lumia 920
(228.21) and Lumia
820
(237.22) easily bested it due to their faster 1.5 GHz dual-core Qualcomm Snapdragon CPUs and packing double (1 GB) the amount of RAM on offer on the Lumia 520.
Also onboard is a 4" (480 x 800 pixels; 233 ppi pixel density) IPS LCD capacitive touchscreen. It sports the same super sensitive touch technology as found on the Lumia 920, so we could easily use the phone whilst wearing gloves - a handy feature to have in these cold winter mornings. Missing from the 520's repertoire is Nokia's ClearBlack technology, meaning the screen is highly reflective in direct sunlight.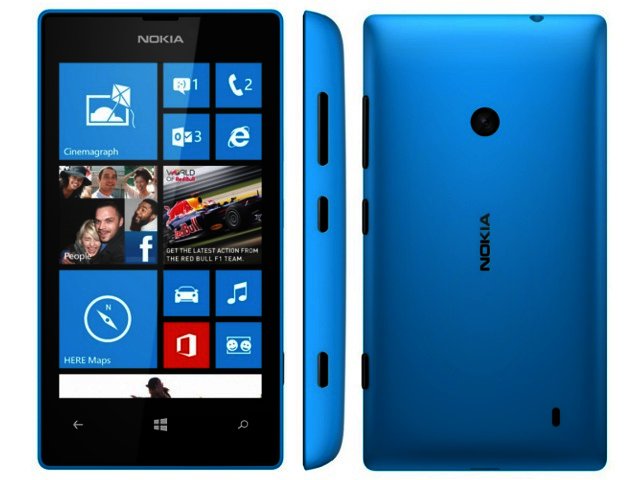 Nokia's Lumia 520 packs some impressive spec bang for its budget-concious pricetag.
Other features
Found at the back of the 520 is a 5 MP autofocus camera (no front-facing snapper offered) that can record HD-Ready (720p) videos at 30 fps.
Performance of the camera was unimpressive overall, producing average looking photos outdoors and often grainy shots indoors, especially in the presence of poor lighting conditions. Video quality was better as the 720p videos were lag-free, although the colour appeared a bit faded.
You are also able to download and employ all the regular crop of Windows Phone 8 camera apps from Nokia to beef up the snapper and video-capturing features. These include Nokia's Creative Studio app that enables users to add an assortment of filters to their photos, the self-explanatory Panorama app, and Cinemagraph, which allows videographers to quickly and easily create animated GIF files.
Users will also count Bluetooth 3.0 with A2DP, aGPS with GLONASS support, dual-band Wi-Fi 802.11 n, and 3G HSDPA connectivity amongst the Lumia 520's specifications. The smartphone's 1430 mAh battery delivered average battery life as our test unit's battery managed to last more than a full working day at over 10 hours.
To the point
If you are willing to try something new in the form of the Windows Phone OS, the Lumia 520 makes for an excellent value offering, retailing for a good R1 900.
Not only does the device look stylish, but it delivers the same specs, including a WVGA display and dual-core CPU, which one normally finds on Android-based rivals costing twice as much such, including the
Samsung S3 mini
(R4 000) and
HTC's Desire X
(R4 000).
Pros:
Excellent spec muscles to back up a very affordable pricetag.
Virtually all of the Windows Phone 8 apps run on it.
Runs the latest version of Windows Phone.
Sturdy build quality.
Supports large memory cards up to 64 GB in size.
Packs handy physical snapper button for launching camera interface and snapping photos.
Plenty of connectivity options.
Cons:
Overall performance is a bit laggy compared to Nokia's other Lumia devices.
The rear-facing camera is not up to par with Espoo's usually excellent standards.
Screen is very reflective when used outdoors.
Feels kind of cheap compared to the rest of the polycarbonate clad Lumia ilk.
Excellent spec muscles to back up a very affordable pricetag; virtually all of the Windows Phone 8 apps run on it; runs the latest version of Windows Phone; sturdy build quality; supports large memory cards up to 64 GB in size; and plenty of connectivity
Overall performance is a bit laggy compared to Nokia's other Lumia devices; the rear-facing camera is not up to par with Espoo's usually excellent standards; screen is very reflective when used outdoors; and feels kind of cheap compared to the rest of the