Nokia's new Lumia 800 smartphone has a lot of responsibility resting on its shoulders. As the Finnish company's first device powered by Microsoft's Windows Phone OS, Nokia's sole smartphone platform moving forward, it's a torchbearer of sorts, there to light-up a newly chosen mobile OS path. Good that it's such a great phone then.

Design

The Lumia 800 is definitely an eye-catcher, featuring the same pocket-and-grip-friendly dimensions (116.5 x 61.2 x 12.1 mm) as well as fairly similar looks to that of the MeeGo-powered Nokia N9. The N9 heralded the return of Nokia as a contender in the hardware market last year already and earned a much deserved place (number 4) on our Top 5 smartphones of 2011 list.

The Lumia 800 boasts a responsive 3.7" (480 x 800) AMOLED, ClearBlack curved glass display, which is protected by Gorilla Glass. It offers slightly less touchscreen real estate when compared to the N9's display (3.9"), mainly due to the inclusion of the three capacitive soft buttons (back, home and search) at the bottom of the display. It's also a lot smaller than the 4.27" on offer from Samsung's Galaxy S II.

Although the 800's pixel count (252 ppi) is no match for competitors like the iPhone 4S' Retina Display (326 ppi), the ClearBlack display still has excellent colour saturation and does a better job of reducing glare when using the device in direct sunlight.
Espoo's Hardware

Powering the Lumia 800 is a speedy 1.4 GHz Qualcomm Snapdragon CPU, which might not be up there with the dual-core-sporting mobile elite, including the HTC Sensation, Samsung Galaxy S II and Galaxy Note, but it makes snappy work of opening, running and closing apps regardless.

In terms of storage space the Lumia 800 offers a solid 16 GB of internal storage space, and that's what you would have to be satisfied with since there's no microSD card slot to expand on this. However, you do have access to additional 25 GB of cloud-based storage via SkyDrive, Microsoft's online storage service. SkyDrive provides users with access to Office documents and multimedia files (music, photos and videos) uploaded to SkyDrive from their notebook or work PC, and is most useful if you have a Wi-Fi connection to make use of.

The only real gripe we have with this phone in terms of hardware is the usage you get from its 1450 mAh battery. Just like the latest iPhone (and pretty much all other higher-end smartphones), this device needs the charger every evening. However, if you love connecting to a Wi-Fi network for extended periods in order to stream music via Mix Radio or download playlists to listen to these offline later, than you will definitely need to invest in a car charger or portable charger. This is because the standard battery life you get with the Lumia 800 - a full working day - will be pretty much halved.

Redmond's software

Users new to the design-conscious Windows Phone Mango OS, will discover that this mobile operating system offers them a different user experience to both Apple's iOS as well as Google's Android. The user interface is both aesthetically pleasing and very user-friendly, with the Start screen dominated by movable "tiles". These tiles represent anything from links to Internet Explorer, through to quick launch tiles for your favourite apps.

If you swipe right (or click on the right arrow on the Start screen), you'll be taken to the main menu, which is basically a list of shortcuts to applications, games, settings and "hubs". The latter incorporates a wealth of information as well as an expanded interface, that, once pressed, provides more information. The "People" hub, for instance, opens up to your phonebook and also allows you to slide the screen right to recent contacts and your social networking feed (Facebook and Twitter).

Multitasking and more

A newly introduced feature within Windows Phone 7.5 is multi-tasking. A long press of the back button takes users to a multi-tasking pane featuring all your recently accessed apps. You can swiped through these and tap on one to continue where you left off.

Business users will appreciate the fact that Word, Excel and PowerPoint files can be viewed or edited, thanks to the inclusion of the Microsoft Office hub. This remains one of the best mobile document viewing and creation tools available. When it comes to composing documents and messages we found both the portrait and landscape keyboards a pleasure to type on.

If you wish to dictate messages instead of typing them however, than the new speech functionality offered by Windows Phone Mango will come in quite handy. You simply hold the home key (Windows key) and say "text" plus the name of the person you wish to send a message to. After stating your message, the Lumia 800 will read it back to you and then you can just say send if its correct.

You can also use other voice commands to make a call or search for info via the Internet Explorer mobile browser (unfortunately only via Microsoft's Bing search engine, a big drawback in our mind). This system requires a data connection and works well, being as accurate and fast as Siri is on the iPhone 4S, but unlike Siri you have to stick to set commands and cannot rely on natural speech.

The biggest issue users may have with the Lumia 800 (in fact with any Windows Phone OS device) is the lack of apps. There still isn't a MXit or Skype app available for instance, and compared to other OS's app markets, it's very spartan. Microsoft's Windows Phone Marketplace currently boasts over 60 000 applications, which does not quite match up to Android Market's 200 000+ apps and Apple's iOS App Store with its 500 000+ apps.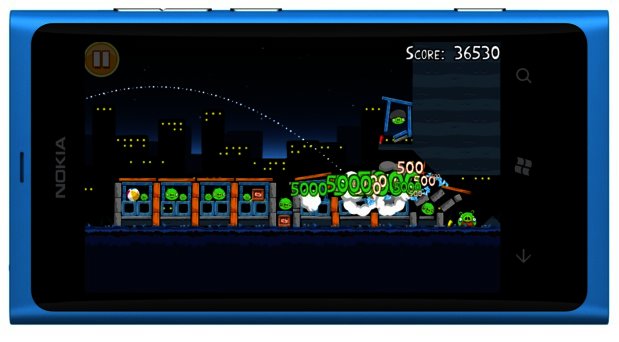 Happy snapper

Unlike the app count of Windows Phone Marketplace, the camera on Nokia's Lumia 800 will put a smile on users faces. The company has equipped this mobile with an 8 MP auto-focus camera with Carl Zeiss optics, which doesn't only capture high quality stills, but is also capable of recording HD-ready (720p, not 1080p) videos.

Photos and videos incorporate an excellent amount of detail and feature accurate colour reproduction, but at the end of the day the eight megapixel snapper of the iPhone 4S still edges it when it comes to photo quality. In terms of videos, high-end devices sporting dual-core processors the likes of the iPhone 4S and LG's Optimus 3D P920 have already upped the video recording ante to full HD (1080p), which Windows Phone OS currently doesn't support yet.

Nokia mixes things up with Mix Radio

Besides the excellent camera, another big drawcard for local users will be Nokia's new Mix Radio service. This free (although data costs apply) mobile music-streaming application is the first app that distinguishes Nokia's Windows Phone OS-powered smartphones, from the rest of the smartphones that operates on Redmond's mobile OS.

Mix Radio works over Wi-Fi as well as 3G and enables music lovers to stream music tracks from Nokia's global catalogue of millions of tracks, including a large contingent of local artists. Users are further able to personalise their listening experience by selecting their favourite music genre or artists, which the app will then use to create a customised playlist.

You can also download a playlist to your phone, meaning you can connect to the work's Wi-Fi network to save on data costs while using this service and then download a playlist to make it available for listening when you are at home and don't want to drive up your monthly bill with data charges.

Nokia's Mix Radio app is connected to Nokia's MP3 store, so if you come across a tracks you like, you can just click on the download icon which takes you straight into the music store to buy these for R8 a track using your credit card.

The second app setting Lumia devices apart is Nokia Drive, which offers free, turn-by-turn voice navigation and Nokia Maps. Both the set of free maps as well as the quality of the voice-guided navigation are excellent. You can view the maps in either 2D or 3D and adjust the screen contrast for night driving. If you find the female UK voice a little too boring, it is possible to replace it by downloading a new navigation voice with an Afrikaans female voice also being available.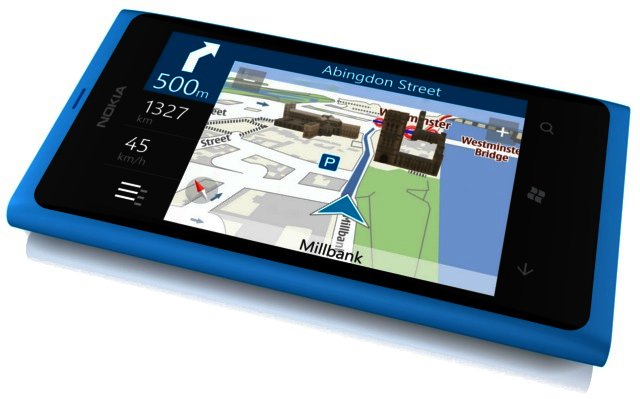 Final word:

They say a journey of a thousand miles begins with a single step, and with the Lumia 800 Nokia's Windows Phone adventure is off to a smooth start. If the company is capable of making it to the top of the sales charts remains to be seen, but the Lumia 800 at least proves that the Finnish giant can stand toe-to-toe with the iPhone and its Android-running rivals. Nokia's Mix Radio and Drive navigation software also elevates the Finnish company's Windows Phone offering above those of Samsung or HTC. The Lumia 800 goes for a recommended retail price of R6999.

Pros:

Speedy CPU; excellent snapper; brilliant Mix Radio application; speech functionality works well; Microsoft Office integration; access to cloud-based storage; free turn-by-turn navigation; eye-catching design and pocket-friendly dimensions.

Cons:
Battery life isn't stellar; only Bing employed in web searches; doesn't support full HD video recording; processor not as up-to-date as rivals and no microSD card slot.
Speedy CPU, excellent snapper, brilliant Mix Radio application, speech functionality works well, Microsoft Office integration, access to cloud-based storage, free turn-by-turn navigation, eye-catching design and pocket-friendly dimensions.
Battery life isn't stellar, Bing employed in web searches, doesn't support full HD video recording, processor not as up-to-date as rivals, and no microSD card slot.