Features sponsored by the Samsung Galaxy S22 series: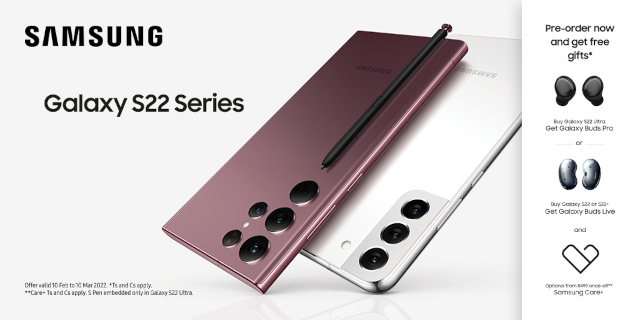 Nokia's Lumia 920 (review) flagship makes for a great all-round top-end smartphone, but its tank-like frame is not for everyone. Enter the Lumia 820 which offers the same smartphone experience in a compact package.

Although the 820 features solid construction, we did find the overall square-loving design uninspired and a bit on the boring side. As expected the Lumia 820 fits more snugly in hand than its bigger brother, measuring 123.8 x 68.5 x 9.9 mm and weighing in at 160 g, 25 g less than the 920.

Despite the smaller frame, you get the same processing power under its hood as the 920, with the 820 packing a 1.5 GHz dual-core Qualcomm Snapdragon CPU, 1 GB of RAM, and Windows Phone 8 handling the operating.

These innards enable the Lumia 820 to be on par with the more expensive Lumia 920 and HTC Windows Phone 8X (review) in day-to-day operation, and even allows it to edge out the 8X (234.34) and 920 (228.21) within the WP Bench benchmarking speed test by scoring 237.22.

All the excellent Nokia-exclusive apps are also onboard including voice-guided turn-by-turn navigation via Nokia Drive and the free-to-stream mobile music service dubbed Mix Radio.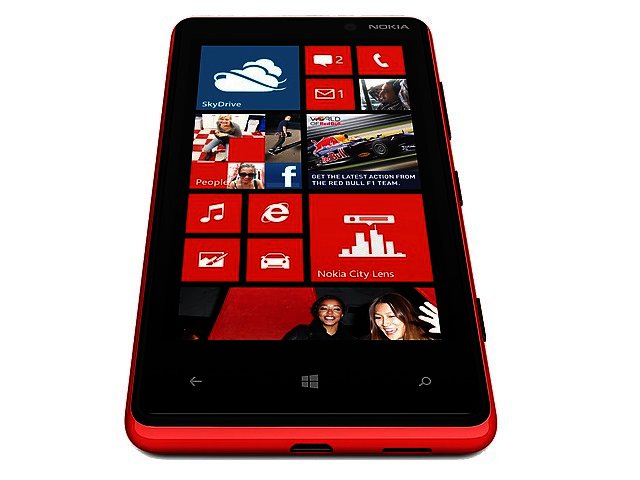 The same CPU and RAM count as can be found on the Lumia 920, means snappy performance is also attained on the 820.
Display and optics

The differences between the 820 and 920 start at the screen, with the 820 boasting a 4.3" touchscreen (480 x 800; 217 ppi pixel density), instead of the 920's excellent 4.5" PureMotion HD+ display (768 x 1280 resolution; 332 ppi pixel density). We found the WVGA resolution to be more than suitable for most tasks such as browsing the web and viewing your photos, and since it's an AMOLED screen, the viewing angles and colour saturation are great.

Nokia's ClearBlack display technology is also included so glare is not an issue when using the smartphone outdoors.

The Lumia 820 is also equipped with an 8 MP autofocus rear-facing snapper that sports Carl Zeiss optics and a dual-LED flash. This camera takes beautiful stills, except in low-light conditions when images get grainy. It can record 1080p videos at 30 fps with video stabilisation, which works fine but does not hold a candle to the tripod-like-stability of the optical stabilisation offered by the Lumia 920.

Unlike Android and iOS' cameras, you don't have access to features such as taking stills whilst recording video, but the standard Windows Phone OS camera functionality can be enhanced via bolt-on 'lenses' downloadable from the Windows Phone Store.

Espoo's Smart Shoot lens for instance, allows you to capture the perfect group shot by taking multiple shots in quick succession. This means that if one person blinked or was frowning at that moment in time for example, you can tap on their face and 'fix' the image by going back to an earlier instance where their eyes were open or they smiled.

Like all Nokia Lumias, no HDR is on offer.
There is an 8 MP camera at the back and VGA snapper on the front for making videocalls.

Other features

To store your photos, videos and other media, you only get 8 GB worth of internal storage, but that is expandable with an up to 64 GB via microSD memory card slot. To access this slot though, you have to remove the back cover, which is a rather difficult affair and should not be frequently attempted.

Lumia 820 back covers (which Nokia calls shells) are also exchangeable, allowing users to bring back some 3310 nostalgia and personalise the look of their device. Wireless charging shells that supports the Lumia 920's accessories such as the Wireless Charging Pillow by Fatboy are also available, but these go for a pricey R450.

Battery performance from the 1 650 mAh battery is poor right out of the box, considering we barely received eight hours of battery life, but after tinkering with the settings battery life improved considerably and comfortably exceeded the 12 hour mark.

This dramatic boost in battery life was a result of a couple of settings changes including turning off the phone's NFC (near field communication) sharing feature called 'tap + send' that is always on by default, and setting the email update frequency from 15 minutes to hourly.

We also opted for manual data backup instead of having the smartphone constantly connecting to Microsoft's servers to keep all our content up to date in the cloud; unchecked automatic software updates; and turned off both Xbox Live game request and the smartphone's Connect with Xbox functionality.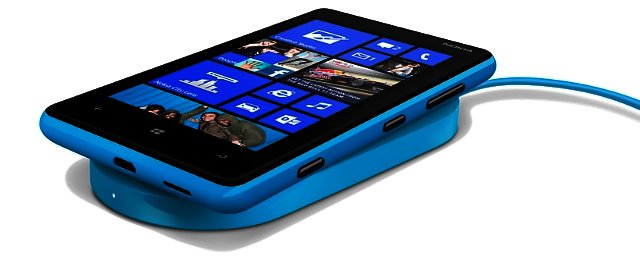 Power smartphone users will need to shell out for a wireless charging shell if they opt for the Lumia 820.
To the point

Nokia's Lumia 820 makes for a great choice for people interested in a Windows Phone 8 device, but without the budget for the Lumia 920 (R8 000) nor an interest in that phone's hulking frame.

For everyone else, there are a number of similarly specced Android-powered smartphones available that go for a lot less than the R6 400 asking price of the Lumia 820. These include Samsung's Galaxy S3 mini (review, R4 000), HTC's Desire X (review, R4 000) and Sony's Xperia sola (review, R4 300).

Pros:

More grip-and-pocket-friendly form factor.
Easy to use, eye-catching mobile platform.
Expandable storage is offered.
Battery is removable.
Exchangeable back covers to bring personalisable look to the phone.

Cons:

Low-light performance of camera is poor.
Battery performance is poor out of the box.
More grip-and-pocket-friendly form factor; easy to use, eye-catching mobile platform; expandable storage is offered; battery is removable; and exchangeable back covers to bring personalisable look to the phone.
Low-light performance of camera is poor; and battery performance is poor out of the box.