Wearable tech is forecasted to be the next big thing, but Samsung's Galaxy Gear shows that this smartwatch's time has not yet come.
Once you've downloaded the Gear manager application from Samsung's App marketplace to your phone, and paired the Gear with your smartphone via NFC/Bluetooth, you're ready to go. In essence the Gear acts as a second screen for your smartphone, by displaying notifications, received email, SMS and the like, which you can read but not reply to from the watch.
Unlike its rivals, the Gear elevates the smartwatch game thanks to sporting a camera, built-in speaker, plus two microphones (one is used for noise cancellation). The watch's 1.9 MP autofocus camera captures rather average looking stills and allows users to record lag-free 15 second video clips in 720p. These are saved to the Gear, with it packing 4 GB of internal storage, while its also automatically shared with your smartphone over Bluetooth.
The smartwatch's microphones and speaker enable you to make or answer incoming calls. Call quality and volume levels are good if in a quiet room, but if you're in a noisy office environment or outside in a bustling street you will struggle to hear callers and to be heard.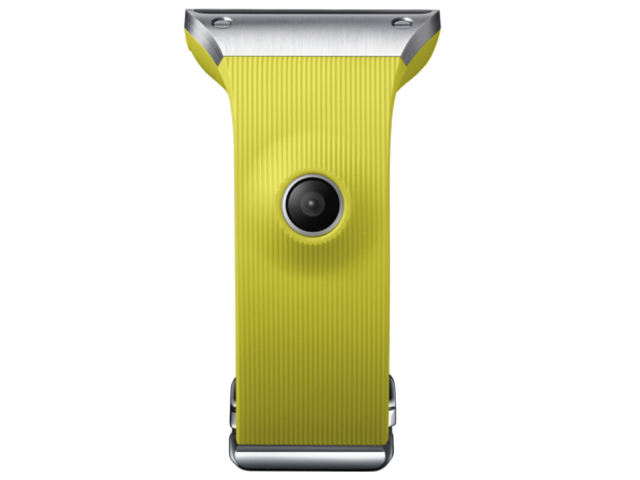 More than a pretty (watch) face
Design wise, the Gear is certainly an eye-catching piece of industrial design that incorporates a rubber band and a classy aluminium face that fits comfortably and securely to wrists of various sizes via an adjustable clasp. Like the iPhone, the Gear only has a singular button, which you use to turn the device on or put it in sleep mode.
Powering the Galaxy Gear is a single-core (make unspecified) processor clocked at 800 MHz, which is backed up by 512 MB RAM, translating to good performance on the Gear when scrolling or using apps. The jewel of the Gear's styling is its screen, which is a 1.63" (320 x 320) Super AMOLED in this instance. Despite this low resolution, the small display size translates into a healthy pixel density of 277 ppi meaning that text and images appear crisp onscreen, with viewing angles also being excellent.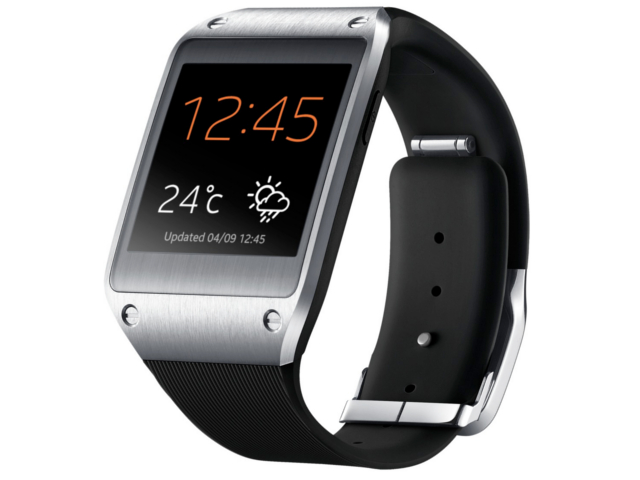 Gripes with the Gear
Also onboard is a minuscule 315 mAh Li-ion battery that unfortunately won't keep this watch ticking for more than a couple of days. We managed two days of usage only when we switched the Gear off at night between 23:00 and 05:30. If you setup up your email and social networking accounts on the Gear and get hundreds of notifications per day, than expect to see the low battery warning pop up before the 12 hour mark.
Besides battery life, the biggest issue with the Gear is that it only worked with two devices when it came out, namely the Galaxy Note 3 phablet (quick review) and recently revamped Galaxy Note 10.1 tablet. The list is now up to three after adding the important Galaxy S4 (review), but this is still a ridiculously low number. A trick is also missed by the lack of onboard GPS, which means it won't track your run when out for a jog by its own.
Our last issue is with the sparsely populated app selection for the Galaxy Gear within Samsung Apps, with notable exclusions being Instagram, Vine, IM apps beyond Samsung's own ChatOn, and even the official Twitter application (Tweet Quickview works well though).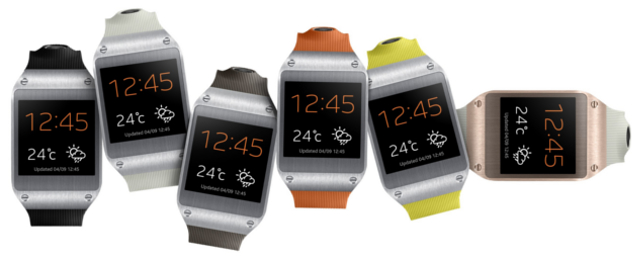 Watch this wearable tech space
Samsung's Galaxy Gear is the best looking and most feature rich smartwatch on the market, but is hampered by the sparse app selection, weak device support, a lack of a real killer feature, and its high RRP. The Gear goes for R4 600, which is expensive since you can pick up a splash-resistant Sony SmartWatch 2 with a metal strap for less than R2 500.
Eye-catching; premium styling; fits comfortably on your wrist; distinguishing feature in the onboard camera; and you can answer/make calls via the Gear.
Very sparsely populated app selection within Samsung Apps; weak device support; a lack of a real killer feature; and its high RRP.