Samsung is no stranger to Microsoft's Windows Phone OS, with the Windows Mobile 6.1-operating Samsung SGH-i900 (Omnia I) and the Windows Mobile 6.5-running Samsung Omnia Pro B7330 forming part of its Redmond-powered Omnia range.

The Omnia 7, however, is the Korean tech giant's first Windows Phone 7 OS-powered device (hence the 7 in the name), making it a lot less complicated and fussy to use than its predecessors.

Sports a business suit

Complimenting the new smartphone OS running on the Omnia 7, is a more business-focused design. Measuring in at 118 x 59.6 x 12.3 mm and weighing 123 g, the smartphone feels very comfortable both in hand and pocket.

This smartphone's solidly constructed, all-black plastic design will appeal to users from the corporate field, who craves a capable and easy-to-use mobile device. Although its must be noted that this business-minded look isn't as stylish as that of the iPhone 4 or Sony Ericsson Xperia arc.

Samsung's Windows-running baby keeps things fast with Qualcomm's QSD8250 1 GHz application processor. It enabled the OS to run without any hint of lag, while we also easily browsed through music, pictures and movies without any hassles. It must be noted that even though the single-core Qualcomm processor performed very competently, dual-core processors have become in-vogue of late for high -end smartphones, including Samsung's own Galaxy SII.

The Omnia 7 features a decent amount (8 GB) of internal storage, but unfortunately you cannot expand on this as the smartphone doesn't have a microSD card slot. While also onboard is a 5 MP camera capable of snapping some really good-looking stills as well as recording HD-ready (720p) videos.

Good screen

The most prominent feature of the design of the smartphone however is its 4" Super AMOLED capacitive touch-screen. Although its resolution of 480 x 800 is in-line with what other phones in its price range offers, we still liked the clear, vibrant colours with some very good viewing angles.

If you put the Omnia 7 next to the iPhone 4's Retina Display, the Omnia's screen displays colours more vividly and brighter, but the iPhone 4 trounces it when it comes to detail, especially when you zoom in, thanks to its superior resolution of 640 x 960 pixels. The iPhone 4's display also enables better outdoor visibility, being less prone to displaying reflections than the Omnia 7's touch-screen.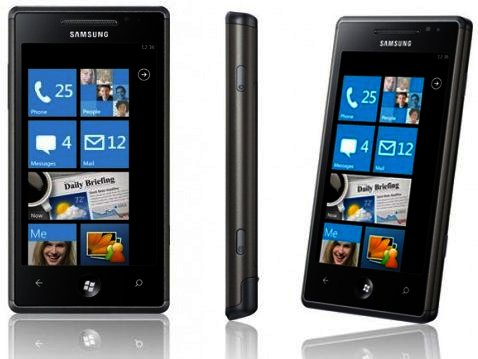 Runs on Redmond software power

As snazzy as the gorgeous display of the Omnia 7 is its Windows Phone 7 OS, which boasts a much cooler, design-conscious look and feel compared to previous versions. What we really like about this OS is that it sports a different manner of operation to both iOS as well as Android.

The epicentre of Windows Phone 7 is the Start screen that is populated by movable "tiles". These tiles can represent anything from links to a user's SMSs and Internet Explorer, through to quick launch tiles for your favourite apps or music videos.

If you swipe right (or click on the right arrow on the Start screen), you'll be taken to the main menu, which is basically a list of shortcuts to applications, games, settings and "hubs". The latter incorporating a wealth of information as well as a well-designed interface once pressed. The "People" hub, for example, opens up to your phonebook and also allows you to slide the screen right to recent contacts and your Facebook feed.

As can be expected there's also a Microsoft Office hub, one of the strongest documentation creation and editing packages currently on offer on any mobile OS. It features the mobile version of Microsoft Word, Excel, PowerPoint as well as SharePoint, and if you are inclined to do some work on your mobile, this is what you need.

Critique

Overall the OS is really easy and even intuitive to use, leaving us with only two real criticisms to level at it. The first being the fact that you can pin a lot of shortcuts (in the form of tiles) to the Start screen, means that you'll eventually have to scroll down a lot to get to specific ones.

This is because the Start screen works almost like the multiple home-screens of a Symbian- or Android running smartphone, except rather than displaying all your apps and shortcuts horizontally across three to seven home-screens, you're left with a single home-screen to display these vertically on.

The other criticism is the number of apps available via Microsoft's Windows Phone Apps Marketplace, currently numbering around 25 000. It compares unfavourably to the Android Market's 200 000+ apps and Apple's iOS App Store with its 425 000+ apps. There isn't a WhatsApp messenger app for instance or even an MXit app (although there's a version for Windows Mobile 6.5).

Samsung has tried to address this app shortage with the inclusion of its own-developed apps in the Samsung Zone, but even that is sparsely populated. Twitter integration is only part and partial of the forthcoming Windows Phone 7.5 (Mango) update, but luckily you can download the Twitter app from the Microsoft's Marketplace.

All apps were downloaded from the UK Marketplace, as the local regional one will only be activated with the release of the Mango update in September.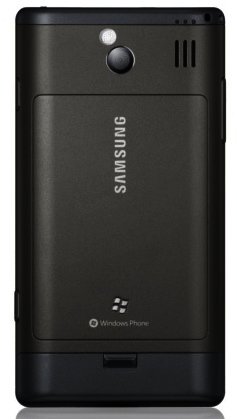 Synching media via Zune and Windows Live!

Last but not the least of our criticism, is the fact that Windows Phone 7 OS doesn't allow for the dragging and dropping of any files onto the device when connected to a PC. Like Apple's iOS-powered smartphones which sync media content via iTunes, you have to sync your media content using Microsoft's Zune package.

Music and videos from your PC can only be transferred to your smartphone via Microsoft's Zune media package, and firmware updates for the smartphone is also downloaded and installed by way of Zune (which is not bad per se). Even more annoying is the fact that, like Apple's iTunes, you have to download (119 MB) Zune yourself, as it doesn't come on a CD in the box.

As is the case with Android devices for which you require a Google account to use, and Nokia smartphones that need an Ovi account, Windows Phone 7 needs a Windows Live ID to get the full experience. If you use a lot of the Microsoft services already, such as Xbox LIVE or Hotmail you will like the added integration for these.

Final word

Samsung's Omnia 7 is a solidly built, simple to use device offering some impressive specs, such as its 4" Super AMOLED display and 8 GB of storage. Now Microsoft just needs to bolster the number of available apps for its Windows Phone 7 OS-running smartphones and it will be game-on with Google and Apple (especially with Microsoft's new relationship with Nokia).

The Omnia 7 comes with an RRP of R5299, making it cheaper than the WP7 powered HTC Mozart (R5700), as well as a number of recently released Android-operating smartphones. The latter includes the Samsung Galaxy SII (between R6699 and R6999), the Samsung-built Google Nexus S (R6299) and the Sony Ericsson Xperia arc (R6599).

Pro

Easy to use OS, fast processor, lots of internal storage, excellent display.

Con

Design not the most stylish, synching via Zune, downloading Zune software, no microSD support and very few apps.
Easy to use OS, fast processor, lots of internal storage, excellent display.
Design not the most stylish, synching via Zune, downloading Zune software, no microSD support and very few apps.