When I was on hand at Sony's local MWC 2015 recap event, the message was clear that the Japanese manufacturer is changing its mobile tact. While the Japanese company will continue to manufacturer well-made premium devices like the Z3 (review) smartphone and Z3 Tablet Compact (review), Sony will also be making a bigger push in the entry level to mid-range markets. This was evidenced by the unveiling of the rather intriguing M4 Aqua, which appeared to feature enough nouse and processing power to make consumers second guess a potential flagship purchase.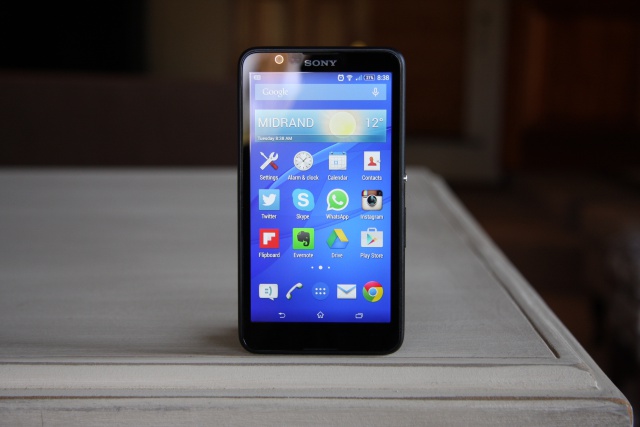 Bang Average
The same case cannot be made for Sony's Xperia E4, which sits in the cusp of entry level and mid-range, with its internal specs leaning it ever so slightly to the latter. As such, it enters a rather dangerous arena, filled to the hilt with competitors offering much of the same. The Xperia E4 appears to be a well constructed device, in spite of its removable plastic back cover. It's been awhile since I've encountered an Xperia device that features a different design, with the usual glass and aluminium frame combination now absent. Just like its plastic back cover, no other element of the E4 truly stands out, and it lacks much of the charm that previous Sony mobile devices have.
Fitted with a 5" (540x960) display up front, that registers at a relatively low 220 ppi pixel density, it does appear a tad grainy at times when in-app or browsing. As such, it may struggle to compete with similar offerings on the display front, like the Acer Liquid Jade (review), which touts a 294 ppi. In order to help issues slightly, I'd advise turning the on-screen brightness to its maximum setting. This improves the level of clarity for on-screen content, but also carries the caveat of impacting heavily on battery life.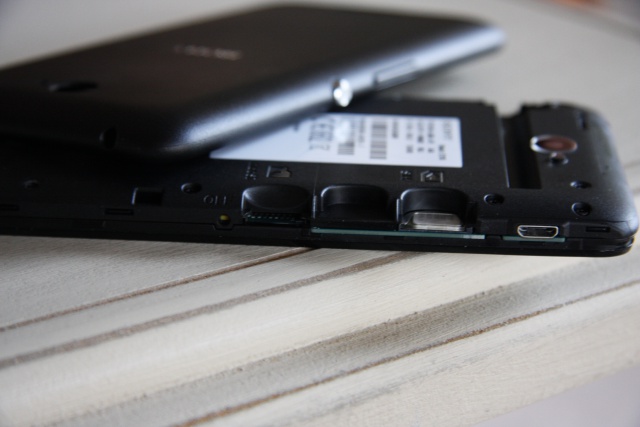 Surprise Contender
Speaking of which, the E4 sports a non-removable 2300 mAh battery, with the back cover used to access the micro-SIM and microSD slots (up to 32 GB). Capable of lasting a full day under moderate use, the E4 might just need a charging cable visit before the day is up (9:00-17:00) under heavy use. While flagship smartphone users might demand more, for its intended entry level or mid-range user, the E4's battery gets the job done.
The same can be said of its internal components, chief among them is a Meditek M6582 quad-core chipset, clocked at a respectable 1.3 GHz. It's also one of the rare occasions that Sony has wavered from the chipsets on offer from Qualcomm. Despite the change, there is no perceived lack of performance, as the E4 managed multitasking well, and provided an on-par user experience.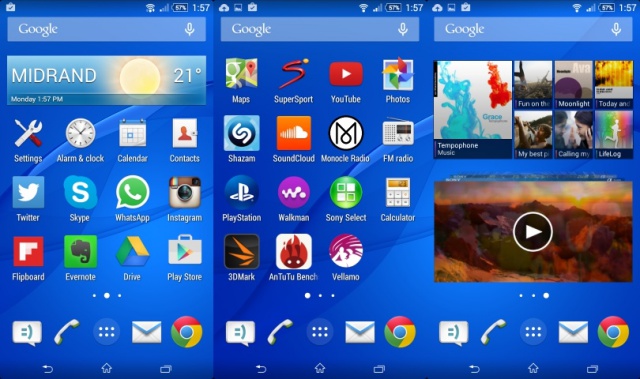 Its benchmark scores seemed to reflect this, scoring 19 026 on AnTuTu (v5.7). In may regards, the E4 is a standout performer (for its class) as far as benchmarking goes, outscoring the Acer Liquid Jade's 18 214 on AnTuTu, and coming quite close to the impressive Samsung Galaxy A5 (review)'s 21 664 mark. Aiding the new chipset is 1 GB of RAM, which Sony has been able to get a lot of productivity out of. It therefore seems that if you're looking for a device that handles work and play equally well, without denting your wallet, the Xperia E4 is a definite contender.
Standard Accessories
As the E4's internal components surprised me to no end, the accessories that Sony has added did not. The primary camera for example, a 5 MP version in the E4's case, falls in the same category as many of its competitors. It proves good to work with during the day or well lit areas, but the moment you try to snap indoors or poorly lit environments, a grainy and dull image is often the result. If a smartphone with great imaging capability is what you're after, then the E4 is lacking ever so slightly. Up front it is much of the same, with a 2 MP front-facing camera that will not bring any joy for avid selfie takers.
One other thing counting against the E4, is its yet-to-be-released big brother - the E4g. Although being a slightly smaller form factor at 4.7", the E4g does tout 4G/LTE functionality and a (slightly) better display pixel density at 234 ppi. The former is what poses the biggest threat to the standard 5" E4, which only caters up to 3G connectivity. While it might not be a foremost concern for some, as local service providers begin to up their 4G nationwide capacity, standard E4 users might feel like they're missing out slightly.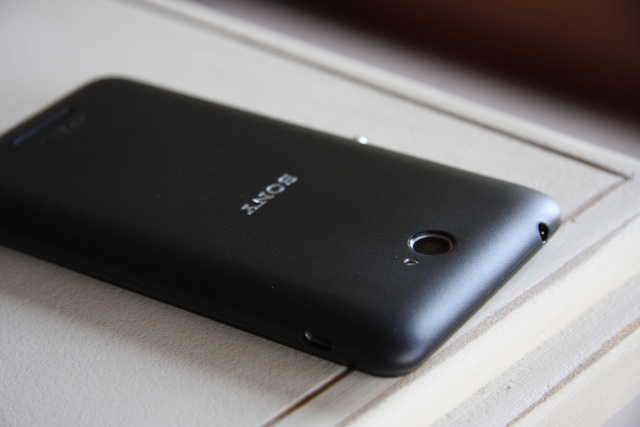 Final Verdict
All in all, the Xperia E4 is a solid entry level to mid-range device. While I had my initial reservations about it, particular as its design was not particularly eye-catching of definitive, it won me over with its great processing performance. As an everyday device, the E4 will not let users down, and when you take into account that it only costs R1 500, it becomes an all the more great value. My lingering concern however, is the fact that Sony has made both a dual-SIM variant of the standard E4 and LTE compatible E4g, neither of which should be that much more expensive than this review model. As such, perhaps waiting for the LTE-sporting bigger brother might be the wiser option.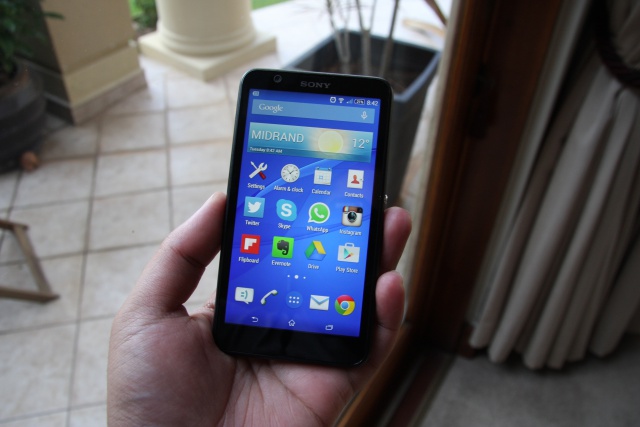 Solid processing performance; Good battery life; Very well priced for market
A bit too plastic; Other variants with better features on the way