ALSO READ:
BlackBerry Leap Review
Microsoft Lumia 640 XL (Dual SIM LTE) Review
Huawei Ascend G7 Review
Although I'm always pleased to see a new flagship smartphone land on my review desk, it appears as if mid-range devices are getting their fair share of attention during 2015. While the likes of Samsung, LG and Apple try to push the boundaries with their high end offerings, competitors like Huawei and Sony are fully aware of the value that the mid-range market holds. The Japanese manufacturer in particular is targeting the mid-range price point, aiming to deliver its best technologies in a user experience that's undeniably Xperia.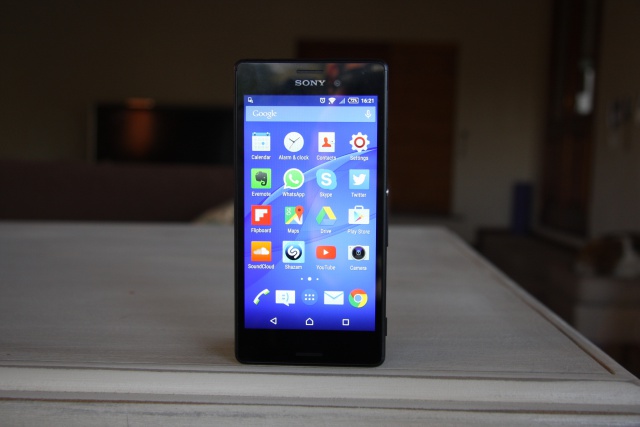 Sitting Pretty
The new Xperia M4 Aqua sits firmly in this position, as it not only looks the part of an Xperia device, but also touts a surprising amount of technology that could have some flagship owners rethinking that next R10K purchase.
When it comes to design, nothing has changed from Sony's end, as the M4 Aqua looks like most of the devices we've encountered in the Xperia lineup over the past few years. One change, is materials, which is normally the case with mid-range devices compared to their flagship brethren. As such, the usual aluminium frame is replaced by a hardened plastic one, which feels different to the touch, but from a distance looks no less impressive than the genuine article found on the likes of the Xperia Z3 (review). Hoping to compensate, is the use of the now top end Xperia-standard glass back cover, making the M4 Aqua feel far more premium than some its mid-range counterparts.
Perhaps Sony has taken a leaf from Samsung's book with its Galaxy A5 (review), a smartphone that not only looked great, but placed an emphasis on camera quality and the types of materials used in its design. The M4 Aqua also takes a cue from one of its own devices, the Xperia Z1 Compact (review), which debuted early last year. It performed just as well as its larger brother, the Z1, and in many respects proved the better device given its smaller price tag.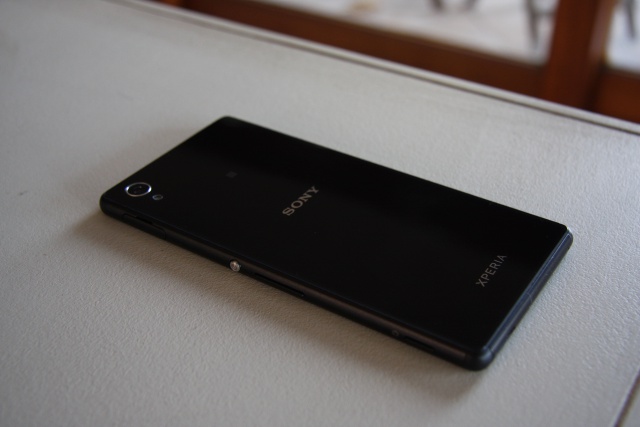 Mid-Range's Year
Although not a flagship device, the M4 Aqua has the potential to be Sony's go-to smartphone of 2015, especially as no offering bearing the Z4 moniker shows signs of appearing this year just yet.
So, what makes this smartphone so special? Up front, users have 5" (720x1280) of IPS LCD screen to play with, which produces a solid 294 ppi pixel density to enjoy. It may not be on the same level of say a Galaxy S6 or LG G4, but for a mid-range device, the M4 Aqua's display features all the detail and clarity a user could need. The aforementioned 5" of screen real estate also means that the M4 Aqua lends well to web browsing or mobile gaming, whichever of the two catches your fancy.
One issue I did find however, was that the adaptive brightness function, often leaves the display looking a tad dull and dark. As a result, users might find themselves changing the brightness to a higher level manually, more often than not, which has an impact of battery performance.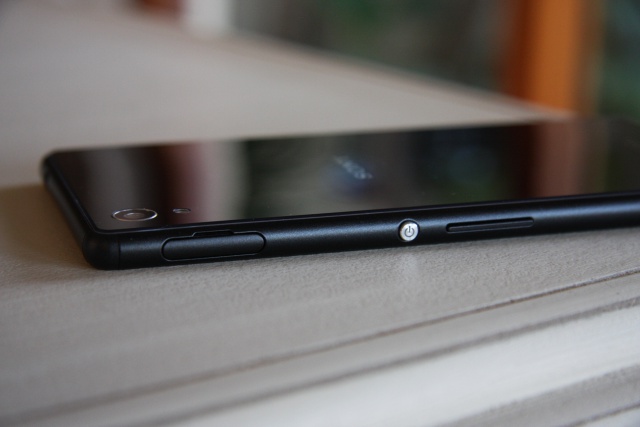 Bells and Whistles
Speaking of which, the M4 Aqua is fitted with a non-removable 2400 mAh battery internally, which offers a solid day's battery life, even under heavy use. In fact Sony makes the claim that the M4 Aqua can go a full two days when required. As far as that claim goes, the M4 Aqua came close to the two day mark when I was using it, managing a good day and a half with the screen brightness on the highest setting, before a visit to a charging point was needed.
One of the other key features that Sony is boasting about, should be all too familiar to Xperia users, namely its IP65/IP68 rated waterproofness and dust resistance. It's a mainstay for most of Sony's middle to high end offerings, and as such, delivers a reported 30 minutes worth of waterproofness when submerged at a depth of 1.5 metres. To that end, the M4 Aqua feels a pretty hard wearing device despite the amount of glass Sony has opted for, which should certainly keep those accident/drop prone users' minds at ease (slightly more, anyway).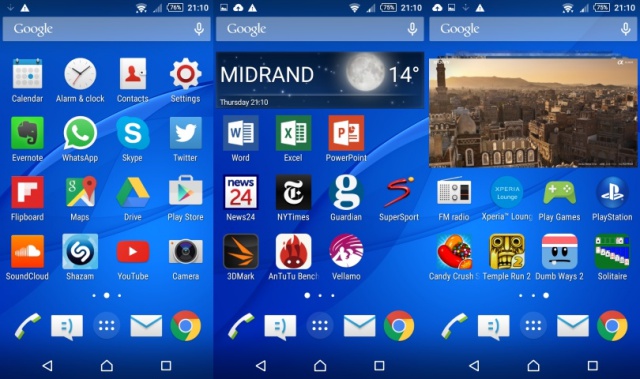 Pushing Limits
All in all, the M4 Aqua seems a device aimed at users that are gonna head outside and do stuff, especially if Sony's marketing and advertising for the phone is anything to go by. As such, a good camera will likely be needed, and thankfully the M4 Aqua has a pretty great one. On the rear, Sony has opted for a 13 MP shooter, which features a relatively quick autofocus and is capable of capturing solid images.
Working well both indoors and outdoors, I was impressed by the way that a 13 MP phone camera was able to handle light, or rather the lack of it, producing highly detailed images even in darkened conditions. Added to that, is a number of native after image editing effects, which should keep the Instagrammers content. Furthermore, the M4 Aqua touts the ability to shoot underwater. That feature may be a little gimmicky for some, but it serves as a great indication of its hard wearing capacity.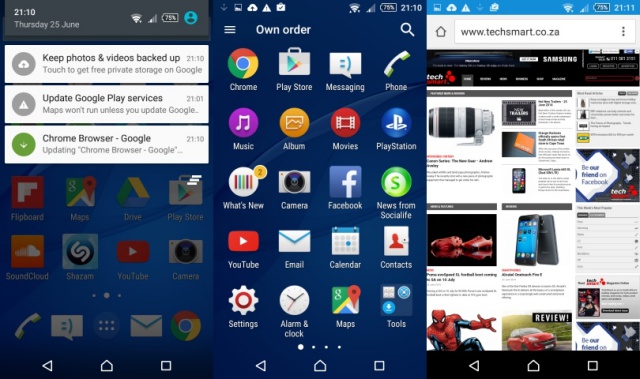 As far as processing goes, the M4 Aqua has a strong footing on that front as well. One of the first octa-core devices to arrive locally from Sony this year, the M4 Aqua houses a Qualcomm Snapdragon 615 chipset, split between a quad-core 1.5 GHz Cortex-A53 and quad-core 1.0 GHz Cortex-A53 setup. Added to this, is a healthy 2 GB of RAM and a slightly low 8 GB of onboard storage.
The 8 GB was a tad disappointing to see, as the M4 Aqua reached 70% storage capacity before I had even finished downloading some core Android apps. As a result, it dampened the performance slightly, as the M4 Aqua got a bit sluggish while typing and switching between apps. Therefore, a microSD will definitely be required, especially if you're an app fiend, or enjoying taking a ton of pictures.
Back to the M4 Aqua's chipset, which impressed quite a bit during benchmarking. In fact, it outscored the Galaxy A5, which features a similar processor and RAM setup, in almost every test I threw at it. On AnTuTu (v5.7.1) for example, it scored a total of 32 564, outperforming the A5's mark of 21 644. The same rang true for 3DMark, with the M4 Aqua registering a 8138 on Ice Storm Unlimited, compared to the A5's 4390.
Sample Images.
Final Verdict
While a flagship smartphone might carry a bit more clout in a game of Top Trumps, a device like the M4 Aqua is nothing to be scoffed at, particularly as it retails for an estimated R4 000. Its ability to take care of the smartphone basics, as well as the inclusion of an enviable camera and battery life, make it one of the true standout smartphones for 2015 in the mid-range market. As such, the M4 Aqua seems the kind of smartphone that a discerning Android user would carry, and probably should.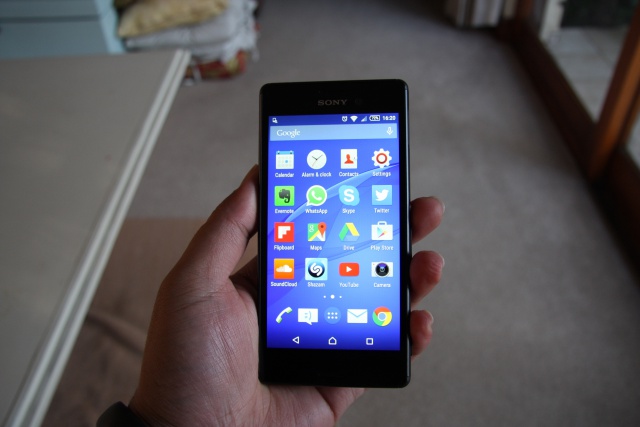 Well Built; Great Camera; Solid price point; Strong battery life
Heats up while multitasking; Display a tad dull on automatic brightness