Review written by Spling. For more awesome movie news and reviews, visit www.spling.co.za.
World War Z is based on the novel by Max Brooks, who also wrote the straight-faced parody, The Zombie Survival Guide. While the novel relayed a series of first-hand accounts from post zombie apocalypse survivors, the film strings them all together into the first-hand experiences of family man and United Nations investigator, Gerry Lane.
When a sprawling zombie pandemic threatens the survival of humanity, Lane is commissioned to locate the origin of the outbreak in a race against time. World War Z is an epic zombie action horror thriller that echoes I Am Legend, The Day After Tomorrow and Oblivion for balance, theme, tone and scale. We're thrown into the deep end as global news reports break closer and closer to home, until a family are swept up in a fight for survival.
Instead of being holed up in a 'fort', the motto to "keep moving forward" keeps them one step ahead of the Z virus before Gerry's sense of duty sends him overseas to find answers. World War Z is like four zombie films rolled into one disaster movie, detonating standalone climaxes: urban traffic nightmare, fortress under siege, flight gone haywire and medical labyrinth.
The electric pacing, zombie shock factor and pulsating visual effects keep this body of work alive as Brad Pitt connects the audience with a reluctant yet compelling everyman hero. You wouldn't usually pair Brad Pitt with a zombie movie, but this isn't just any zombie movie, as evidenced by the involvement of World War Z's acclaimed low-profile director, Marc Forster.
Forster has an impressive filmography as a director with The Kite Runner, Finding Neverland, Stranger Than Fiction, Machine Gun Preacher and Quantum of Solace to his name. He was keelhauled by critics for his divisive and deconstructive Bond, but his body of work speaks volumes as a whole. World War Z shows he's capable of casting a net over a much broader project and he does so with great aplomb.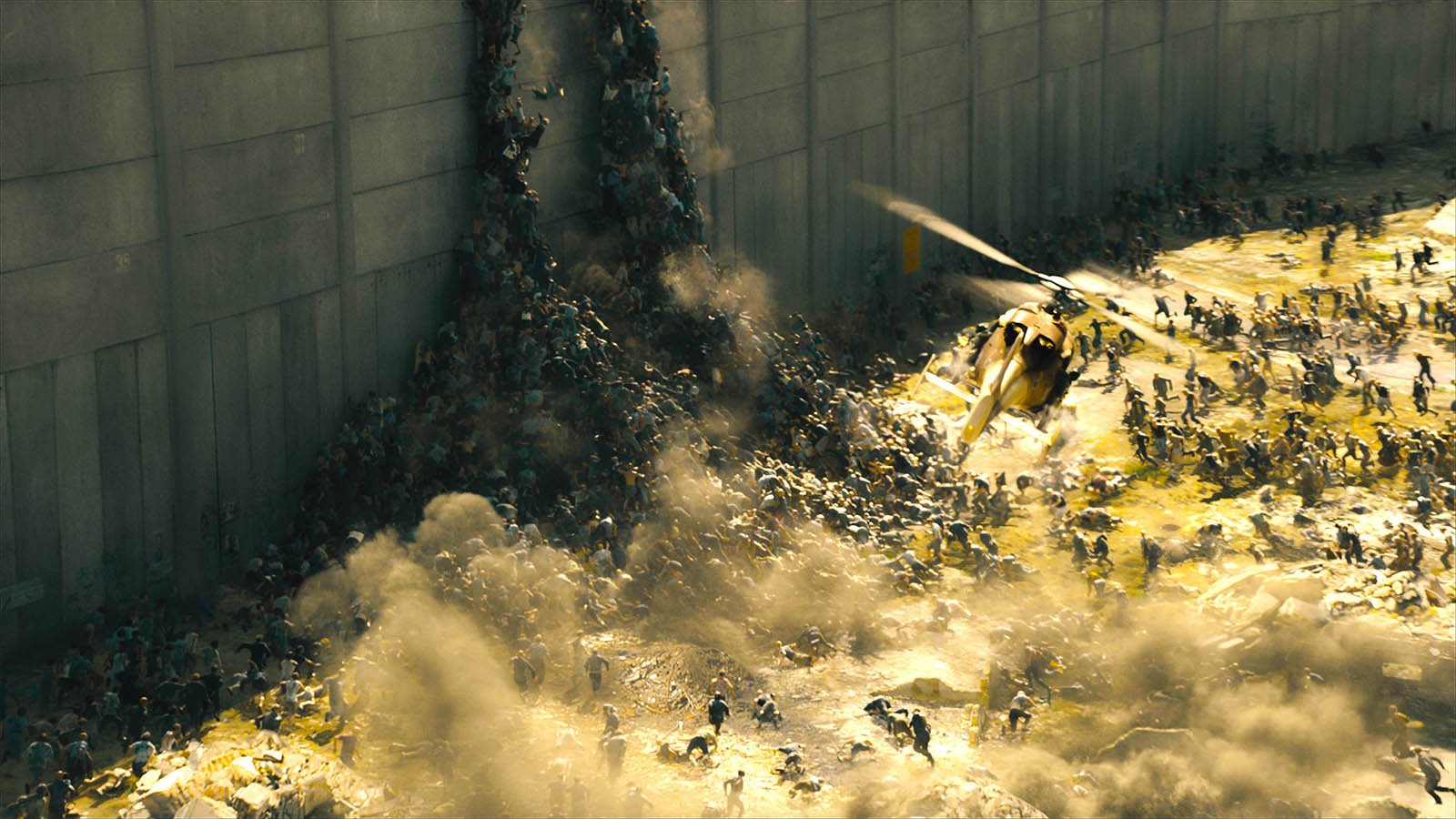 Pitt carries the film as the big name star, but not without a strong supporting cast of up-and-coming stars. Mireille Enos plays his wife, David Morse is an ex-CIA agent and to give World War Z a global village dynamic, Forster cast a number of talented international actors. These include Israel's Daniella Kertesz, the UK's Elyes Gabel and South Africa's very own, Fana Mokoena, who plays Pitt's UN contact and friend, Thierry (read Spling's interview here).
There's not too much time to stop and smell the zombies because this version of the living dead are faster, more altruistic and hunt in waves. This hellish vision of the apocalypse is best when represented as an imaginative swell of corpses as they billow forth like a crashing wave of army ants. This turns up the intensity, the threat and the viral scourge of the undead without relying on buckets of blood or gore.
The scariest part of World War Z is just how timely it feels. Max Brooks used the novel to "comment on government ineptitude and American isolationism, while also examining survivalism and uncertainty" (Wikipedia, 2013). Yet, the interpretation of World War Z (the film) also works on a number of social, political, religious and environmental levels.
While it's an entertaining thrill ride with a rich, underlying message and strong production values, World War Z struggles to kill itself off. The film takes a turn for the worse in the third act as we lose the global perspective, the serious tone and touchdown in traditional zombie movie territory. There's still tension, but it's clouded by unintentional laughs.
World War Z's dot dot dot conclusion seems about as convincing as a 10 minute intermission, underlining the possibility that it probably would have been better suited to being adapted into a sprawling first-person video game. While the add-on video game may already be in the pipeline, so is a sequel, thanks to the film's opening box office success.
The bottom line: Thrilling.

NA
NA