Review written by Spling. For more awesome movie news and reviews, visit www.spling.co.za.
They said it couldn't be done. They were wrong. Who are 'they'? Who cares... Despicable Me 2 is even better than the first one. When Steve Carell... erm, Gru was interviewed on The Ellen DeGeneres Show, it seemed that they were, A: trying to resuscitate a turkey with a desperate publicity stunt, or B: had such a solid film on their hands that they were able to go over and above the call of duty.
Gru returns... having hung up his evil boots in favour of making bottled jelly to spend more time with his adopted girls. When the Anti-Villain League traces a new super criminal to a local mall, Gru is recruited to weed him out with the help of crime-fighting agent and potential love interest, Lucy.
At the time of its release, Despicable Me seemed like a knee-jerk reaction to Meet the Robinsons. The villains, quirky family dynamics, futuristic gadgets and gizmos... there were loads of parallels. However, what we might not have realised is that many of these qualities are also shared with live-action spy spoof, Austin Powers. Throw in a little quirky Modern Family warmth and "Hey presto!", you've got yourself, Despicable Me 2.
It's quite rare for a sequel to trump an original, but there's obviously a lot of love behind Despicable Me, the flagship franchise for Illumination Entertainment. After the first one, the production company toyed with the world of Dr. Seuss by stretching The Lorax into a feature, but Despicable Me is as foundational as Toy Story is to Pixar. As such, the sequel does everything the original does... just better, with more of a focus on the expendable Lemming gibberish that is the Minions.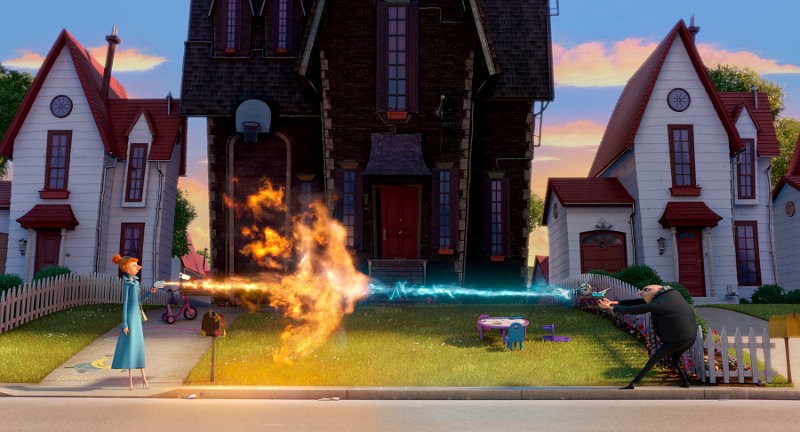 Steve Carell is wonderful as the voice of Gru, maintaining the Eastern European accent and effecting some great lines and heartwarming moments in the process. He's supported by Kristen Wiig (Bridesmaids) as the sharp and savvy Lucy, his "wing-woman", whose quirkiness and resourcefulness come in handy. While Benjamin Bratt (Miss Congeniality) voices the foot-tapping, chest-pounding yet alluring Eduardo with great verve.
Gru's soul-searching formed the basis for the first Despicable Me, but he's more of a ringmaster in the sequel. The real star of Despicable Me 2 is not human, but humanoid. The collective of yellow minions were a smash hit as an army of living props in Despicable Me and the film-makers have given them even more responsibility in the comedy, story and even music department in the sequel. So much so, that they've earned their own spin-off movie, Minions, scheduled for 2014.
Despicable Me 2 has a similar feel to the award-winning, Puss in Boots, a spin-off from Shrek. Both films have an emphasis on feel-good fun and feature: a solid voice cast, quick pacing, smart writing, sharp animation, imaginative visuals and a cataclysmic plot that seems to spiral out of control. While Puss in Boots thrived in the world of fairy tales, Despicable Me 2 takes espionage and villains to the next level of hilarity.
It's the sort of in-the-moment, family-friendly, feel-good fun that can be watched a couple of times with just about anyone. Great espionage gags, a limitless supply of Minions and buckets of silly are reeled in by charming voice performances and some fuzzy, heartwarming moments. Sure, there's not much substance to it and it's more of the same, but when you're armed with entertainment this enjoyable, you can't go wrong.
The bottom line: Entertaining

NA
NA