PREVIOUS ARTICLE
NEXT ARTICLE
NEWS
Jamming now possible with Puma's beady new midsole tech
By
Staff Writer
10 November 2017
|
Categories:

news
Adidas' Ultraboost has certainly captured the imagine the past few years, and it's only natural that the competition would like to get in on the action. Puma has now introduced a trainer which features what it dubs Jamming technology, featuring NRGY beads.
Contained in the midsole and actually viewable through the translucent sides, Puma notes these beads move freely but "jam" together as your foot hits the ground. As they collide the result is both "unrivalled comfort and energy return". Trying to get to the bottom of sneaker marketing speak can be difficult, so how well these NRGY beads work is up for debate.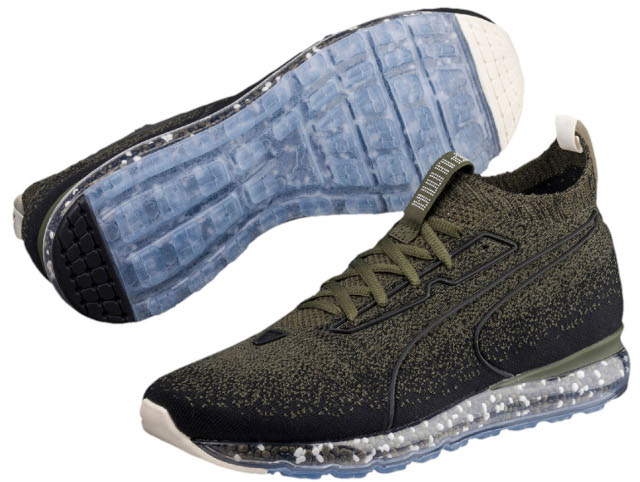 Some swear by Adidas' Ultraboost energy return, so it should be interesting to see Puma bringing NRGY beads to its running shoes to put money where its mouth is.
For now, it's only the Jamming trainer that's available, and to be honest who would really use this to go training, since it looks too damn good? The shoe's upper features Puma's proprietary evoKnit and comes with a PU sock liner for added comfort. We like the variation of colour on the outsole, while it also comes with pull tabs on both the tongue and heel. Puma's recent Netfit lacing tech is unfortunately not featured.
"The way the beads shift in the sole of the shoe with your movements means that every footstep you take will be supported perfectly by a new formation of beads. This really is as tailored as it gets," notes Karin Baust, general manager of Running and Training for Puma.
The Puma Jamming can be found exclusively at Puma Select and X-Trend Store for a pricey R2 699. It is only available in Olive Green in South Africa, with more colourways set to arrive in the first half of 2018.
Check out the video below to see if you'll be Jamming soon.
USER COMMENTS
Read
Magazine Online
TechSmart.co.za is South Africa's leading magazine for tech product reviews, tech news, videos, tech specs and gadgets.
Start reading now >
Download latest issue
Have Your Say
---
What are your plans for the holiday season?
A beach, working on my suntan and relaxing (

3

votes)
Working through my gaming backlog (

1

votes)
Having a staycation and catching up with all the things that need to be done in my house or apartment (

1

votes)
Travelling internationally (

1

votes)
Spending time with friends and family (

2

votes)
Holiday? What's that? I'm working throughout (

4

votes)
Getting reacquainted with my bed, sleeping late and binging Netflix (

2

votes)