This review is brought to you by the beer guzzlers over at CraftNation, where you will find a host of craft beer news and reviews. It was written by their editor, Regardt van der Berg.
Agar's Brewery has officially been around for about a year but brewing has been part of the Agar family for generations. I have long been a fan of Agar's American Pale Ale and Jack Tar 1850 (it used to be called English Special Bitter) so it was with much excitement that I asked the brewer, Michael Agar, to pour me a pint of the Tomahawk IPA when he unveiled the first kegs at the Craft Fair in Joburg held in November.
When you hold the Tomahawk to your nose, you'll smell the wonderfull combination of a fruity IPA and a hoppy ale. Michael told me jokingly that the Tomahawk IPA has over 100 IBU's (International Bittering Units) making this one of the most extreme IPA's you can drink. But don't let that scare you off trying it, since the Tomahawk IPA is incredibly smooth and easy drinking. There is a hint of bitterness that lingers after a few sips but like a Class-A drug it tempts you back for another sip when the taste fades away.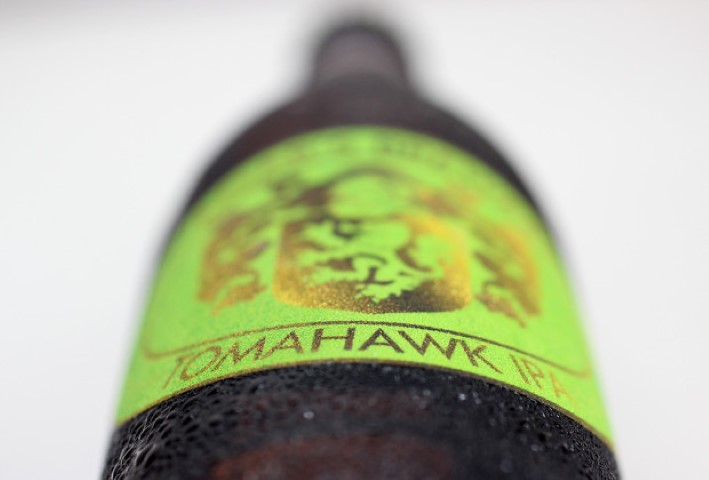 The Tomahawk IPA has a 6.5% Alc/Vol and is a very crisp craft beer on tap and in a bottle. If you are on a budget, you'll love that it retails for under R30 too.
As an IPA drinker, it took only a few sips to know that this was my new favourite IPA and I will be surprised if they don't walk away with a few awards over the next twelve months. I have already bought most of the bottles at my local liquor merchant in Joburg but if you cannot find it, contact them directly, I promise you you won't be disappointed. Just buy a case, one is not enough.
This article was originally published on CraftNation. Read the original article.
Beer Specs:
ABV [Alcohol By Volume]: 6.5%
Volume: 440ML
IBU [International Bittering Unit]: 100
Beer Details
Brewer: Agar's Brewery
Beer Style: IPA
Brewer website: www.agarsbrewery.co.za
-
-