This review is brought to you by the beer guzzlers over at CraftNation, where you will find a host of craft beer news and reviews. It was written by their editor, Regardt van der Berg.
I often wondered why it took Darling Brewery this long to add an IPA to their range, but with the coming of the Thunder Bird, I love the fact that I can now taste something new from a brewery I've long been a fan of. The Darling Brew Slow Beer was one the first beers that made me fall in love with craft and I frequently recommend it for first time craft beer drinkers.
But these words are not dedicated to the Slow, they are reserved for the Thunder Bird. In typical Darling Brew style, this beer displays a beautiful copper colour when poured but is just as good drinking it out of the 500 ml bottle. Yip, half a litre, and at R34 a bottle from my local merchant this one of the best value for money craft beers too.
With hints of bitterness and a gorgeous lingering hops flavour, this is a 6.5% IPA that is definitely best served cold. I look forward trying it on tap but there is no doubt this will be a beer-fest favourite.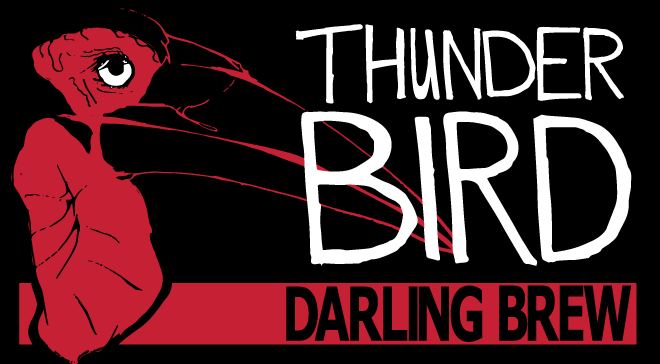 The Thunder Bird is one of three new beers that Darling Brew recently launched. The other two are Sun Gazer (Light Lager) and Rogue Pony (Pale Ale). With the launch of the new range (and in celebration of their new brewery), it seems that Darling Brewers also updated their bottle design and it now features a cool embossed DB logo on the neck. The beer label is inspired by the "vividly handsome" Southern Ground Hornbill, a critically endangered Southern African bird species which is famous for its deep, booming sound.
Beer Specs
ABV [Alcohol By Volume]: 6.5%
Volume: 500 ML
IBU [International Bittering Unit]: 45
Beer Details
Brewer: Darling Brewery
Beer Style: IPA
Brewer website: www.darlingbrew.co.za
This article was originally published on CraftNation. Read the original article.
-
-