AOC announces a new set of 23.8″ (60.4 cm) IPS monitors with powerful ONKYO speakers for spectacular entertainment experience. Both the i2473Pwm and the i2473Pwy boast a stylish Razor Concept design. Built in the stand of these Full HD monitors, two 7 watt speakers from ONKYO are perfect for a superior sound quality when playing games and watching movies. In addition to exceptional image quality, the models also feature the latest connectivity options with MHL and the wireless Miracast.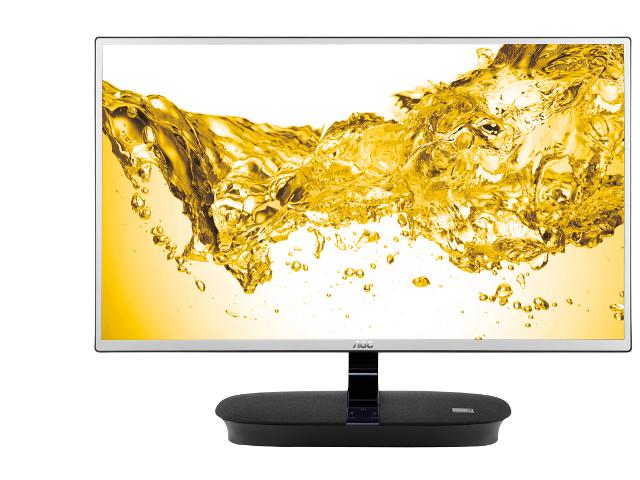 Home entertainment centre: The 73 Series models offer a solid sound performance thanks to 7 watt ONKYO speakers
Exceptional images and world class brand sound
AOC extends the new 73 Series members with high-grade 23.8" (60.4 cm) IPS panels. Delivering Full HD resolution, 250 cd/m2 luminosity and a pixel response time of 5 ms (GTG), the LED-backlit displays stun with extremely vivid colours and super-wide viewing angles of 178° both vertically and horizontally. To match the exceptional image quality with high-class sound, the monitors are equipped with a set of powerful 7 watt ONKYO high-quality loudspeakers. External audio set-up is no longer needed.
MHL and Miracast
Both monitors feature D-Sub as well as HDMI connectors. The i2473Pwm furthermore supports MHL connectivity. This Mobile High-Definition Link allows to directly connect compatible Android mobile devices and the monitor, mirroring the content on the large 60.4 cm IPS screen. Once connected, you can charge the mobile devices simultaneously.
The i2473Pwy even allows mirroring content from mobile devices wirelessly owing to the Miracast technology. Users are now able to enjoy Full HD videos and music from their smartphones and tablets, by displaying these on the large screen. Sharing contents with friends and family has never been easier.
Both models employ energy-efficient LED backlights and fulfil strict sustainability certificates such as TCO 6.0 or Energy Star 6.0. AOC grants a 3 year warranty on its monitors, including an on-site exchange service.
The new 73 Series models are available as of now. The MSRP lies at R3999.00 for the i2473Pwm; for the Miracast model i2473Pwy a price of R4799.00 is suggested.