Partners are crucial to Dell EMC, bringing its technologies and message of transformation to customers across the continent. They are responsible for the vast majority of revenue generated for Dell EMC in the SADC region. Outside of South Africa's borders, other African partners' contribution is almost absolute.
During the Dell EMC Africa Partner Summit 2018, taking place at the Westin Hotel in Cape Town, a gala was thrown to honour these businesses and recognise the top contributors from different regions. Hosted by Elana Afrika-Bredenkamp, the awards showcased the incredible companies that are helping bring modern technology transformation to businesses, governments and societies. They are driving human progress for people across the continent.
"It is great to see our partners do so much," said Mohammed Amin, Senior Vice President at Dell EMC, who presented the awards alongside Brad Pulford, GM for Channel & Distribution. "We have huge plans for our partners over the next twelve months. It's very exciting!"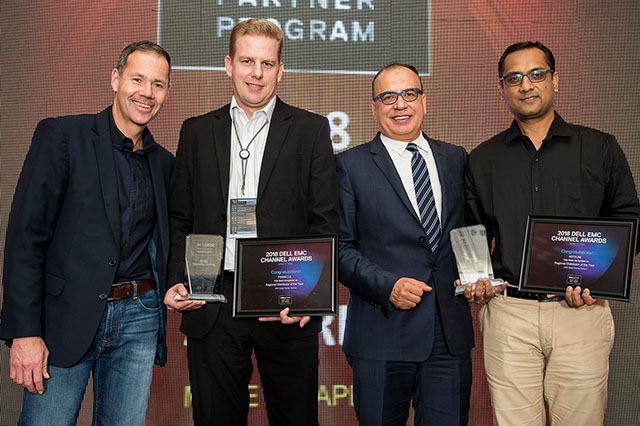 18 awards were handed out, split over three regions and six categories. Each was based on sales data, as well as other criteria such as delivering innovative solutions to customers and generating new business.
During the event, a certificate was also presented to Amin by Christel House to celebrate Dell EMC's contribution to this life-changing education charity that is improving the prospects of South African children every day. Part of Dell EMC's Legacy of Good programme, supporting Christel House is one more way it does its part for a better world.
The awards given at the summit are:
Client Solutions Partner of the Year
Orsima (North West Africa)

Netsurit (SADC)

Computer Connections Tanzania (Central East Africa)
Server Partner of the Year
Orsima (North West Africa)

Digital Generations (SADC)

IPMC Ghana (Central East Africa)
Storage Partner of the Year
CBI (North West Africa)

Datacentrix (SADC)

Sybyl Uganda (Central East Africa)
Go Big - Win Big Net New Business
Ineos (North West Africa)

Dimension Data (SADC)

Sybyl Uganda (Central East Africa)
Extraordinary Partner of the Year
Ineos (North West Africa)

Complete Enterprise Solutions (SADC)

IPMC Ghana (Central East Africa)
Regional Distributor of the Year
Disway Morocco (North West Africa)

Pinnacle (SADC)

Mitsumi (Central East Africa)