We all depend our lives on machines, and like all machines in this world – it can and will fail at a certain point. All you can do to protect your precious data, is to have a good and reliable hard disk recovery or hard drive recovery solution in hand that you can start using at the first sight of trouble.
EaseUS Data Recovery Wizard Free 9.9 is such hard disk recovery application that can take away all your worries – all for free and it won't cost you a thing. It is known the world over as the best free hard drive recovery software to recover deleted, formatted or lost data from your PC, laptop or removable device. It also has a huge endorsement by the software industry experts such as Softonic and TechRepublic.
It would take 3 simple steps to perform a hard disk recovery on all your devices that are caused by anything: it can be due to deleting, formatting, software crash, hard drive damage, virus attack, partition loss or any other unknown reasons. It is as simple as Launch, Scan and Preview & Recover; and you are well on your way to a hard drive recovery.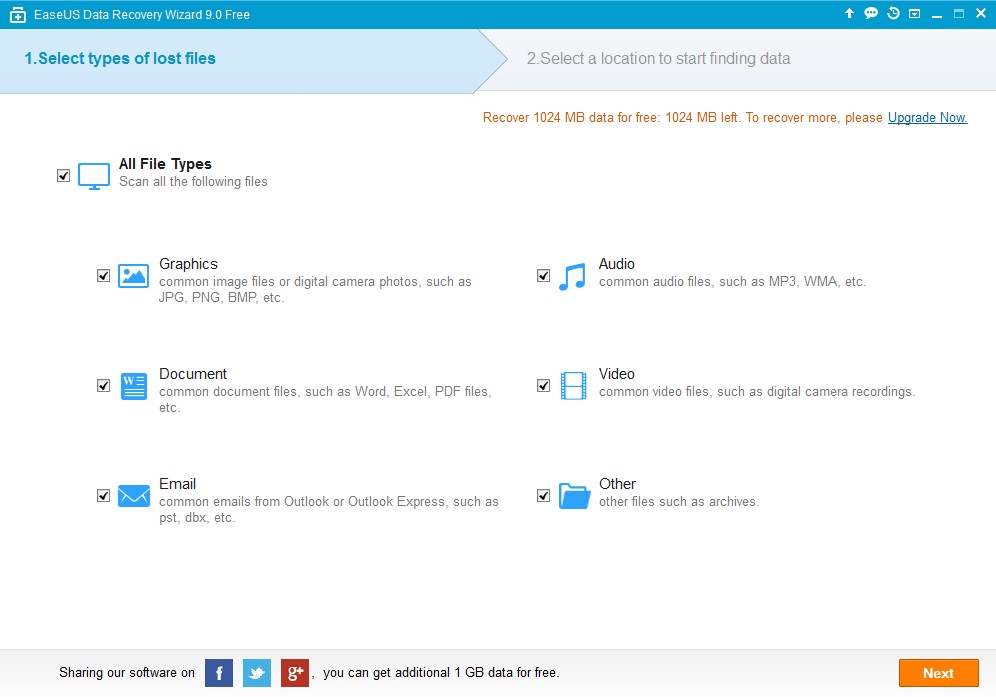 The free hard disk recovery application comes with two progressive scanning modes to help you recover just about anything. First will be the Quick Scan mode which will typically find deleted files, and if this didn't help; proceed with the Deep Scan. Here it help to run a much thorough scan (and takes longer to complete) so that it will find formatted, inaccessible or lost files.
This way, the hard drive recovery tool will be able to recover everything such as your pictures, videos, audio, emails, documents and so much more. Plus, you can even pause and continue the scan at any time later or save the scanning results and import it later so you can perform another recovery without having to restart another scan.
Another great feature that this hard disk recovery has is Preview before Recovery. It allows you to specify the file types before you begin with the scan to give a more precise searching results. Once the scan is completed, you can then filter all the recoverable files by file name, file type, date and path as to find the files that you are looking for as quickly as possible. Finally, you can then preview the files to check on the details and quality before you decide whether you want to recover the files or not.
All the above combines to make EaseUS Data Recovery Wizard Free 9.9 a hard disk recovery that is unmatched. Its wealth of features and functions, combine with the extremely user interface makes this hard drive recovery software hugely popular and most widely used in the market.