Putting the traveller first
Technology has irrevocably altered the way we conduct our lives; from the way we shop, carry out our daily work and chores, to the way in which we conduct our personal relationships. Not surprisingly, it has also transformed the way in which we travel; both locally and internationally, on the ground or by air. Planning travel used to be a difficult and often frustrating experience; but now, thanks to innovative travel management apps, travel has become the exciting and hassle; free experience we always envisioned it to be.
An extraordinary travel experience
This was the vision behind the development of Sabre's pioneering TripCase app. As a leading technology provider for the global travel and tourism industry, Sabre is on a mission to make travel extraordinary; from the moment the traveller leaves home, to boarding the plane and arriving at the final destination. The best outcome of travel should not be that it was just 'uneventful', it should be that the trip was fantastic.
Imagine a profitable industry where travel is on; time, enjoyable, problem-free and no longer faceless and nameless but personal and extraordinary. Sabre has leveraged the transformative power of both mobility and data to do this, and improve the entire travel experience.
The perfect travel companion
TripCase was the first consumer mobile itinerary app to be launched. At the heart of its design was the belief that trips should be seamless and easy, and as social as the people who take them. It quickly became one of the most popular and rapidly adopted travel management apps on the market. TripCase is now one of the fastest growing mobile travel apps, helping travellers plan more than two million trips per month. Last year alone, Tripcase handled more than 30 million trips.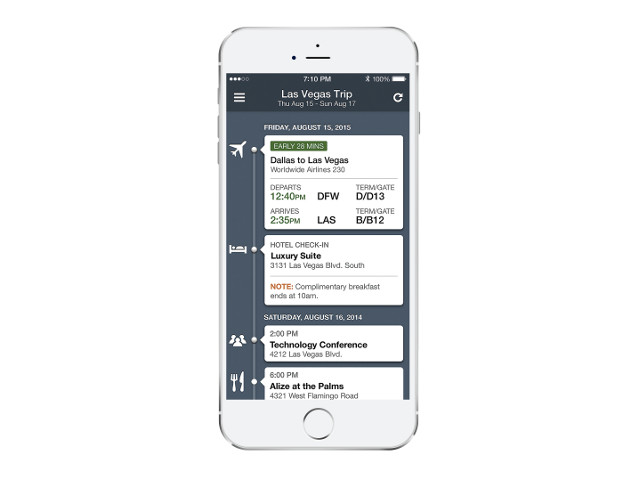 What is Tripcase?
Essentially, TripCase is a free app for Apple and Android that collects or 'aggregates' all travel itinerary information into one easy to access location. Built around a user-friendly patent pending messaging platform, TripCase notifies travellers with personalised and itinerary, specific messages, i.e. critical travel alerts such as flight delays, gate changes and reservation cancellations. This is in addition to integrated tools like weather, seat maps and driving directions.
Staying Informed – Embracing wearables and social
Staying true to its pioneering spirit, the team behind TripCase is also constantly improving and enhancing the app, making it available for smartwatch (for the Samsung S Gear). Travellers can now receive all of the trip notifications that they are used to getting but now, on their wrists.
In addition, TripCase has integrated with the hugely popular Uber API. TripCase users can quickly and seamlessly request an Uber ride and receive a special discount pricing through the TripCase app.
Using advanced geo-location features, the TripCase app will also offer travellers an Uber ride at the point in their trip when car services are the most suitable. This integration will save time and hassle by pre-populating the pick-up and drop-off locations whenever possible. According to recent TripCase research, nearly half of TripCase business travellers are likely to use Uber during their next trip.
TripCase has also integrated with CheckMate, a popular mobile check-in platform for hotels that makes checking in a much smoother process for travellers. The integration allows users to bypass frustrating queues and settle in after a long and tiring journey.