Olympus is no stranger to producing intriguing, solid cameras, and the rather cumbersomely named Olympus SZ-31 MR is certainly one such offering.
The 16 megapixel compact camera not only boasts a solid build, it also resembled a mini DSLR in its ergonomics, with a noticeable indentation alongside the handgrip that naturally falls beneath one's fingers, and offers a firm grip in one's hand.
Along with a 24x wide optical zoom, the camera sports a built-in flash (but no hotshoe) and full HD video recording. However, this is just the beginning of what the compact has to offer, and how it distinguishes itself from the competition. Beneath a few innovatively named settings on a mode select dial lies a wealth of features.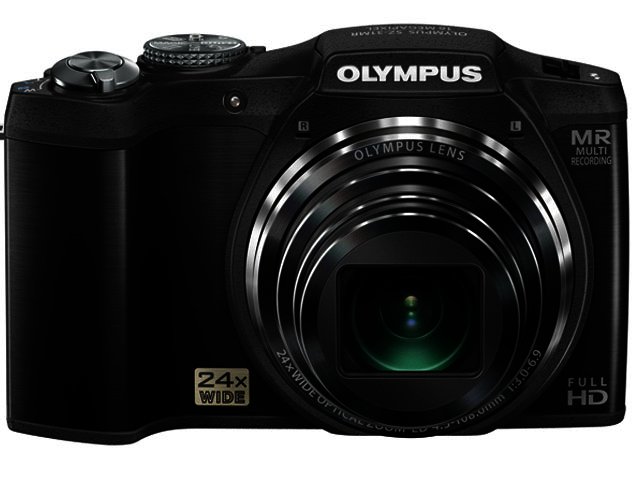 A stand-out feature of the SZ-31 MR is its superzoom, which
ranges from 25 mm to 600 mm.
Have you Scene this?
For example, the Scene setting, which automatically optimises camera settings based on the photography situation, contains modes like Cat and Dog mode (which cause the camera to automatically take a picture when the respective pets are detected).
Also on offer is Backlight HDR, which combines several exposures into one optimal image; a Portrait mode and a Landscape mode, the latter of which provides a vivid reproduction of blues and greens and Night portrait and Night scene, aimed at photographing people at night and illuminated scenes with a slower shutter speed respectively.
Additionally, Sport mode captures fast moving subjects; a Self portrait mode snaps your photo when pointing the camera at yourself; and even a documents mode, which increases the contrast between letters and their background and enables one to record a quick four second note via the built in mic.
Flipping the top dial to Magic filter then allows one to access numerous artistic effects that we've become accustomed to from Olympus, including soft focus, pin hole, reflection and fragmented, (useful for creating abstract work), pop art and fish eye. Additionally a multi file setting enables one to save two differently sized photos or movie files simultaneously, while the Movie clip setting records a movie clip automatically before, and after, capturing an image.
While there are further Full Auto, Panorama and Program Priority settings, there aren't Manual Priority, Aperture Priority or Shutter Priority settings.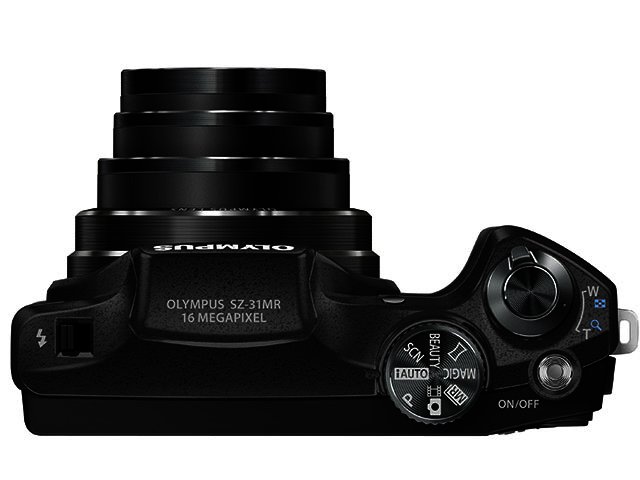 The top dial sports evocative settings, like Beauty and Magic. Beneath each lie a wealth of features and creative options.
Dial up and keep track
All other settings are dialled in via a quick mode dial on the back of the camera, a little reminiscent of something we love about Canon's DSLR's (and yet strangely, Canon has the good sense to refrain from pursuing petty patent concerns).
This also doubles as a four way trackpad, and together these two controls are used to access features; dial-in settings; scroll through the myriad of logically laid out menus; adjust exposure compensation and a myriad of file size choices.
These include 16 megapixel, 8 megapixel, 5 megapixel, down to 3 megapixel, 2 megapixel and even 1 megapixel. On the video front, you can choose from 1080p, 720p, 1080 (60 fps) and 720 (60 fps) options, accessed via a dedicated video button. Additionally, the ISO range extends from 80 up to 6400, which makes it handy for dealing with a variety of lighting situations.
One of the niftier features is that the 3" LCD screen (with a great resolution of 920 000 pixels) is not only bright and beautiful when viewing images, but it also supports touch autofocus. Whether using that particular method to focus or not, we found the autofocus to be very good; reacting quickly and locking on to our subject with no fuss.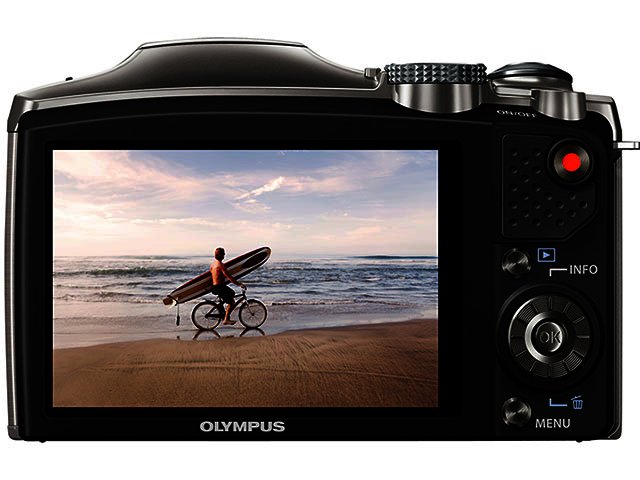 The 3" back screen is bright, clear and touch sensitive (for focusing).
Niggles and niceties
There are some niggles though that, while not dealbreakers, need to be mentioned. The first is that the screen and right hand side grip tends to get a little warm rather quickly. While this does not make it uncomfortable to use or hold, it is noticeable.
Additionally, the power button seemed a little too deeply recessed for our liking, a bit of a nuisance when one tends to turn on and off the camera frequently to conserve battery life.
While using the SZ-31 MR is a pleasure, we found image and video quality to be good, rather than outstanding. Admittedly, we don't expect compact cameras to compete with the DSLR behemoths in the quality department, and we cannot say that the SZ-31 MR does. However, that is not to say that the quality is sub-par or poor; it's not.
A further mention must go to the 24 x optical zoom, which offers a staggeringly good range of 25 mm to 600 mm equivalent. Granted, camera shake is evident when zoomed to maximum, although presumably a tripod or at least monopod would be employed, but the zoom is smooth and very quiet throughout its range.
This makes the camera a very good, all purpose option for photographers who anticipate dealing with a variety of subjects, both near and far away, and want to do so with a portable camera that can go anywhere with little fuss.
To the point
This, along with the fact that there aren't Aperture Priority and Shutter Priority modes onboard, only reinforced our sense that the camera is aimed at the casual shooter looking for a full featured snapper, that can offer a myriad of creative modes.
Having said that, the SZ-31 MR still struck us as being a well designed, well built and accessible compact, with a plethora of features on offer to keep creative shooters busy. It has a RRP of R4000.
Pros
Numerous modes and features to play with
Solidly built and well designed
Excellent zoom range
Autofocus is fast and accurate
Cons
Slightly indented power button
Screen gets warm after little use
Numerous modes and features to play with, Solidly built and well designed, Excellent zoom range, Autofocus is fast and accurate
Slightly indented power button, Screen gets warm after little use